I am on a break from reporting up to Pennsylvania Speedweek, which begins June 25. Don't worry. I am fine. I just need this time to detox and work on a few projects. I don't get personal much, but I want to for a moment. Here's how I got here.
There are two distinct groups of people in my life. Those I've met through community (family, friends, coaching, church, anywhere close to home, etc.) and those I've met through writing (the race track, athletic events, etc.). Common questions affirm that.
Where are you working these days? Do you still write? You're not in college?! As if I'm soul-searching, or on the dramatic end, aimlessly going about life.
When's your next story? Where's your next race? They've got to get you to the Knoxville Nationals! As if this scribe and chasing race cars is my life.
These two groups of people remind me just how microscopic our lens in which we view, our lens in which we perceive and receive the world, really is. That there is much to discover. That we really don't know what goes on.
You may know all these things about someone, but you (probably) don't know who they are. You may see me here or there, but you (probably) don't know how I got here. 
Perspective is everything. And labels, whatever seen on the outside, put people in boxes or discolor its true image. I work at Wegmans as co-worker and employee. I coach basketball, where I am simply "coach." I have not completed college, and no I am not aimlessly going about life.
I write about mostly race cars, and if you're into racing, you know that. If you aren't, then you probably don't. Why race cars? You could say it is my first love. You'll also see why I'll be writing on more than just race cars too.
The next story that involves race cars I can't disclose, but I can say this next story is a personal one.
***
Writer may be the label, but at the heart is storyteller forged through tribulation and grace.
People are deceived if they think strength is the greatest fascination. It is weakness that truly allures because there's a realness in such incompleteness, and we all yearn for something real these days. Humanity at the core.
You see, verbally communicating, much less expressing myself, has been one hell of a thorn in my side through the years. It still is. By clinical terms, it is extreme Social Anxiety and major depressive disorder. It is, however, rooted much deeper than those ugly labels, something I'm not ready to fully delve into quite yet.
But Anxiety — the condition with a capital A, not just anxiety, the feeling — is a beast. For too long it has savaged my ability to communicate and express. Most days you feel like you're walking around with a muzzle. Every day you harbor unsaid things, and it eats … and eats … and eats at you. You learn to suppress, detach, and accept you might not ever be yourself, and because of that your heart hardens.
But there was always one shelter that contended for my heart, that place of refuge and place for an elusive voice to be found: the written word.
Being silenced forced me to listen. Being silenced forced me to write. For all the words I couldn't say, I dumped on paper, relentless at my disposal. For all the times I couldn't socialize, I read (probably some racing magazine) and for all the times I simply needed a place to decompress, it was there.
Still, it was debilitating. It feels like swimming upstream, especially in grade school; capped at the merit educational level because of a deficit. It sapped motivation. I trudged through high school with a 2.4 GPA, the bottom quarter of my class, anchored by C's in merit English.
Never did I think writing would lead to all this: bylines in The Washington Post and Baltimore Sun … a lead writer in sprint car racing … telling stories of figures like Kyle Larson and Sammy Swindell …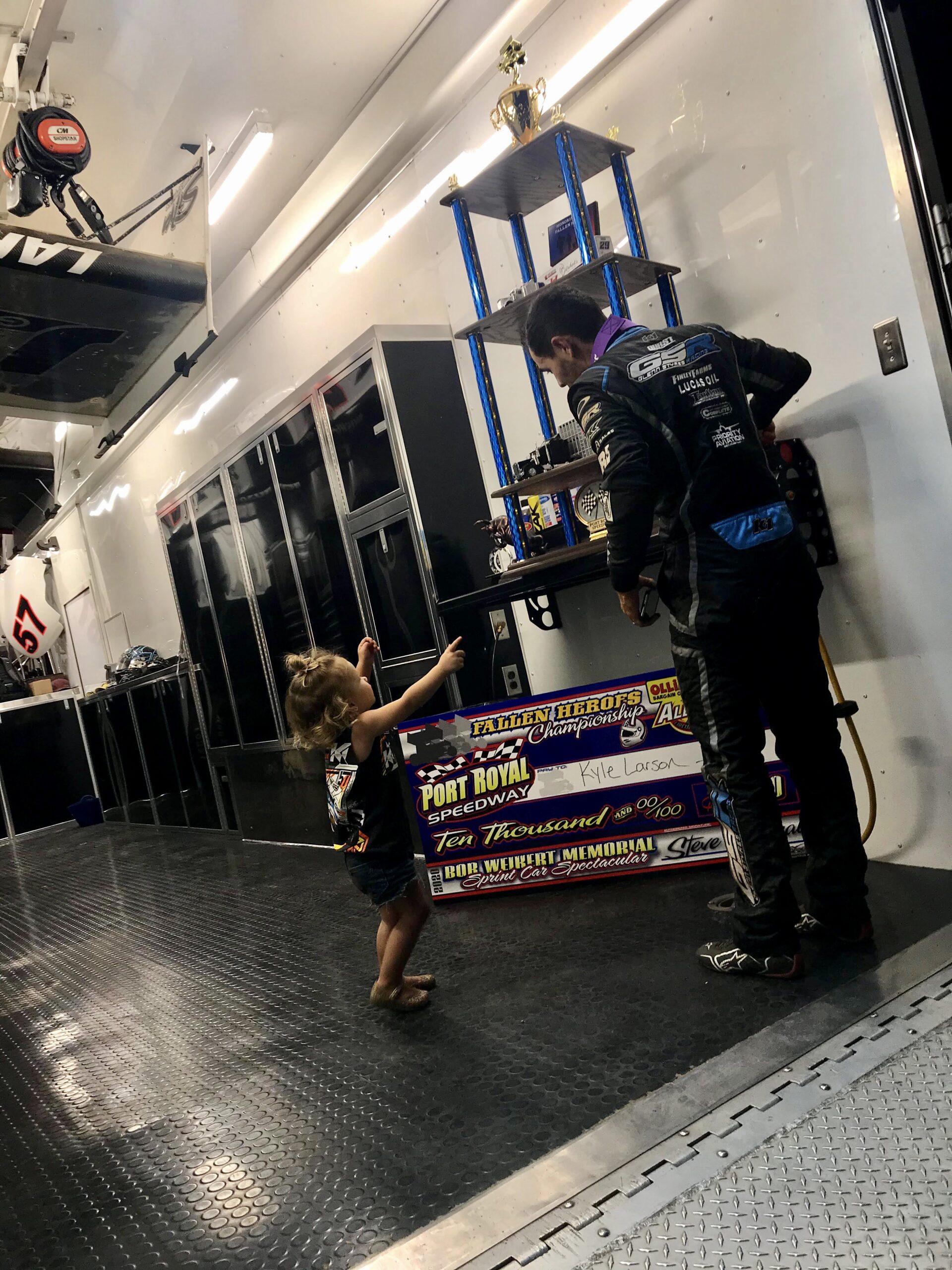 … or detailing the legendary career of Lance Dewease in one of the biggest auto racing magazines …
Another outstanding story by @ByKyleMcFadden in @SPEEDSPORT magazine! Check it out! @LDmotorsports @dannydietrich @FreddieRahmer pic.twitter.com/0gfqUSJZ8w

— Kotrocks! WKOT-Rockaholic!? ??? (@ChrisKot1970) May 12, 2021
… or partaking in the sport's extravagant return to Bristol Motor Speedway as one of its few reporters on site, having a post-race question to Donny Schatz make rounds on social media …
"That's what I do for a living, overcompensate. When things aren't right, you overcompensate and make it work. Go win races, get top-5s and top-10s, win championships."

Donny Schatz channeled bossman Tony Stewart when asked if he's overcompensating during his current slump. pic.twitter.com/BouDW9IMtI

— Matt Weaver (@MattWeaverAW) April 26, 2021
… or a Twitter follow from Mario Andretti.
That's not even unveiling what matters most.
The difference lies between an old self and a new self, and the journey that gives meaning to it all.
***
It was July 11, 2018, and my editor at the Baltimore Sun sent me on a wide-eyed assignment, on relatively quick notice, too.
There Cal Ripken was, his large being — literal image and image fixed in baseball lore — lounged in the executive chair behind his office desk, located at his state-of-the-art baseball facility in Aberdeen, Maryland. He awaited an interview for a story on youth sports.
I feel like dreams evoke one of two things. It's everything I could have ever imagined or oh no this isn't exactly a dream, perhaps a feeling of let down or overwhelmingness because your character can't handle the gravity of being awed.
Awe had certainly been stretched in the preceding months. Courtside for UMBC-Virginia, interviewing my childhood hero Dale Earnhardt Jr., and landing bylines in The Washington Post did just that.
I felt like I had gotten a taste of sports journalism's penthouse. What I didn't expect is a certain recoil — a sudden flinch back in fear and, quite honestly, unfulfillment. The higher things seemingly got, Anxiety climbed with it.
So when Cal initiated the greeting of a gentleman — in his case, The Iron Man; his assertive hand engulfing mine — awe skyrocketed. Anxiety did too.
Our 30-minute conversation began. It was probably 15 minutes too long considering I was on deadline, but I insisted the story ought to be good.
Anxiety's tactics, though, were in full force, the gravitational pull growing too strong. Time raced. My mind, evasive. My voice, elusive. The Google Doc, bare.
A two-hour assignment trudged for seven. I missed the deadline by five hours. Anxiety, like a thief in the night, stole again.
***
Writing has long been my aforementioned place of refuge, but nights like those tarnished that sweet escape. So much that I couldn't stand to write anymore.
Nights like those happened often, too. Not to that extent, but they happened a lot. More often as time went.
You'd never know because social media, like the deranged place it is, deceives. It's a community where you go to know things about people. What can't be fulfilled is actually knowing them.
That night I posted a candid photo of Cal on my Facebook saying, "Just finished a 30-minute interview with Cal Ripken – story on the way for the Baltimore Sun!"
I wanted to plaster that proud photo everywhere. The moment itself … that's a deep, dark secret. Until now, I guess.
One comment stuck hard.
Oh how I'd do anything for 30 unsolicited minutes with Cal.
I'd agree, only if my place of refuge wasn't ransacked once again.
That night I decided I needed to shelf writing and try something else. 
***
I thought I learned the hard way in high school. That I was purposeless and rather lifeless doing life on my own.
For some reason that vicious cycle had to happen again.
You see, I'm a born-again Christian, someone who has repented of their sinful nature and turned to Jesus Christ for salvation. Apart from Christ, we head for destruction because we're born into sin, ever since Adam ate from the Tree of Knowledge of Good and Evil in the Garden of Eden.
God told Adam and Eve not to eat from the Tree of Knowledge of Good and Evil. Not that its fruit would physically kill them, but spiritually kill them because of disobedience. God (Yahweh) gives us free will because He loves us but tests us to see if we are His. Satan (Lucifer), regarded as God's mightiest angel but thwarted from heaven for rebelling and wanting to be God, also tests us to see if we are his.
"You will certainly not die. For God knows when you eat it … you will be like God, knowing good and evil."
Temptation. Idols. The drive for power and fame. Puffed intellect and ways of doing things "right" yet so many wars. Sounds familiar.
But with Christ, heaven comes to Earth, and we receive the Holy Spirit. Ultimately, eternity — heaven — is the reward. A free reward. All you have to do is accept it.
The resurrection power is very real for me since I accepted Jesus in March 2015 — a year after I had graduated high school. I wasn't in college and had nothing to my writing resume. My life, my character, changed radically since. I believe it because I've seen it. Born again.
But something had gone catastrophically wrong the summer of 2018. I had let my intellect, my pride, get in the way. I had gotten away from the Very Thing that gave life. That's why accepting Jesus is far more than salvation. Accepting Jesus doesn't mean temptation goes away. Accepting Jesus means following Him.
I'll give you a straight example. People often say they are drawn to my style of storytelling. I take that to heart because the greatest storyteller of all-time was Jesus. 
Obedience yields much fruit and a pure, abundant life. Scripture warns you can gain the whole world, but lose your soul.
***
I felt I had gained the whole world the summer of 2018 — the whole world meaning my selfish desires — and I knew no job was going to do the fix. 
So I changed course. That winter, I got into basketball coaching with the Frederick Force, a competitive, homeschool sports program in Frederick, Maryland. That's a story itself, and for avoiding long-windedness, one I'll save for later.
Serving as a character coach and varsity assistant that 2018-19 season softened my heart. Suddenly, the attention shifted off me and onto the kids. I learned how to love. How to lead. How to not make things about yourself.
I'm going to ruffle some people with this, but I truly think a major component of depression is too much self focus. Pride. Lust. Greed. A void. Serving and leading with love, a higher kind of Love, is the remedy. It was, and still is, for me.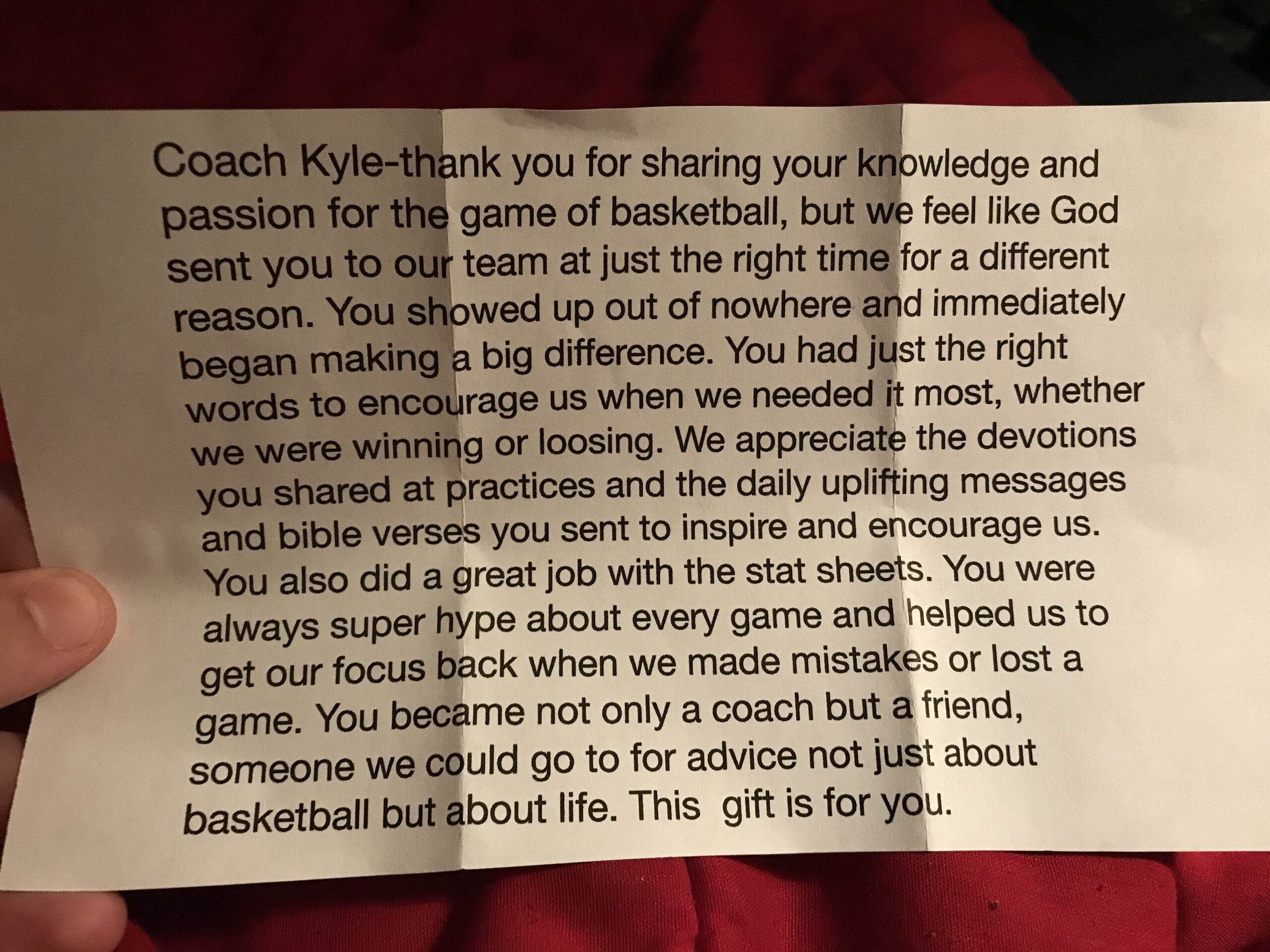 I loved teaching and coaching basketball so much I went back to college the fall of 2019 to study English education at Frederick Community College. That year I also took over as head varsity coach of the Force and started working for Wegmans since I shifted my income away from freelancing.
Somehow, in the midst of a borderline full-time job and coaching a varsity basketball team, I earned three As and a B in my first full slate of classes in four years.
Coaching felt right too. I felt like I had finally found an operable way. Felt.
***
If it wasn't for covid-19, I wouldn't have stumbled back into writing. Yes, stumbled.
I was set on a teaching career and another dream in coaching basketball. Then, covid painfully wiped the slate. I fell into depression when the pandemic hit last March and dropped all my college classes. Since our basketball season got cut short, nothing else really went on besides Wegmans. Oh, and this Monday night iRacing league, which is important to note.
One race I finished second to NASCAR driver Parker Kligerman at virtual Indianapolis Motor Speedway, and since it was live-streamed on Podium, I got interviewed. SPEED SPORT's Jacob Seelman did those honors. Later, I found him on Twitter and thanked him for the interview. That was that.
A few days later, Lincoln Speedway announced it'd reopen in the height of the covid shutdown with a race that Memorial Day. I just wanted to get out of the house … and maybe go to the race track for free if I wrote something, I thought. I reached back out to Jacob, offering my services to SPEED SPORT that night. It went well enough that they wanted me at the track the following weekend. And then the next … and the next … and the next.
The rest is history.
***
In fifth grade I wrote a letter to my future self. It couldn't be opened until high school graduation May 2014.
It started,
"Dear future me,
Hi, I'm 11 years old and my name is Kyle Robert McFadden. I love NASCAR. My favorite driver is Dale Earnhardt Jr. I have blond hair, green eyes, and I'm around 5 foot.
I want to be a NASCAR 'analist.' A guy that works on ESPN for NASCAR, like NASCAR Now. Maybe even NASCAR angels. I want to live in 'Dovor', DE. I want a decent family. …"
I've grown up in and around racing. My dad took me to dirt and NASCAR races all the time growing up. His dad sponsored a dirt model way back when, and my great uncle worked for Wendell Scott in the early years of NASCAR.
How so much changed over those seven years following the letter. Depression swallowed my childhood dreams. I had lost all interest in racing. Engineering became the new goal because who doesn't want to make a lot of money?
When senior year rolled around, that desire led to a dead end. A journalism class my last semester of grade school in 2014 offered something fresh, and little did I know what had been birthed. I felt I found something when I graduated, but that next year made me doubt if I truly did. I was rejected by various newspapers I contacted. No college. A job at a golf course to keep me going.
I found The Greatest Storyteller Ever in 2015, and things shifted into existence. That summer, I felt led by God to co-launch a sports media website Maryland Sports Access, focusing on high school and college sports. In those four years running MSA, my writing resume went from bareness to freelance gigs with The Washington Post, the Baltimore Sun, a Yahoo! Sports affiliate, The Frederick News-Post, Howard County Times, The Herald Mail, Delmarva Now, and what seemed  like every newspaper in Maryland.
One summer night in 2017, thumbing through Twitter, the revitalization had slowly begun.
"Dad, Kyle Larson and Kasey Kahne are racing at Hagerstown Speedway! I don't know what a sprint car is, but I think I'll check it out."
July 6, 2017: rekindled interest in racing and the unforgettable discovery of sprint cars.
At that point, I had paid little to zero attention to NASCAR, but Larson and Kahne were names I recognized. I had grown up a big late model guy, then those hellacious winged machines with 900 horsepower (a Formula 1 car has 980 horsepower) on dirt had me hooked.
"These things should be illegal!" I texted my dad, referring to the crazy straightaway speeds. 
Lance Dewease won that night, a night that started to make a few things clear: no matter how much I had tried to disregard racing, it always reappeared. No matter how much I discounted writing, it always proved its worth.
No matter how much I tried controlling my life, God humbled me and then graciously repaid beyond measure.
Now we're back where we began: a passion for race cars. A story to tell.
Note: You can read my racing stuff on SPEED SPORT. Also expect more personal stories and devotions on my personal site. I'll also be writing a little for The Washington Post.