CHARLOTTE — It's been 25 years since a team went to three straight NCAA men's basketball national title games, back when Duke reeled off four straight appearances from 1990-1993. The Blue Devils won it all in 1991 and 1992, and the only program to repeat since was Florida in 2006 and 2007.
History shows that consecutive championships and title game trips are a rarity, which is why North Carolina is in a unique position ahead of this week's 2018 NCAA Tournament. On Friday at 3:30 p.m. against 15-seeded Lipscomb at the Spectrum Center in Charlotte, the Tar Heels start a postseason quest toward three straight national championship games and back-to-back titles. Unlike the last two, however, UNC (25-10) enters the tournament as a two-seed.
So, given the circumstances, do these Tar Heels feel any pressure to meet lofty standards, or do shoulders feel a little lighter since they're not a top seed?
"I mean, I don't feel any pressure," senior guard Joel Berry II said. "This is our last one. We just want to enjoy it as much as we can."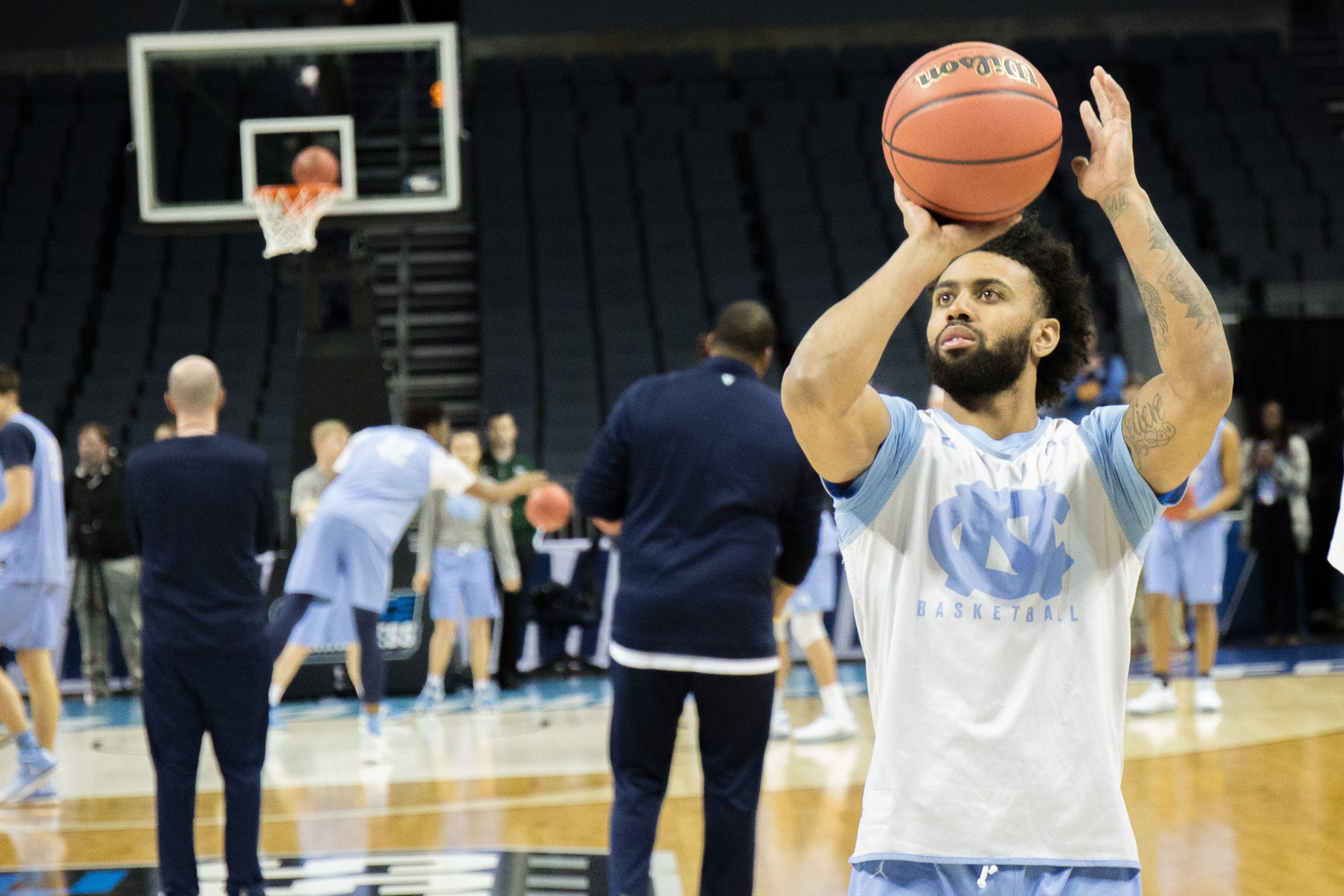 "I agree with what Joel said," senior Theo Pinson added. "I think the biggest thing is living it up right now, just enjoying the process, enjoying this, all the practice coming up, all that type of stuff. Staying in the moment, I think that's big for us."
Roughly 20 minutes after Thursday's student-athlete press conference ended, North Carolina took the Spectrum Center floor for the first time in their 40-minute open practice. Fans dressed in Carolina-blue splotched the arena and gravitated toward the tunnel, where Berry, Pinson, and company led the Tar Heels out for a final tune-up.
While Lipscomb, Providence and Texas A&M — three teams who practiced before UNC — ran things reasonably strict, North Carolina took more of a lenient, crowd-wowing approach with a team dunk contest, perhaps backing Pinston's statement "enjoying the process."
North Carolina seniors Joel Berry II and Theo Pinson stressed the need to remain loose & enjoy "the moment." Tar Heels seem to be embracing that – dunks on dunks on dunks during the 40-minute open practice. #MarchMadness2018 https://t.co/L4pcbssZQj
Tar Heels coach Roy Willliams, making his 14th NCAA Tournament appearance in 15 years at the university, seemed to enjoy himself under the lighthearted mindset, too.
"Opening statement would be that Tiger Woods just birdied a hole. He's the sole leader now at 4-under par through 16 holes. That's all I got," Williams said to open his Thursday evening presser before letting out a laugh.
This is how North Carolina spent its first March Madness activity since cutting down the nets in Arizona. Statistically speaking, the Tar Heels have what it takes to make another run. Junior forward Luke Maye (17.2 points, 10.1 rebounds) is a double-double machine and leads the team in scoring and rebounding. Berry (17.1 points), Cameron Johnson (12.7 points), Kenny Williams (11.4) and Pinson (10.3 points, 4.8 assists, 6.4 rebounds) solidify a starting five that averages double-figure scoring.
According to KenPom, the Tar Heels have the fifth-most efficient in the nation and the second highest offensive rebound percentage at 38.4 percent, both ingredients that can fuel another title push. Their defense also ranks 34th nationally — not an elite standing, but good enough to get the job done.
"We're a pretty doggone good basketball team. … "We do try to realize that we've got a target on our back. And that's OK. I like that," Williams said. "I heard [from anaylysts] … nobody picked us to go to the Final Four. … What we try to do is just enjoy the experience. I want our guys to enjoy this today. Then I want them to play their tail off and enjoy the locker room tomorrow. And if we play well enough, perhaps somebody will let us stay around and play again."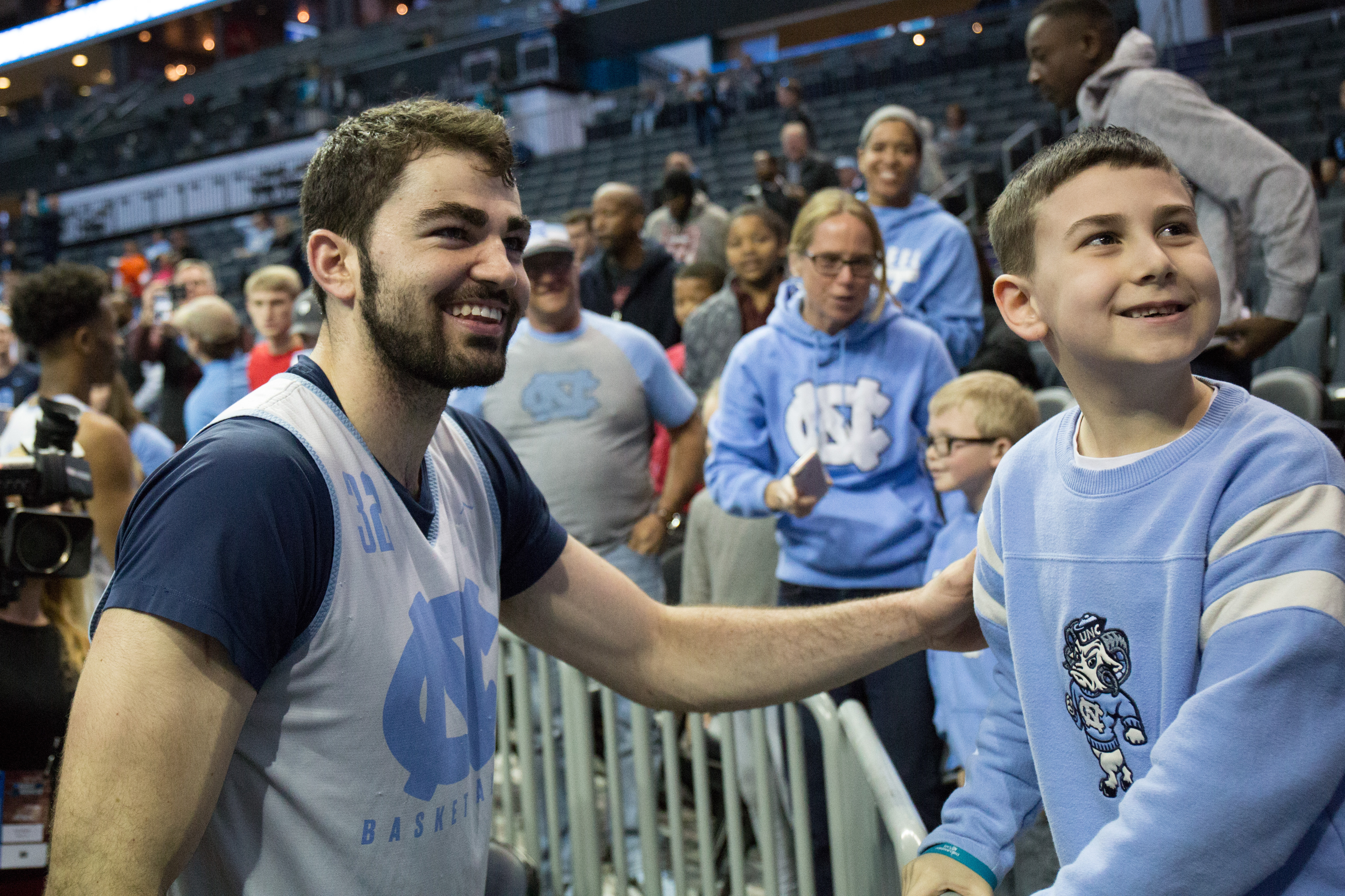 UNC is fresh off a 71-63 loss to top-ranked Virginia in the ACC title game on Saturday. And instead of going into the madness at full blast, a setback has perhaps fueled title hopes that much more.
"That adds a little more fire to us," Pinson said. "We went four days in a row of playing quality teams and had a chance to get a championship we fell short. So, if that doesn't get everybody motivated I don't know what will. It's the NCAA Tournament. We've been here before. We're excited and we want to go out on top."