What: No. 6 Oakdale at No. 4 Damascus for the MPSSAA 2A West region title
When: Friday, Nov. 17 at 7 p.m.
Where: Damascus High School
Spread, courtesy of masseyratings.com: Oakdale by 15
Damascus: 'Our kids just believe they're gonna win'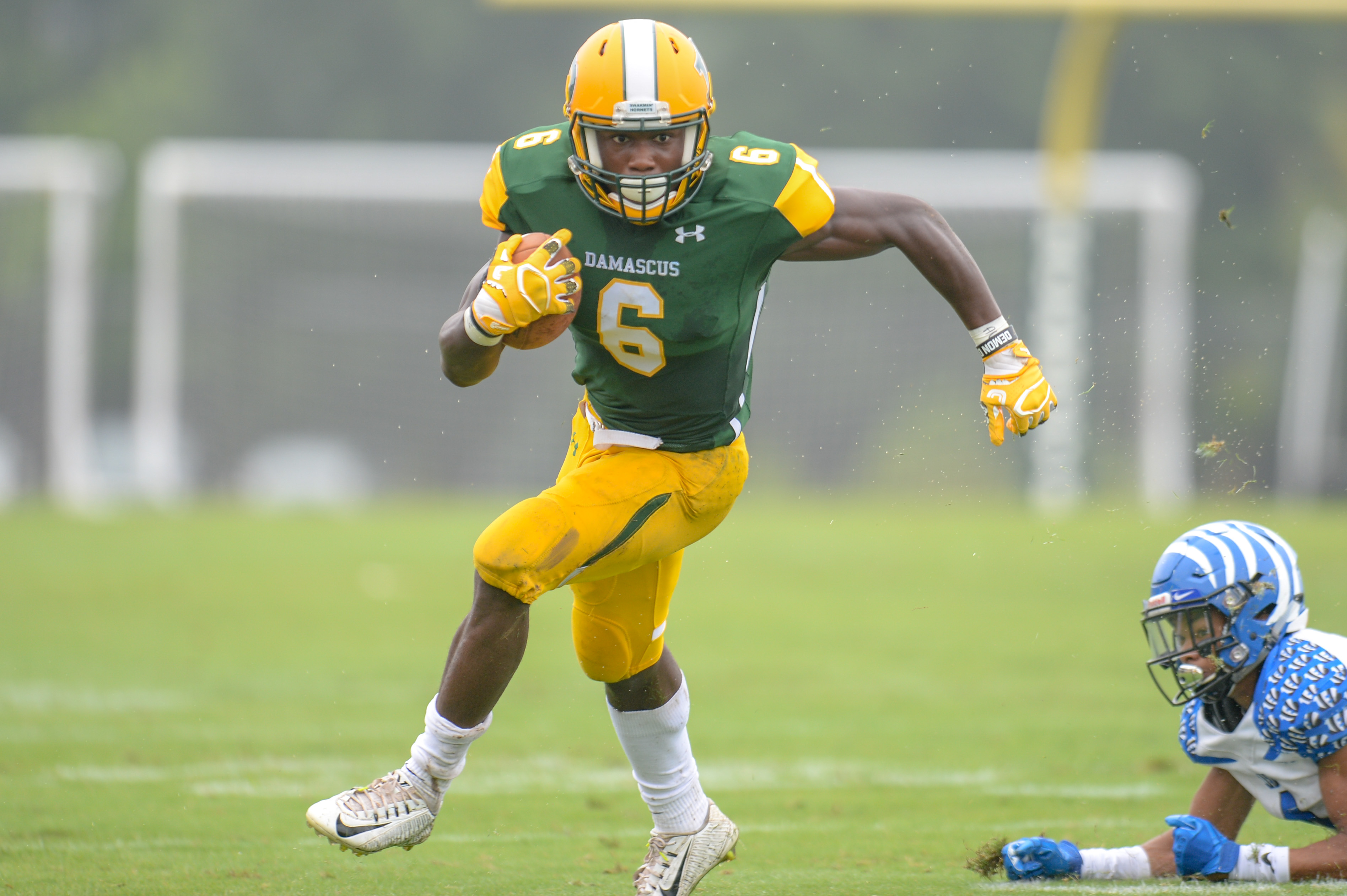 Before Wednesday's practice ended, Damascus coach Eric Wallich led his team up the concrete steps, from the baseball field below to the stadium above, the playground of a distinguished dynasty and the house of this town on every fall Friday night.
For two hours the Swarmin' Hornets banged bodies and rendered assignments, installing and rehashing this week's gameplan, perhaps the most crucial of them all throughout this three-year win streak of 53 games, which reigns as the longest nationally. "They are not beating us!" one player shouts as the team, their white jerseys now caked with mud and exertion, segues from the baseball field to center stage of this storied dynasty. The meat of that game plan had been rehearsed, and now it was time for something finer: special teams. They practiced kickoffs, then Wallich, wearing a big coat and tall rubber boots, ordered to run through PATs.
"In big games," Wallich started to tell his team, "every point matters."
Wallich, the 11th-year coach of Damascus football, has the championship formula down to a literal science: get behind the big boys up front, and the crowd, and wear teams down with brute force. In the age of high-powered, spread offense, the old-fashioned model has produced three-straight, 14-0 title season; 38 straight wins at home and 53 total dubs in a row. On Friday night, that winning formula will be put to the test yet again as No. 4 Damascus (11-0) hosts No. 6 Oakdale (10-0) for the 2A West region title, a matchup between the top two ranked public schools in Maryland.
While the Bears of Oakdale have won just two playoff games in their eight-year program history, contests of this magnitude have become rather routine for Damascus. Last year, the Swarmin' Hornets, ranked third in the state poll at the time, hosted undefeated Walkersville in this very game. Walkersville was ranked fourth in the state and had won the 2A title the year before, when Damascus remained in 3A. The Hornets used a late score marred by controversy to prevail 7-3 in front of an estimated crowd of over 6,000. In the 2016 3A West final, Damascus piled on three straight touchdowns to pull away from Oakdale, 42-21, after being tied at halftime. In 2015, the Hornets rolled over 10-win, archrival Seneca Valley, 45-3, for the 3A West title. In 2014, Damascus survived a 14-13 thriller over the state's top-ranked team in Linganore.
That leads us to the last time they lost a home game: Nov. 15, 2013, vs. Urbana, 35-34, in the 3A West semifinals.
"It's crazy now that I think about it," Damascus RB/DB TD Ayo-Durojaiye said of the five-year home winning streak. "We've always said we want to play against perfection, but this is the real test if we can play perfectly against a good team like Oakdale."
"It is getting to be a habit, kind of," added Wallich, who has only coached in two road playoff games in 11 years at Damascus. "It's awesome. … We just have some really good players. You have to have them. And then coaching staff, trying to find a way to maximize what those players do. We've won some close games. The Walkersville game was close. The Linganore game was close. I'm sure this game will be close."
History says it'll be closer than just "close." Margins of victory over this five-year run have gone like this: four, 21 (but tied at the half), 42, one, and one. All of those teams have fit the mold of Wallich's championship formula. They've had Division I linemen pave the way, accentuated by at least one Division I playmaker. Playmakers have gone from Jalen Christian (South Carolina and William & Mary) to Jake Funk (Maryland) to Markus Vinson (Richmond) to current offensive centerpiece TD Ayo-Durojaiye (20+ Division I offers). Robust linemen have shuffled from Jacob Bradshaw (New Hampshire) to Michael Jurgens (Wake Forest) to Jordan Funk (Army) to now Ryan Linthicum (offers from Ohio State and Michigan) and Bryan Bresee, the No. 1 2020 recruit nationally.
Four-year lineman Elijah Baisden is also in that conversation, as well as Trevor Reinhold and Adam Gleaton. All five — Baisden, Bresee, Gleaton, Linthicum, Reinhold — are expected to start for the first time since Week 2 after taking advantage of a lenient schedule to get healthy for this latest installment of epicness. Damascus has rarely played with a healthy roster this season, and in some games, that decimation has shown. They needed late pushes to put away middle-of-the-road teams in Blake (28-12) and Sherwood (35-14), and they needed a slew of underclassmen to skirt past one-win Seneca Valley (21-6). But on Friday against undefeated Oakdale, a starting defense that has allowed just three touchdowns all season long, these Hornets appear ready for their toughest task to date.
"It's gonna be that line everybody's been waiting for," said Ayo-Durojaiye, his grin widening. "It's gonna be something nice, I can guarantee that."
Damascus' game plan is rather simple: overpower a traditionally overmatched Oakdale team; capitalize on long, clock-milking drives and utilize some trickery. Last year, QB John Allan-Furguson busted loose on a 60-yard designed run, something no one really predicted, to set up the lone touchdown in a 7-3 win over Walkersville.
"We're going to have to keep them off-balance," Wallich said. "Mix the run, pass and play action. … It's gonna be a good ol' fashioned fist fight. It's gonna be a dogfight."
This time around, though, Damascus will need to score more than seven to outlast Oakdale. The Bears employ a potent offense led by 3-star quarterback Collin Schlee, the top-rated gunslinger in Maryland. Unlike Walkersville, which mirrors Damascus' grind-it-out style, Schlee can score instantly and has the arm to hit 65-yard passes … in stride.
"I've never seen a kid in high school throw the ball as far as him," Wallich said of Schlee. "Everyone is going to need to do their job."
Over these past four years, they've executed successfully 53 straight times. One more Friday wouldn't just make it an ordinary 54, but another milestone on this incredible run, another distinct result of dreamwork and belief.
"The biggest thing," Wallich said, "our kids just believe they're gonna win. They always think they're going to win, because that's all they've known."
Keys to victory
— Control the line of scrimmage
— Not only get pressure on Oakdale quarterback Collin Schlee but enclose lanes he can evade and break down a play
— Make Oakdale one-dimensional
Oakdale: 'All of the summer stuff, all of this year has been built up to this game'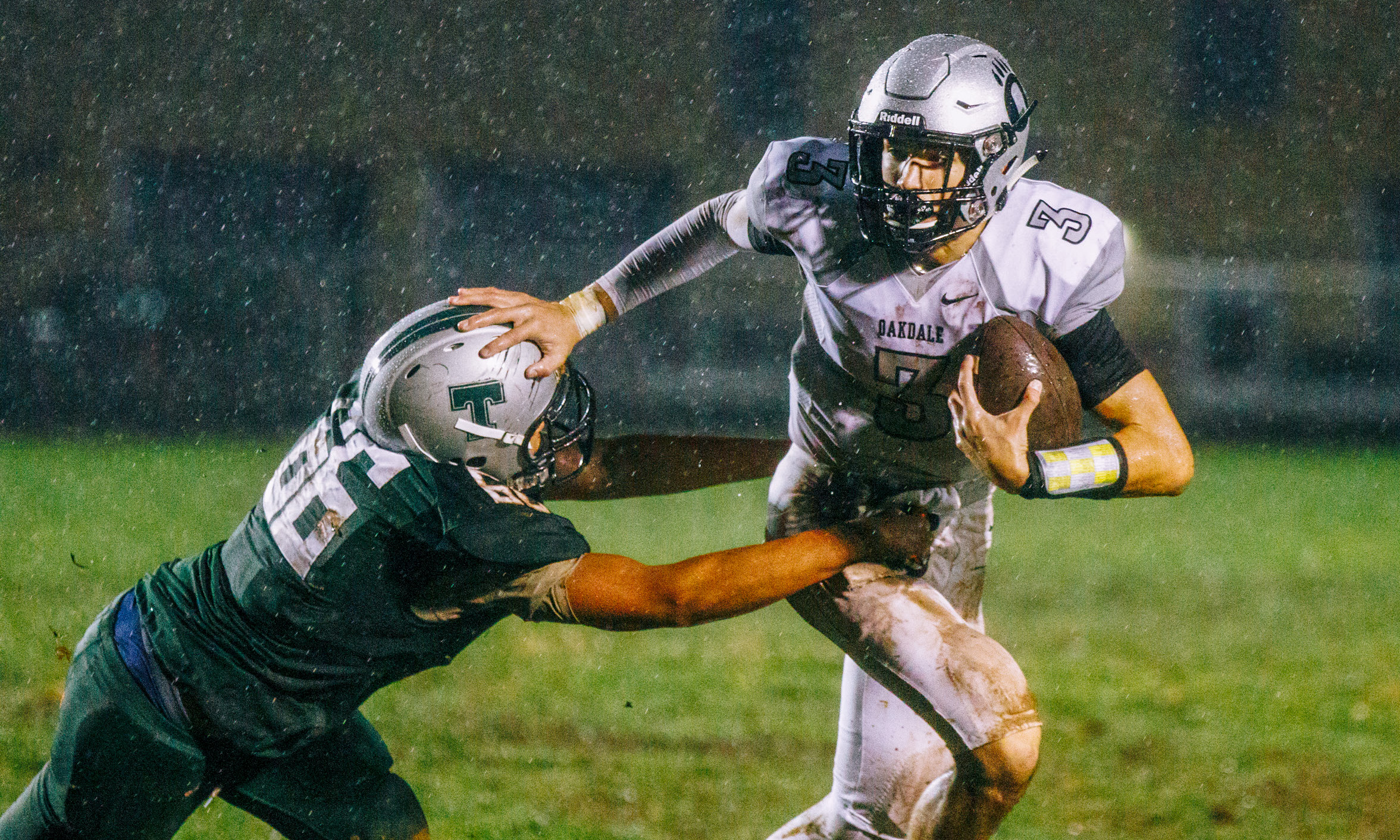 When Coach Kurt Stein started this Oakdale Bears football program from scratch in 2011, he immediately laid out the groundwork. Our brand, he thought, will be established with speed and athleticism. Our offense, he envisioned, let's spread it out and formulate a system that can do it all: quick passes, power runs, wildcat formations, RPOs, jet sweeps, fullback traps and whatever else is mesmerizing. It may not come right away, he thought, but we'll get there one day.
The first season: winless. 2012: two wins, eight losses. 2013: six wins, four losses. 2014: eight wins, three losses; the program's first playoff berth. 2015: eight wins, three losses. 2016: nine wins, three losses. 2017: nine wins, two losses.
Ever since that first playoff berth in 2014, Stein and his program learned quickly speed and athleticism isn't nearly enough. Of course, football players are supposed to be tough, but what they've faced is a different kind of tough. Season-ending losses in 2015, 2016, and 2017 have come to eventual state champions Damascus (twice) and Walkersville, which won the state title the year before. Both programs are known for their power football and outscored the Bears by an average of three touchdowns.
So, over the summer of 2018, Stein and his program agreed, we need to get bigger, stronger, tougher in the trenches. In 2018, Stein's vision coupled with the reconstructing of weight training is in full bloom: a high-powered offense and fast defense that's fueled 10 wins in as many games. And on Friday night, No. 6 Oakdale (10-0) has its long-awaited date at No. 4 Damascus (11-0), with the 2A West region title on the line.
"In the weight room, if we're not lifting," Oakdale quarterback Collin Schlee began, "Coach Stein is always telling us, 'I bet you Damascus is lifting.' Or if we're not running hard, 'I bet you Damascus is running hard.' All of the summer stuff, all of this year has been built up to this game."
Damascus has had, by far and wide, the most dominant public school line in Maryland over the years. So, Oakdale could do only do so much, but this time around, the Bears believe they can finally line up. They're bigger and more efficient than ever before behind Dean Pryor (6-4, 230), Shawn Gibbons (6-2, 235), Chris Desmond (6-1, 245), Joe Thomas (6-0, 230), and Ben Bevilacqua (5-11, 205).
"This is as good as we've been up front," Stein said. "If there is ever a year we can do better against that, [Damascus], this is it."
"In the first two games [in 2015 and 2016], we weren't as prepared or we didn't compare well against them," Schlee added. "For the past three years, that Damascus team has been straight up better than us. I'm not saying we're better than them or they're better than us, but we've played them [two of the past three] years, so Coach Stein knows what he's doing."
Defensive leader Maurio Goings has even bulked up his frame for games like these — going from 6-0, 200 pounds to 6-1, 230. Goings has also played at Damascus often intimidating environment twice before, allowing him to just play in the moment rather than adapting to the atmosphere.
"I've gotten all the jitters out, playing there before," Goings said. "I tell all the guys, it's not that much different. It's just a grass field. It's under the lights. It's Friday night."
The line of scrimmage is where Oakdale has lost these games in the past; in the 2016 defeat at Damascus they surrendered 464 yards on the ground. On Friday, Stein isn't asking his Bears to flip the tide and overpower the Hornets. Oakdale will continue to rely on Schlee, the top-rated quarterback in recruit in Maryland, and the handful of weapons accenting him: RB Simeon Sabvute, FB Maurio Goings, WR Noah Miller, WR Blake Baxter, among others.
"We're not going to change anything for this special week," Schlee said. "We're just going to play hard, do what we have to do."
Schlee, though, can take over a game single handily, an Aaron Rodgers-like effect. But he can only do so much if the pocket is flimsy and the run game is non-existent. If there's a bottom line, these senior-heavy Bears have labored and toiled and readied for this moment. A loss would go down with all those other incomplete, short-lived seasons. A win? Bedlem, ecstasy, and maybe a bit of relief.
"We're not going to lie. This is a possibility of a matchup the kids talked about when they were in [the weight room] in July: Let's go to Damascus and win," Stein said. "Now, they have their chance."
Keys to victory
— Collin Schlee, the dude's gotta ball
— Neutralize the line of scrimmage
— Limit Damascus' big plays