Quince Orchard linebacker Johnny Hodges celebrates with his jubilant teammates after they finally take down Wise. Photo by Austin McFadden.
GAITHERSBURG — Three years of shortcomings and heartbreak ceased through every booming howl and deep embrace. Players, those mixed with jubilation and relief, partied with former teammates, coaches, friends, and family, posing for photos and snapping selfies, jumping and moshing with no control, sharing old stories on how this moment, while not the big one but still big enough, came to be. Some just continued to hug one after another, whoever was in reach. The scene will live with them forever, but it was the mesmerizing course that formed this gleeful celebration.
Quince Orchard, the hosts of this supposed epic trilogy, doled hits with purpose. The scores came emphatically. They operated with sharp focus and went about their duties like it was destiny. Earlier in the year, the Cougars had lost Tyler Terry, a Class of 2018 graduate set to play Division I football at Monmouth, who died unexpectedly. Since that tragic moment, they claimed this season for him. And when Friday night's 4A semifinal clash with the three-time reigning champs concluded, with the scoreboard glowing "Quince Orchard 31, Wise 6," players rushed over to the "6" logo on the six-yard-line and acknowledged it, before bum-rushing back to the celebratory mob on the other end.
In the past two years, Wise has used Quince Orchard as a proverbial doormat to close out its undefeated state title seasons. In 2016, it was 42-7, and last year, the result was 38-20. But this time, Quince Orchard flipped the script, except this stage was the 4A semifinals and not the title game itself.
From the start, "we knew this was our time," Quince Orchard linebacker Johnny Hodges professed in that post-game celebratory mob. Hodges, a three-year varsity starter who has lost in those back-to-back state title games, barreled down the field on the opening kickoff and clobbered Wise returner Isaiah Hazel, a West Virginia commit, jarring the ball loose as a Quince Orchard player recovered. Before the game's first play from scrimmage, the Cougars were already in business, a telltale sign for in this journey of reason.
"I ran down there and hit the kid as hard as I could," Hodges said. "When that happened, 'I was like, this is our year, man.' We've grinded all year. We lost a great one [in former teammate Tyler Terry]."
"We were just tired of losing," Quince Orchard coach John Kelley added. "Our kids had a great week of practice. I thought we executed the game plan offensively and defensively."
A 40-yard field goal only came from that momentous beginning, but it upstarted a wire-to-wire win few saw coming. Wise went three-and-out on its opening drive, which segued into a Cougars 11-play, 57-yard scoring drive and the establishment of an unwavering ground attack. Plummer capped it off with a plunge at the goal line to extend Quince Orchard's lead to 10-0 with 2:42 left in the opening quarter.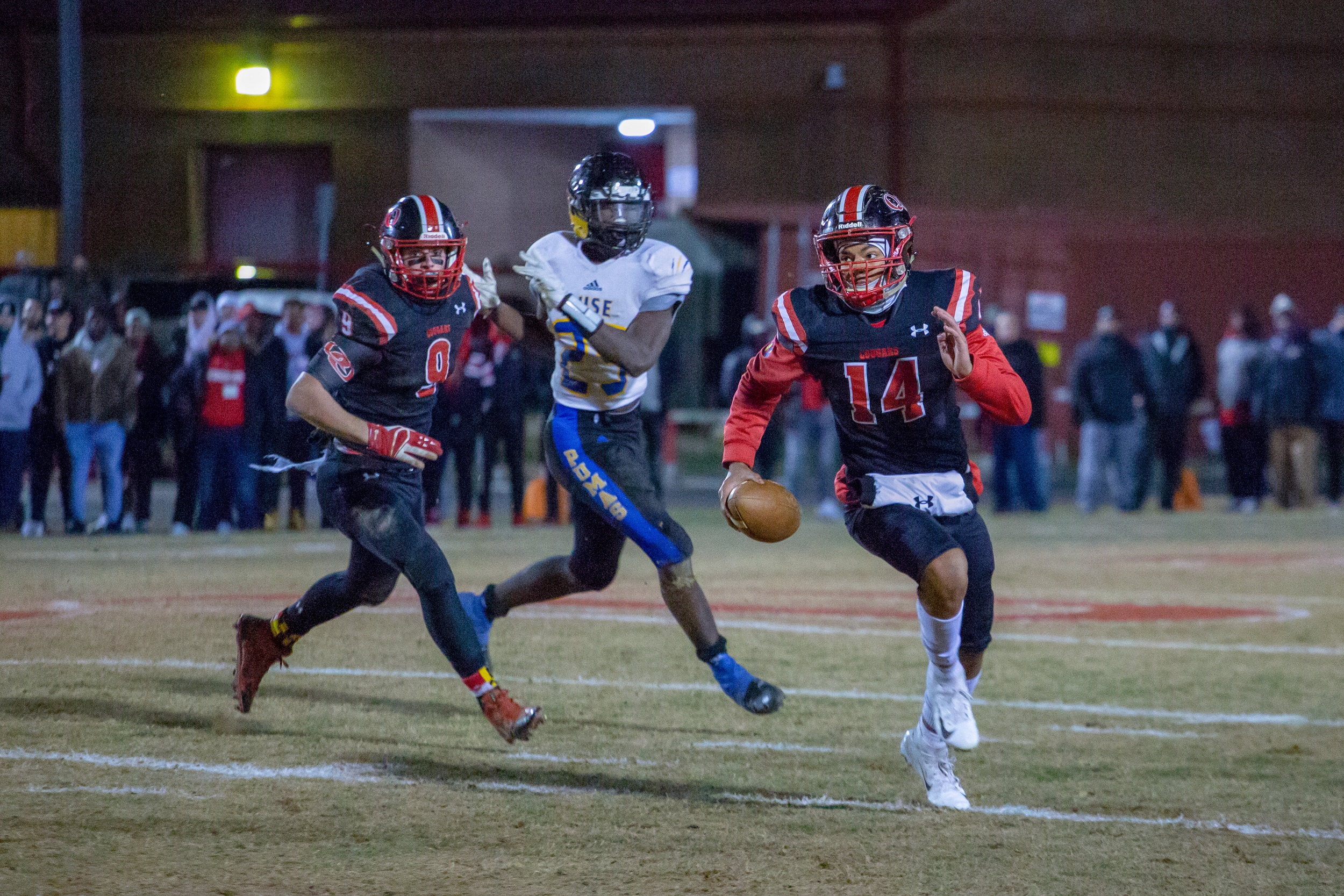 Wise drew within 10-6 on an eight-play, 55-yard drive midway through the second quarter on a 14-yard Quinton Williams (11 of 16 for 144 yards, one touchdown, an interception, and 17 rushing yards on 11 carries) pass but after that, the Cougars left no doubt. Quince Orchard marched 80 yards on its following offensive possession and leading rusher Marquez Cooper (155 total yards on 33 touches) extended the lead to 17-6 on a goal-line score. The drive was highlighted by sweet Plummer-to-Cooper 37-yard hookup on third down. Plummer, flushed right on a play-action pass, fled three Wise rushers and slung a screen across the field to an open Cooper, who then bolted up the left sideline to put the Cougars in business.
The Cougars led by 11 at the break and continued to pile on when senior safety Charles Bell intercepted Williams, the Wise quarterback, at the 15-yard-line and returned it 85 yards to the house, padding the Quince Orchard advantage to 24-7 with 8:31 left in the third quarter. Before the night ended, Plummer tacked on another touchdown when he floated a 10-yard pass to Hodges, a rather fitting way to cap a night for ages.
"It was icing on the cake," said Hodges, who registered a sack, a forced fumble, a touchdown and helped hold Wise to 35 rushing yards on 22 attempts. "Third time's a charm, they say. We knew they weren't as big as us. We knew we could ball."
When asked about the difference this time around, Hodges said, "We have an angel looking over us. [Tyler] is always there for us, we know that."
For the game, Quince Orchard outgained Wise on the ground, 143-35, while sacking Williams, the dual-threat gunslinger, four times. The Pumas could only generate seven first downs, as the Hodges-led Cougar defense plugged running lanes and held Hazel, Wise's go-to target, to just two receptions for 16 yards.
"I'm going to be honest with you," Kelley said, "going into the game, I felt very, very, very good. I felt very good. We have a good team. I know people like to look back at our Bullis game [22-14 loss] and what not, but we're a different team than we were then."
Not only a different team "then" — from Week 4 of this season — but different than the past two seasons. Hodges sees destiny. Kelley sees hunger. The program sees an opportunity to win its first championship since 2007, a whopping 11 years ago. It all leads to the final chapter next Friday night versus No. 21 North Point for the 4A title.
"Destiny, whatever you want to call it, our kids are hungry," Kelley said. "We have a super competitive group of kids. They battle and fight and scrape until the end."