ANNAPOLIS – John Kelley could, in the warp of perception, allow time to stand still Friday night at Navy-Marine Corps Memorial Stadium.
His Cougars capped the perfect season, 13-0 with the Class 4A title championship, following the worst season in high school sports history — when the COVID-19 pandemic conditions cancelled 2020 football events — with their 31-13 domination of familiar foe, Henry A. Wise High School.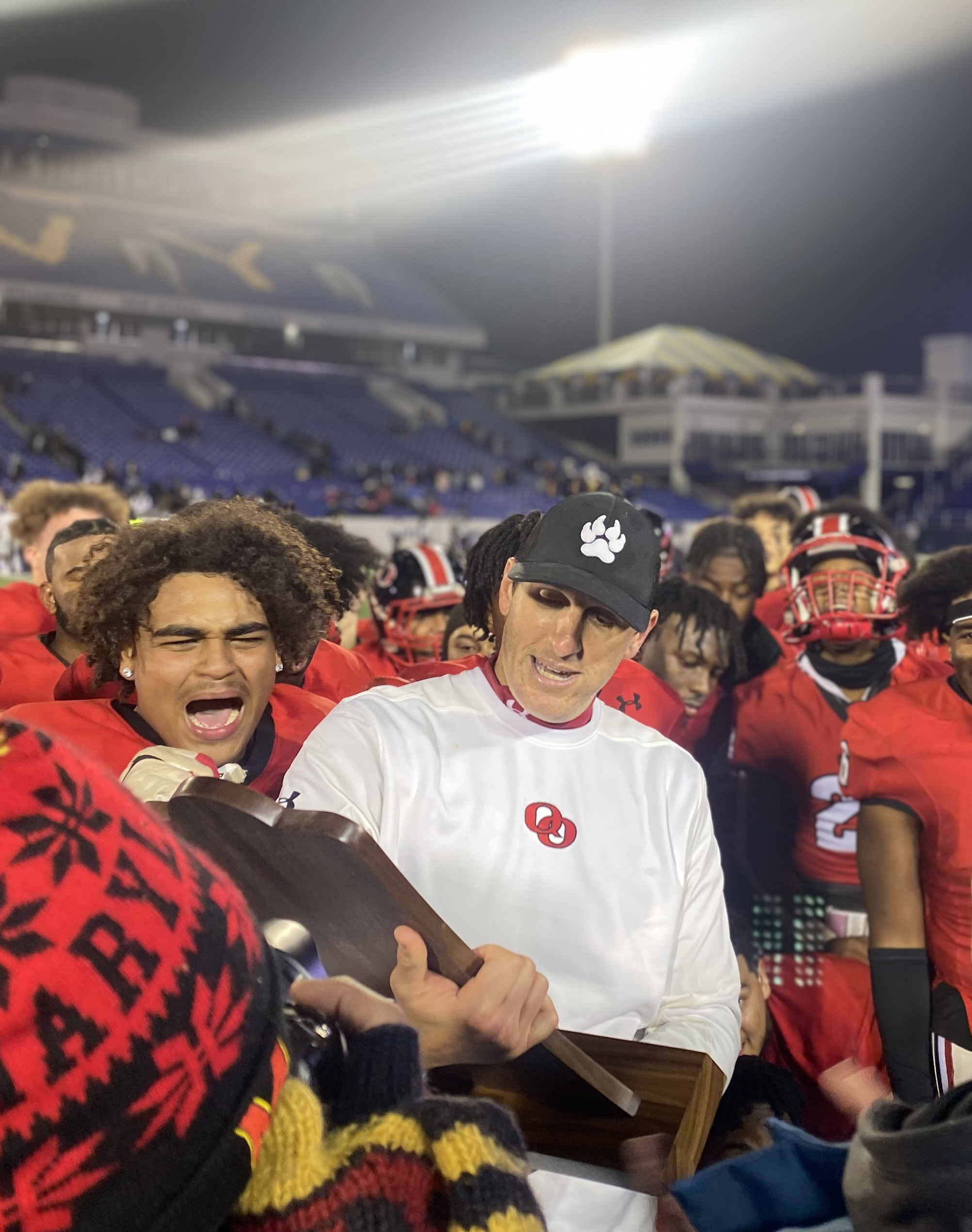 When Kelley possessed the title trophy made of oak in the middle of the celebration scrum, he stared into it and his soul stilled. A few, long seconds ensued before the ceremonial hoisting and the release of many emotions.
If Kelley's team had to wait a punishing two years for championship redemption following the 2019 semifinal loss to Northwest, a few more seconds could be spared meditating on the journey.
"Super emotional," Kelley said. "We've been through a lot the last 18 months. Just really proud of my guys. They did everything we asked them to do."
Wise, playing in its fifth state football game over the last six seasons, was pegged as the favorite by lots of football insiders. Some thought the Pumas, powered by University of Maryland-bound quarterback Jayden Sauray, had a double-digit edge on the scoreboard.
Quince Orchard went against that grain and stifled the game's biggest threat for the majority of 48 minutes of regulation.
Saurey completed just seven of his 21 passes for 165 yards. He threw two interceptions and was sacked five times, the first on the opening drive that delivered the Cougars' aggressive tone. Jalen Harvey ripped through the line of scrimmage and sacked Saurey near the goal-line on the game's first drive.
That helped the Quince Orchard offense, led by quarterback Savan Briggs (12 of 22 passing with two touchdowns), strike first from a drive that started at the Wise 35-yard-line.
Quince Orchard followed with another defensive stand and score to lead 14-0 by the end of the first quarter. 
That momentum carried them the rest of the game, though Wise stayed close when it pulled within 14-6 two minutes into the second quarter and 21-13 with two minutes left in the first half.
In the second half, Quince Orchard, with its 24-13 halftime lead, dominated time of possession (16:31 compared to Wise's 7:29).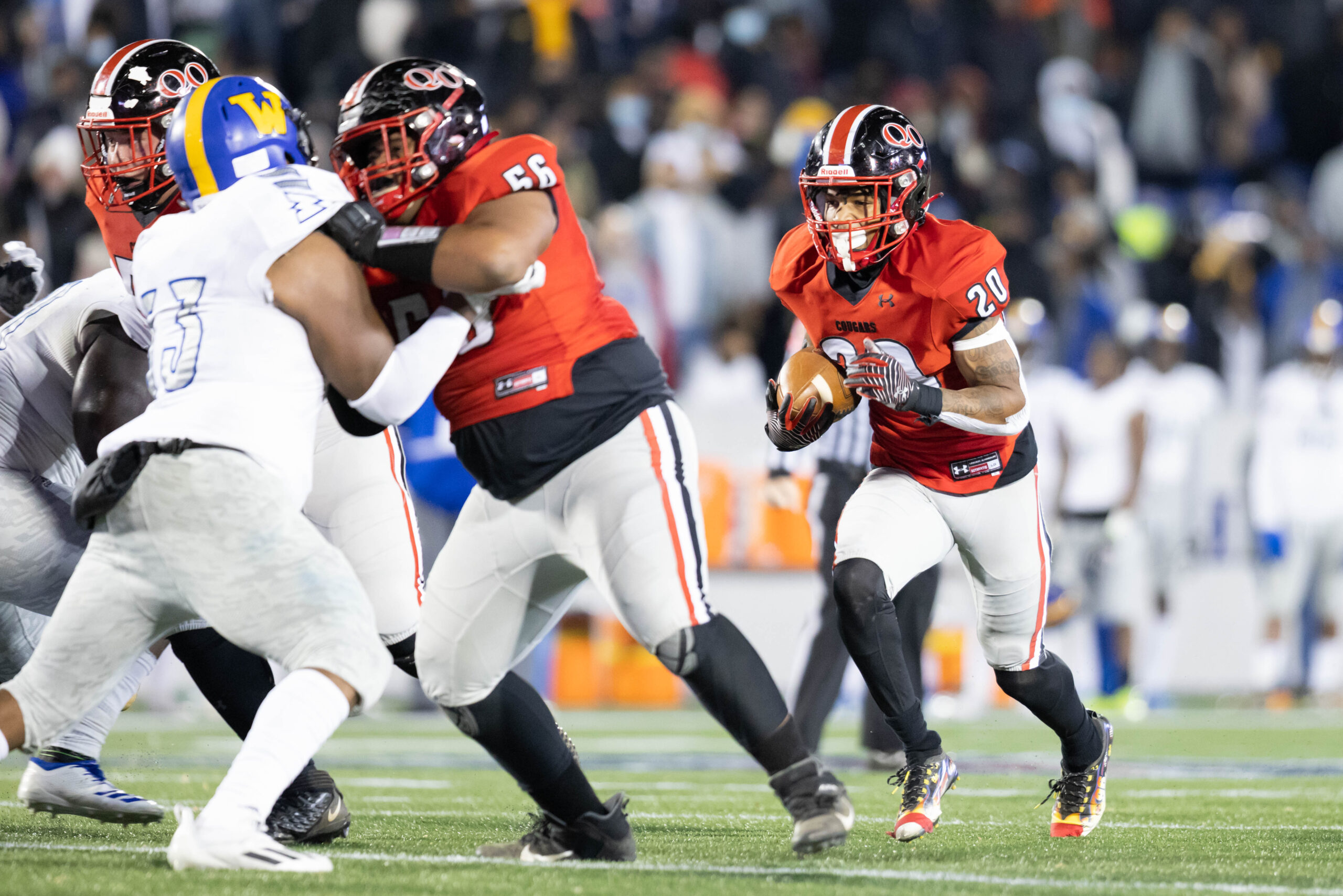 Freshman running back Iverson Howard helped that advantage, taking his 15 carries for a game-high 65 yards on the ground. He also scored the conclusive touchdown on a goal-line rush with five minutes left.
"The group we had this year was very, very special, man," Kelley said. "It's a special group of guys.
"All of them have been together since February," Kelley said. "All of them have done every single thing we have asked of them. They have grown so much as players, as human beings. It's been so impressive to watch. That's what makes this so special, they're growth as players. It's the refuse to lose mentality. It's just incredible."
Quince Orchard presser following the 4A football title https://t.co/Q5rPydNvdl

— Kyle McFadden (@k_fadd) December 4, 2021