The latest Tweets from Maryland Sports Access (@MDSportsAccess): "No. 3 @AthleticsDunbar shuts down No. 11 Fairmont Heights take 1A crown (by @_bwarren) https://t.co/noesyCMicz https://t.co/ucVti5E44n"
CAPITALS CLINCH PRESIDENTS TROPHY IN 4-1 WIN OVER BLUE JACKETS
The Washington Capitals used a dominating third period on Monday night to best the Columbus Jackets and clinch the franchise's second ever Presidents Trophy.
Entering the final frame tied at 1-1, the Capitals exploded in the score column with Tom Wilson (7), T.J. Oshie (24) and Nicholas Backstrom (20) netting key goals to keep Washington's streak of not dropping consecutive regulation games alive and home ice advantage throughout the playoffs.
Tom Wilson's go-ahead goal and three hit performance was good enough to earn him first star honors.
Justin Williams also netted his 22nd goal of the season and Matt Niskanen dished out two assists as the Capitals improve to 54-16-5 on the season and will take on rival Philadelphia on Wednesday night at 8:00 pm (TV: NBCSN)
HIGH SCHOOL BASKETBALL SHOWCASE COMING TO WASHINGTON COLLEGE
On Saturday, May 7th from 9:00 am to 6:00 pm at Washington College (300 Washington Ave., Chestertown, MD 21620), Maryland Elite Basketball will be hosting a high school basketball showcase that offers premium exposure for ninth – 11th graders and unsigned seniors.
Maryland Sports Access will be providing full coverage of the event with player write-ups, awards, and much more. Many college coaches, majority Division II, Division III and JUCO, will be on hand as well.
Individuals will perform combine style workouts and then be split into teams to play three games.
The even cost is 55 dollars and registration can be found on MarylandEliteBasketball.com.
Contact Maryland Sports Access director Kyle McFadden at 240-397-3096 and Maryland Elite Basketball at 240-654-7434 or 301-789-7641 for more information about the event. You can follow both Kyle McFadden and Maryland Elite Basketball on Twitter below.
The latest Tweets from Kyle McFadden (@k_fadd). Freelancer covering college sports, preps & #nascar. ?: @WashPostHS @BaltSunSports @frednewspost. @FrederickCC student. 2 Corinthians 12:1-10. Views=mine. New Market, MD
The latest Tweets from Maryland Elite (@mdelitebball). High-level basketball organization! We host leagues, tournaments and our AAU teams ball out in talent-filled tourneys. For ELITE Basketball info: Follow us!
NBA'S BEST, WARRIORS, TOPPLE WIZARDS AND DIMINISH PLAYOFF HOPE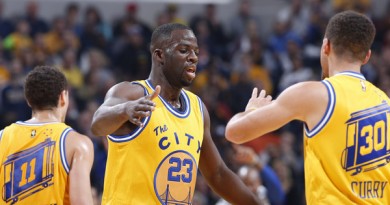 The Washington Wizards faced a daunting task Tuesday night, traveling to the Golden State Warriors, a team that has broke seemingly record after record all year long.
Last night was no different as the Warriors walked out with a 102-94 victory over the Wizards (36-38) and move closer to the NBA's single season record title of 72-10 set by the 1995-1996 Chicago Bulls. Golden State currently stands at 67-7 and, yes, that is not a typo, they are indeed 60 games above .500. They need to finish their final eight games no worse than 6-2 to have the single season record all to themselves.
The Wizards led by as many as nine points in the first half, but a 12-0 run by the Warriors plummeted any chance of the NBA's modern day upset. Bradley Beal paced Washington with 17 points and four assists. Markieff Morris added 15 points and eight rebounds.
Steph Curry and Klay Thompson had 26 and 16 points respectively for the Warriors. Draymond Green finished one assist shy of a triple-double, registering 15-16-9 (points-rebounds-assists).
With eight games left, Washington travels to Sacramento on Wednesday night, three games out of the eighth seed.
SPRING TRAINING: ORIOLES TIE THE BRAVES IN 10 INNINGS
The Baltimore Orioles tied the Atlanta Braves, 4-4, in 10 innings on Tuesday afternoon.
Manny Machado hit his fifth home run of the spring while Matt Wieters cranked his first, coming off of the injury prone 2015 season. Wieters also was in the lineup to catch for seven innings. Adam Jones added a double, which he would later scored on.
Miguel Gonzalez went five innings, allowing just one run on seven hits as a he vies for a spot in the rotation. His ERA dropped from 12.56 to 9.78 in the Grapefruit League.
Chris Tillman was named the Orioles opening day starter for the third consecutive year in a row, the first Baltimore pitcher to do so since Mike Mussina in 1998-2000.
SPRING TRAINING: NATIONALS GET BY CARDINALS, 1-0
The Washington Nationals continue to roll in spring training as they get by the St. Louis Cardinals, 1-0, in a shortened game that lasted three and a half innings. The win pushes their record to a stout 17-4 with Opening Day around the corner.
COLLEGE HOOPS: MOUNT ST. MARY'S LEADING SCORER, ASHE, TRANSFERS OUT OF PROGRAM

Mount St. Mary's head coach Jamion Christian announced on Saturday that the program's 2014-2015 and 2015-2016 leading scorer, B.K. Ashe, will be transferring from the program to "play at a higher level."
It will be effectively immediately. Ashe averaged 11.9 points per game his sophomore year while shooting 42 percent. His junior year, he averaged 13.8 points on 40 percent shooting and 4.5 rebounds per game.
THURSDAY NIGHT: Maryland Sports Access will be providing full coverage of the Frederick County All-Star basketball game held at Tuscarora High School.
Maryland Sports Access' spring coverage will be launching next week, as we will provide content of high school lacrosse, baseball, track and field and tennis through out the season.