The latest Tweets from Maryland Sports Access (@MDSportsAccess): "No. 3 @AthleticsDunbar shuts down No. 11 Fairmont Heights take 1A crown (by @_bwarren) https://t.co/noesyCMicz https://t.co/ucVti5E44n"
DEMATHA'S FULTZ SCORES 10 POINTS IN MCDONALD'S ALL-AMERICAN GAME
DeMatha guard Markelle Fultz participated in Wednesday night's prestigious McDonald's All-American game where he registered 10 points on 4-for-12 shooting, six assists, four rebounds and three steals in 15 minutes of work.
The West outlasted the East, the team was Fultz was on, 114-107. Some notable alumni from the McDonald's All-American game is Kevin Durant, LeBron James and Michael Jordan.
Fultz will be attending Washington later this year.
HIGH SCHOOL BASKETBALL SHOWCASE COMING TO WASHINGTON COLLEGE
On Saturday, May 7th from 9:00 am to 6:00 pm at Washington College (300 Washington Ave., Chestertown, MD 21620), Maryland Elite Basketball will be hosting a high school basketball showcase that offers premium exposure for ninth – 11th graders and unsigned seniors.
Maryland Sports Access will be providing full coverage of the event with player write-ups, awards, and much more. Many college coaches, majority Division II, Division III and JUCO, will be on hand as well.
Individuals will perform combine style workouts and then be split into teams to play three games.
The even cost is 55 dollars and registration can be found on MarylandEliteBasketball.com.
Contact Maryland Sports Access director Kyle McFadden at 240-397-3096 and Maryland Elite Basketball at 240-654-7434 or 301-789-7641 for more information about the event. You can follow both Kyle McFadden and Maryland Elite Basketball on Twitter below.
WIZARDS PLAYOFF HOPES SINK IN 120-111 DEFEAT TO KINGS
Kings' DeMarcus Cousins doled a punishing to blow to the Wizards on Wednesday night, totaling 29 points, 10 rebounds and five steals to propel Sacramento past a sinking Washington (36-39) team, 120-111.
The Wizards dropped their second game and fourth in five games, falling 3 1/2 games behind Indiana for the eighth and final playoff seed in the pedestrian Eastern Conference.
Bradley Beal had 24 points and Otto Porter scored 20 (13 in the third quarter) for the Wizards. John Wall pitched in with 14 points and 13 assists, and Markieff Morris had 13 points.
With seven games to play, Washington will look to find the igniter as they finish up their West Coast road stand on Friday at Phoenix.
SPRING TRAINING: NATIONALS END SPRING WITH A BANG, THUMP METS, 12-1
The Washington Nationals thumped the New York Mets Wednesday afternoon, 12-1, behind key home-runs from Ryan Zimmerman, Jayson Werth and Stephen Drew to round out their spring training with an 18-4 record.
In the top of the first inning, Zimmerman hit a three-run blast off Mets starter Matt Harvey while Werth and Drew followed that with two-run homers.
Anthony Rendon had two singles and scored a run, and Daniel Murphy tripled and scored a run for the Nationals.
Regular reliever, Trevor Gott, got the start for Washington and allowed three hits and a walk in two scoreless innings.
SPRING TRAINING: TIGERS' GREENE SHINES AS ORIOLES FALL, 2-1
Detroit Tigers pitcher, Shane Greene, proved to be too tall of an order for the Baltimore Orioles (10-15) to overcome, hurling six shutout innings in his teams 2-1 victory.
Greene struck out nine while only giving up three hits – two bunt singles by Matt Wieters and a base hit by Chris Davis.
The Tigers got runs from a James McCann home run in the second inning off Chris Tillman (pitched four innings), and a throwing error by Baltimore's Manny Machado.
Yovanni Gallardo will take the mound against Atlanta on Thursday in Sarasota.
FLYERS' LATE SURGE DOWNS CAPITALS, 2-1
Philadelphia's Nick Cousins and Sam Gagner scored in a shootout after Brayden Schenn tied the game in regulation late in the third period to down Washington (54-16-6) 2-1 on Wednesday night.
The win launched the Flyers out of a tie with Detroit for the final playoff spot in the Eastern Conference.
Alexander Ovechkin scored the lone Capitals tally, and league leading 44th goal just under two minutes into the third period on a feed from Evgeny Kuznetsov. The Flyers tied it at 1-1 on a power play goal from Schenn with 5:28 remaining.
Brayden Holtby (46 wins), who needs three more wins to break Martin Brodeur's league record set in 2006-2007, made 33 saves for the entirety of the contest.
BASEBALL: ORIOLES RELEASE STARTING PITCHER MIGUEL GONZALEZ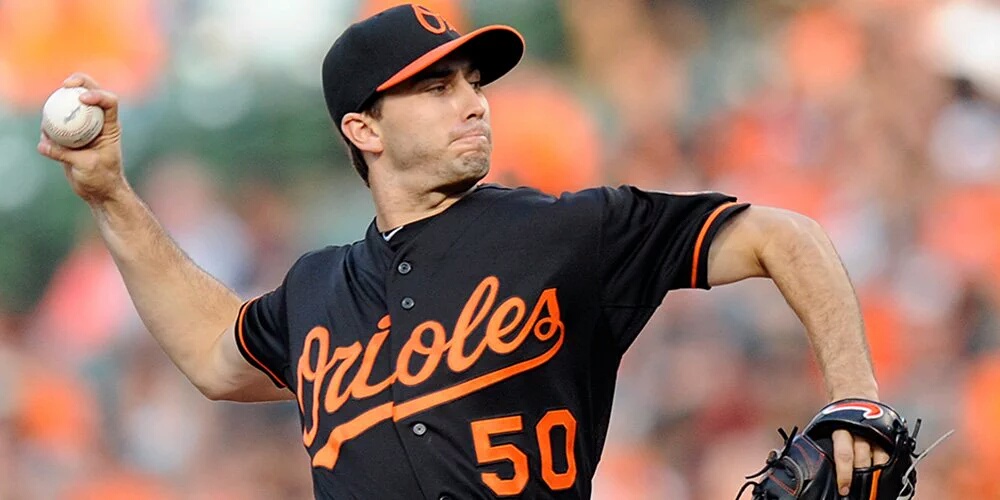 Orioles right handed pitcher Miguel Gonzalez was released Wednesday afternoon.
The 31-year old went 39-33 with a 3.82 ERA in his four year tenure in Baltimore. He will receive 45 days termination pay, $1,254,098, instead of the $5.1 million salary he agreed to in January as part of a non-guaranteed contract that avoided salary arbitration.