Don't overact with Maryland, which wins opener despite long scoring droughts similar to last year
The good: Maryland tipped off its 100th season with a win at home over Delaware. The unpleasant: They nearly squandered a 22-point lead and needed late free throws to put away the 221st-ranked team by Ken Pom, 73-67, stammering through long scoring droughts and offensive confusion that plagued last season.
"Obviously not the way we wanted to finish the second half," Maryland coach Mark Turgeon said. "Couldn't score around the rim, missed a couple free throws and we let the offense affect our defense. We stopped guarding."
Anthony Cowan put the Terrapins up 56-34 with 14:59 left, then things tailed south. Maryland missed its next nine shots and, all of a sudden, the Hens pulled to 58-48 with 9:23 to go. The first drought lasted 4:43, and right after freshman Eric Ayala halted it with a layup, the Terps went the next 2:45 without a field goal and the lead was shaved to seven. Maryland's final field goal of the night came with 3:27 remaining, an Ayala layup that extended the lead to 70-62. A five-point Hens burst made it 70-67 with 1:31 left. Cowan, one of two scholarship upperclassmen who played Tuesday, sealed the Terps first win of 2018-19 with three free throws.
Having three lengthy scoring droughts over the final 15 minutes and shooting 40.3 percent (25-for-62, 2-for-19 from deep) is far from ideal and brings back bad memories from last year, when the Terrapins missed their first NCAA tournament in four years, but don't overact on opening night.
Five-star recruit Jalen Smith debuted with plenty of promise, totaling 19 points on 8-for-15 shooting, 13 boards — both team highs — and two key blocks down the stretch. He co-existed with Bruno Fernando in the frontcourt effectively (Fernando was 6-for-6 and finished with 15 points before fouling out), the type of paint play the Terps tried but just couldn't generate last year.
Though Cowan didn't have his best stuff, he put up 15 points (4-for-14 shooting), six rebounds, a pair of assists and attempted 10 free throws.
Outside of Fernando and Smith, though, the Terps posted an ugly 21.5 percent from the floor (11-for-51). A large part of that is Cowan's 10 missed shots, but freshman Aaron Wiggins (seven points, seven rebounds, five steals) went 1-for-8, sophomore Daryl Morsell shot 2-for-7 and freshman Ricky Lindo made just one of his four attempts.
It's worth noting five of Delaware's eight players who logged minutes Tuesday are upperclassmen, compared to just Maryland's two (Cowan and forward Ivan Bender). For that very reason, patience should be practiced. Reps and on-court experience should, hopefully, do the trick. Buy games against Navy, North Carolina A&T, Hofstra, Mount St. Mary's and Marshall await before the Terps' first test Nov. 28 against No. 5 Virginia.
"This young team is going to get better, and it's going to get better quickly," Turgeon said. "We all would have liked to win that game by 24 or 26. I probably would have slept better tonight. But I think we got more out of it because we had to do some things."
Duke or the Monstars?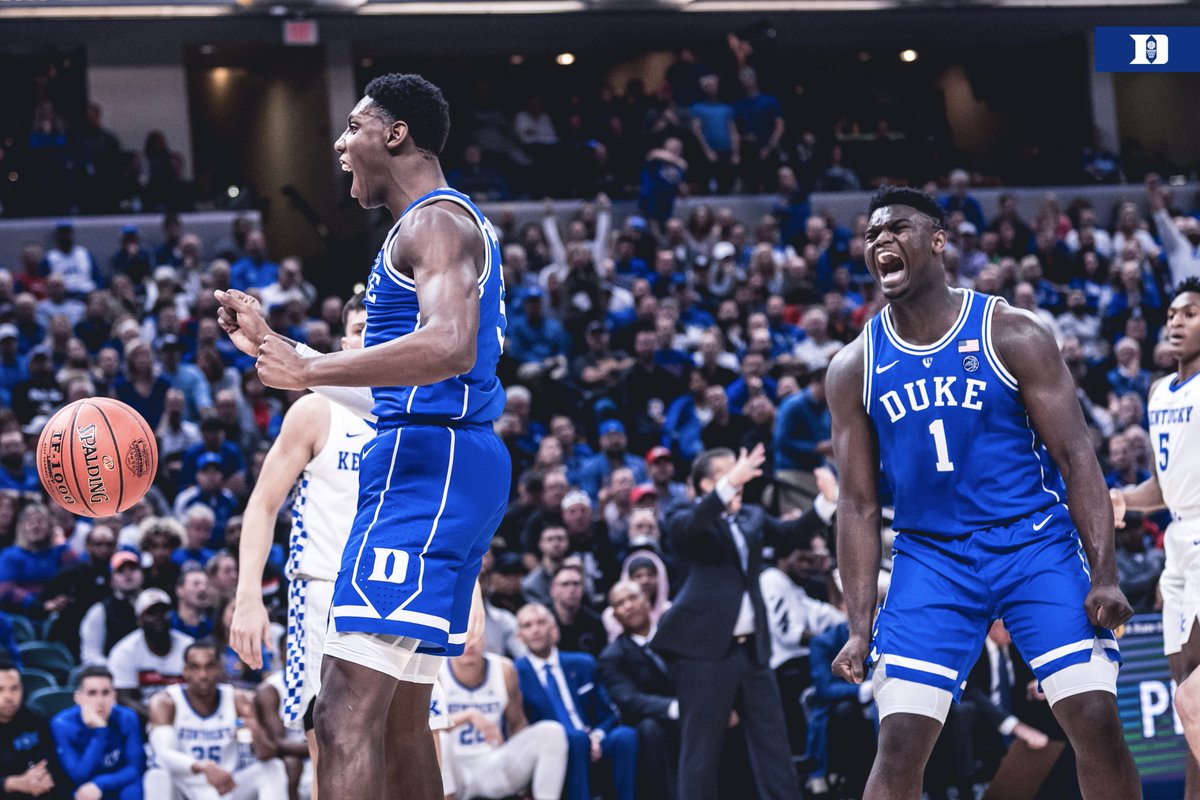 The matchup I had been waiting for all day finally tipped off. Three and a half minutes in, it's 11-8. "Alright, it's about to get good," I think.
I look away for a few minutes, then turn back: It's 20-8. Whoa.
Now it's 32-11.
Whoaaa.
Halftime: 59-42.
WHOA.
Five minutes into the second half: 77-47.
SWEET JESUS.
Final score: 118-84, No. 4 Duke over No. 2 Kentucky, in this highly-anticipated opener. Simply put, the on-court product was mesmerizing. Zion Williamson looked like a member of the Monstars from Space Jam. R.J. Barrett could do whatever he wanted, when he wanted. Cam Reddish made your head spin even more. These three freshmen were Nos. 1, 2 and 3 in many 2018 recruiting class rankings … and Duke coach Mike Krzyzewski has them all.
"They were magnificent," Krzyzewski said of his freshmen. "To play this well on this stage, right away against Kentucky is surprising. I'm really proud of my freshmen."
Their stat lines and highlights were literal art, and we're still four months from March. Barrett went for 33 points, six rebounds and four assists. Williamson pouring in 28 on just 13 shots and had seven boards. Reddish finished with 22 and four steals. College basketball's Big 3 had handed John Calipari the worst loss in his entire, three-university career.
Is this Duke's ceiling or their norm?
"We weren't surprised we were winning by so much," Barrett said. "We know what we have. We see it every day."
Confidence, young man, confidence. And, somehow, through the mystique of Barrett, Reddish and Williamson, freshman point guard Tre Jones is unfairly left in the shadows. He wasn't a showmanship, just an uber show-runner, dishing seven assists and only turning it over four times while orchestrating this trio of alpha stretch forwards, that they can coexist dominantly.
Naiveness is usually a trait young teams need to outgrow come February and March, where experience and attentiveness rules. But with this year's Duke team, that naiveness of having little regard for the opponent and what the flow of the game might look like, only to ponder through the lens of a dreamy teenager's mind.
First of all, when I'm watching them run it up on Kentucky, of all teams, I think, if Kentucky has a hard time matching up, if they're getting punched in the mouth, what team out there can hang? Who can suppress Duke? Eventually, they'll lose this season. Seemingly indomitable Virginia did (to UMBC in Round 1 of the NCAA tournament). But from a personnel and philosophy standpoint, what team could? They just slaughtered Kentucky by 37, and before that had five exhibition wins by an average of 45.2 points.
Barrett is special and was the No. 1 recruit in his class for a reason. But Williamson is a different beast. His skill set is freakish: Jordan-like athleticism in a linebacker's body, maybe? A hardwood version of hulk?
Zion Williamson throws down the first of many college dunks. (Via @BBallSociety_) https://t.co/ZDLQDZiKqQ
And then this sequence of him literally snatching the ball from Nick Richards like a little boy, barreling up the floor and threading a textbook pass to Barrett for an easy two is mind-boggling.
Zion Williamson is Thanos in real life ? (via @BBallSociety_) https://t.co/pf9HtEFPFy
Oh, and he can fill it from deep, too!
Zion Williamson's first shot at Duke: A swish from the 3-point line. https://t.co/PFIIJDb4a9
And I haven't even gotten to Barrett and Reddish and Jones and everyone else. Here's Duke's upcoming schedule: Army, Eastern Michigan, San Diego State in Hawaii, Indiana, Stetson, Hartford, Yale, Princeton, Texas Tech. Its first five conference games are Clemson, at Wake Forest, at Florida State, Syracuse and Virginia. Right now Ken Pom has these Blue Devils starting 20-0 and finishing 26-3.
The only teams that could stand in their way are ultra-efficient Virginia, Jim Boeheim's Syracuse and crosstown rival North Carolina. But that's it. We might not learn more about Duke over these next two months — its toughest remaining non-conference opponent is Indiana (27th by Ken Pom). In the grand scheme, it's just opening night. Gushing in November isn't the same as sound understanding in February. Kentucky will want to forget this drubbing forever. As for the rest of us, this is our first impression of the baby Blue Devils: Flamboyant, dominant, a fledging juggernaut.
UMBC's search for playmakers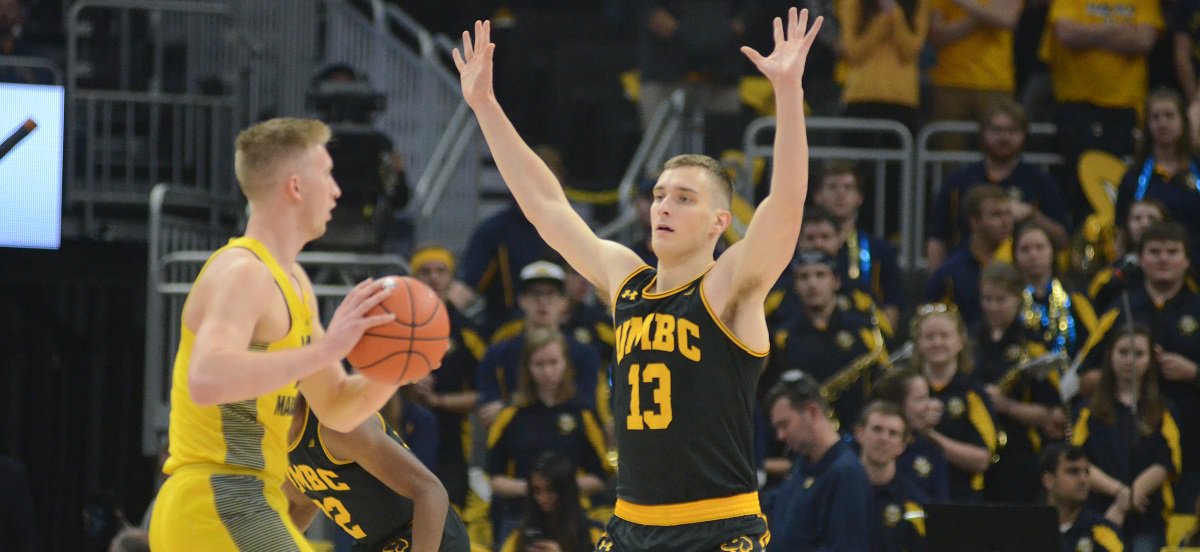 The key to UMBC's historic March Madness run this past year stemmed from masterful coaching and dazzling backcourt play. As the Retrievers set course for another season, only half of that Cinderella formula remains, and it was evident something lacked in their 67-42 loss at Marquette on Tuesday night.
NCAA tournament legends Jairus Lyles (28 points on 11 shots in the historic win over Virginia) and K.J. Maura, who are now playing professionally, were the team's top two playmakers a season ago. It's no secret this void needed filling and through one night of the college hoops season, it's apparent the Retrievers are still searching for the next wave of playmakers.
They shot just 22.6 percent from the floor (14-for-62, 6-for-28 from deep) and had more turnovers (11) than assists (nine). K.J. Jackson, a JUCO transfer filling one of the two holes in the backcourt, struggled in his Division I debut, making just one of his nine shot attempts. He finished with seven points, two assists and two turnovers in 26 minutes. Jackson didn't make his only shot until seven minutes left in the game, when it was out of reach at 53-36.
Three other guards received more than 10 minutes of playing time: Jose Placer, Ricky Council and Jack Schwietz. They went a combined 0-for-8 with three assists and three turnovers. The frontcourt, as expected, picked up some of the slack.
Stretch forward Arkel Lamar took the most chances on offense, largely because nobody else could create. He finished with 11 points on 5-for-14 shooting and six rebounds. Joe Sherburne's eight points were the second most and his 2-for-4 mark from deep led the team. Forwards Brandon Horvath and Max Curren added seven, completing a frontcourt that scored 33 of 42 points.
UMBC will look to develop some sort of backcourt identity this Saturday against Division III Shenandoah, its first home game since the historic run.
Mount St. Mary's hammered by NC State but backcourt shines
The end result wasn't pretty (a 105-55 loss to N.C. State) but there's a lot first-year coach Dan Engelstad can take from opening night.
A dynamic backcourt is such an important ingredient in college basketball, and the Mount seem to have just that. Freshman point guard Vado Morse (16 points) and sophomore guard Jalen Gibbs (24 points) combined for 40 on 15-for-29 shooting, more than 75 percent of the Mountaineers' offensive output. Morse, a Bullis School product, added four assists and Gibbs, a graduate of North Point, tallied six rebounds.
The Mount were picked to finish last in the Northeast Conference this year and have question marks at nearly every position. So, it's good to pinpoint a strong suit this early. However, outside of Morse and Gibbs, the Mount only scored 15 points on 5-for-32 shooting. Their frontcourt struggled to finish around the rim, converting just 3 of 22 shot attempts for seven points amongst seven forwards. Clearly, the inside game needs to be situated. That, too, should come in time.