Hundreds sporting black and gold attire packed UMBC's Retriever Sports Zone on Saturday night, with eyes glued to the projector that aired the NCAA tournament's men's basketball selection show.
Fans, alumni, and students were the majority in attendance, standing and sitting shoulder-to-shoulder, nudging and rising to their toes, just to maximize their taste of history. Even kitchen workers stopped duties for a second to soak in the atmosphere. Cheerleaders lined the rear of the room and the pep band made an appearance, too.
But the UMBC men's basketball team, donning gray hoodies, black sweats and blacks hats embroidered with "America East CHAMPS" in white letters, garnered the limelight, on campus and on the national stage. Just minutes into the 6 p.m. show, the broadcast cut to a live-stream inside the Sports Zone. "How about the UMBC Retrievers?" CBS's Greg Gumbel said over the room that filled with jubilant cheers.
I'm here at UMBC taking in #SELECTIONSUNDAY. Retrievers stunned Vermont yesterday afternoon in the America East title game to punch an NCAA tournament ticket for the first time since 2008. #MarchMadness https://t.co/9WPs7GvWzd
Not long after, in the first pairing of the first revealed region, UMBC saw their name in the 68-team field as a long-shot 16-seed, and above was their opponent: No. 1 Virginia. For the first time since 2008, UMBC savored this moment. How it got here is what March is all about: Daggers and Madness.
On Saturday afternoon, the Retrievers played at top-seeded Vermont in the America East Conference title game. All odds were staked UMBC, having lost both games to the Catamounts this year by double digits — including a 28-point beat-down at home — and had dropped 23 straight games in the series, too. And at the beginning of the conference tournament, KenPom gave the Retrievers a 9.3 percent chance of going to the NCAA tournament, while Vermont's odds were over 70 percent.
But when the game's final seconds arrived, and with the score gridlocked at 62, UMBC junior guard and DeMatha alum Jairus Lyles delivered an already signature moment of Madness 2k18, when he emphatically drilled the game-winning 3-pointer in the face of Vermont's Trae Bell-Haynes, the league's Player of the Year, to send his Retrievers dancing.
From breaking news and entertainment to sports and politics, get the full story with all the live commentary.
"He said after the game, 'That's the shot I've been working on all year before and after practice,' and that's true," junior forward Joe Sherburne said. "He's always doing those dribbles right into 3s. He's the hardest worker and he's the most talented. That's a pretty good combination."
Lyles, who leads UMBC in scoring (20.2 points per game) to go along with 5.2 rebounds and 3.5 assists, also put a D.C.-Maryland college in the big dance for the 40th consecutive year. The streak appeared to be in major jeopardy, given down seasons from Georgetown and Maryland and the early exits from Mount St. Mary's and Towson in the respective conference tournaments.
"To be the only team in the D.C. and Maryland area is even more special," Lyles said. "You have to represent for Maryland."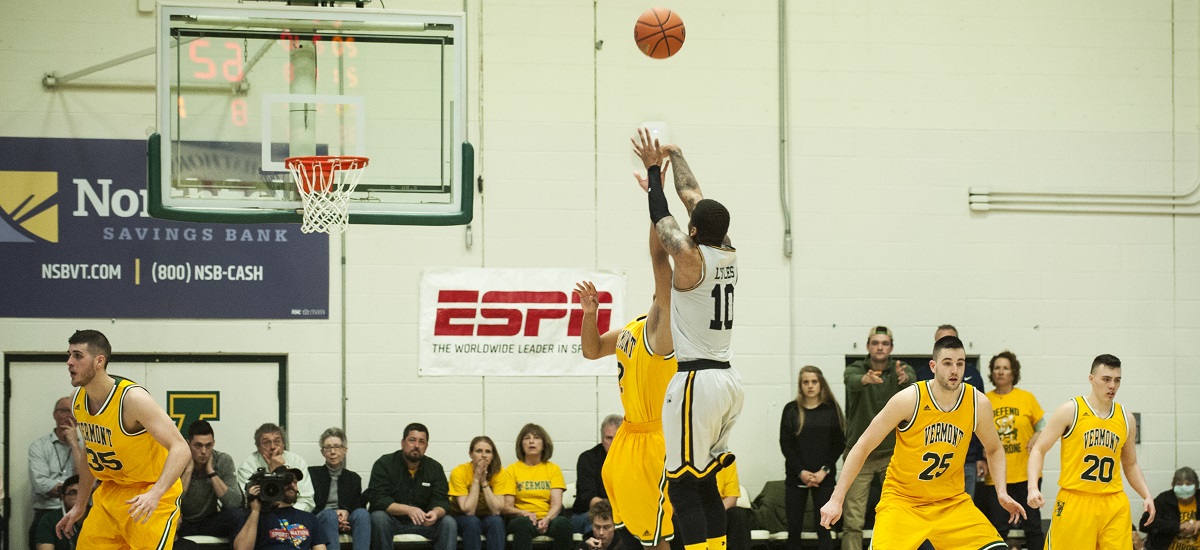 "It's great for our area," UMBC coach Ryan Odom said. "Our area is one of the most basketball rich recruiting footprints around. You can put it up against any of the other top-notch ones. … It mean's a ton. Most importantly, I'm excited to see these kids smile. Their hard work has paid off."
Odom's hard work had paid off, too. When he took over the program in 2016-17, UMBC was coming off just a seven-win season the year prior. The year before? Four wins. Odom steered the Retrievers to 21 wins in his first season and this year they're at 24.
The second-year coach said he received an estimated 200 texts since Saturday, coming from family, Maryland coach Mark Turgeon and even Utah Jazz coach Quin Snyder.
Vegas already has Virginia as 22 1/2-point favorites. KenPom says UMBC has a 3 percent chance. Since 1985, no 16 seed has beaten a 1 seed. However, 16-seeded Mount St. Mary's led top-seeded Villanova for 19 minutes in last year's tournament before losing 76-56. If, by any stretch of the imagination, UMBC is able to somehow, someway get win No. 25, it would be undoubetdly the biggest upset in NCAA tournament history.
"We started our season at Arizona and SMU for a reason, and then Maryland in December," Odom said. "We wanted to face a team of that caliber. Arizona was the No. 1 team in the country at that time, or pretty close to it. We wanted to test ourselves against that type of talent for this moment. … I don't think our guys will be wowed by that, but it's going to be a tall order without a doubt."