Not too many head coaches have the privilege of coaching one of, if not the top quarterback prospect's in the nation. Bullis' Pat Cilento has the bragging rights to say that he is one of those head coaches.
When quarterback Dwayne Haskins moved from New Jersey to the Potomac area in 2013 to attend The Bullis School, Cilento knew he had something special.
Haskins jumped right in the starting role as a sophomore, throwing for 14 touchdowns and helped Bullis compile a 9-1 record while capturing the IAC championship. As a junior in 2014, he backed his sophomore campaign by throwing 22 touchdowns and leading the Bulldogs to another 9-1 record with a second IAC championship in a row.
He's ranked as the second quarterback in the nation according to ESPN and earned second team All-Met and Maryland Gatorade Player of the Year honors after his landmark junior season. Haskins also picked up nearly 40 college offers that included Alabama, Florida, Maryland, Notre Dame, Rutgers and Virginia Tech.
On May 15th, Haskins made his college decision: to stay home and attend the University of Maryland. His decision sent a shock-wave throughout the whole state and has Terrapin fans chomping at the bit for his arrival.
But before Haskins steps foot onto Byrd Stadium in College Park, he has to get through his senior season in 2015.
Bullis graduated star running back Devonte Williams who is off continuing his football career at Indiana, leaving Haskins with the full set of keys to the Bulldogs offense.
Around Haskins are dynamic weapons. Junior running back Andres Lopez looks to get the bulk of the carries out of the backfield. While Damani Neal and Wisconsin commit, Patrick Johnson will serve as receiving threats on offense and back the secondary on defense.
Penn State commit and 12th ranked linebacker in the nation, Cameron Brown will man the defense setting Bullis up for juggernaut status in 2015.
Without further ado, here is what you can expect out of the Bullis Bulldogs in 2015: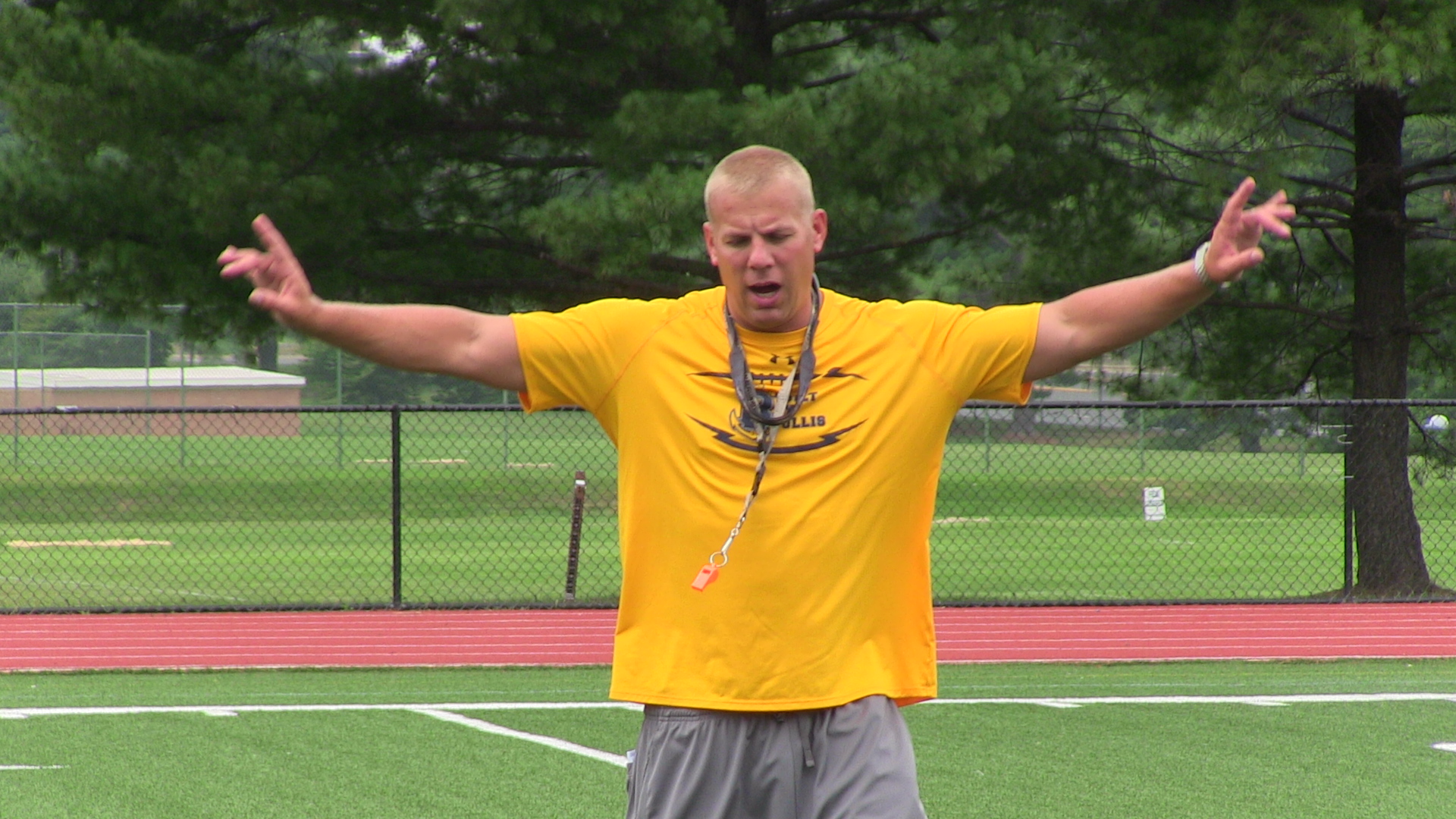 Head coach: Pat Cilento, 6th year, 41-10 record
2014 record: 9-1 (IAC champions)
2015 projected record: 9-1 (IAC champions)
Style of play: Pass first offense / 4-3 defense
HASKINS GETS THE KEYS
QB, #7 Dwayne Haskins, Jr. (SR.)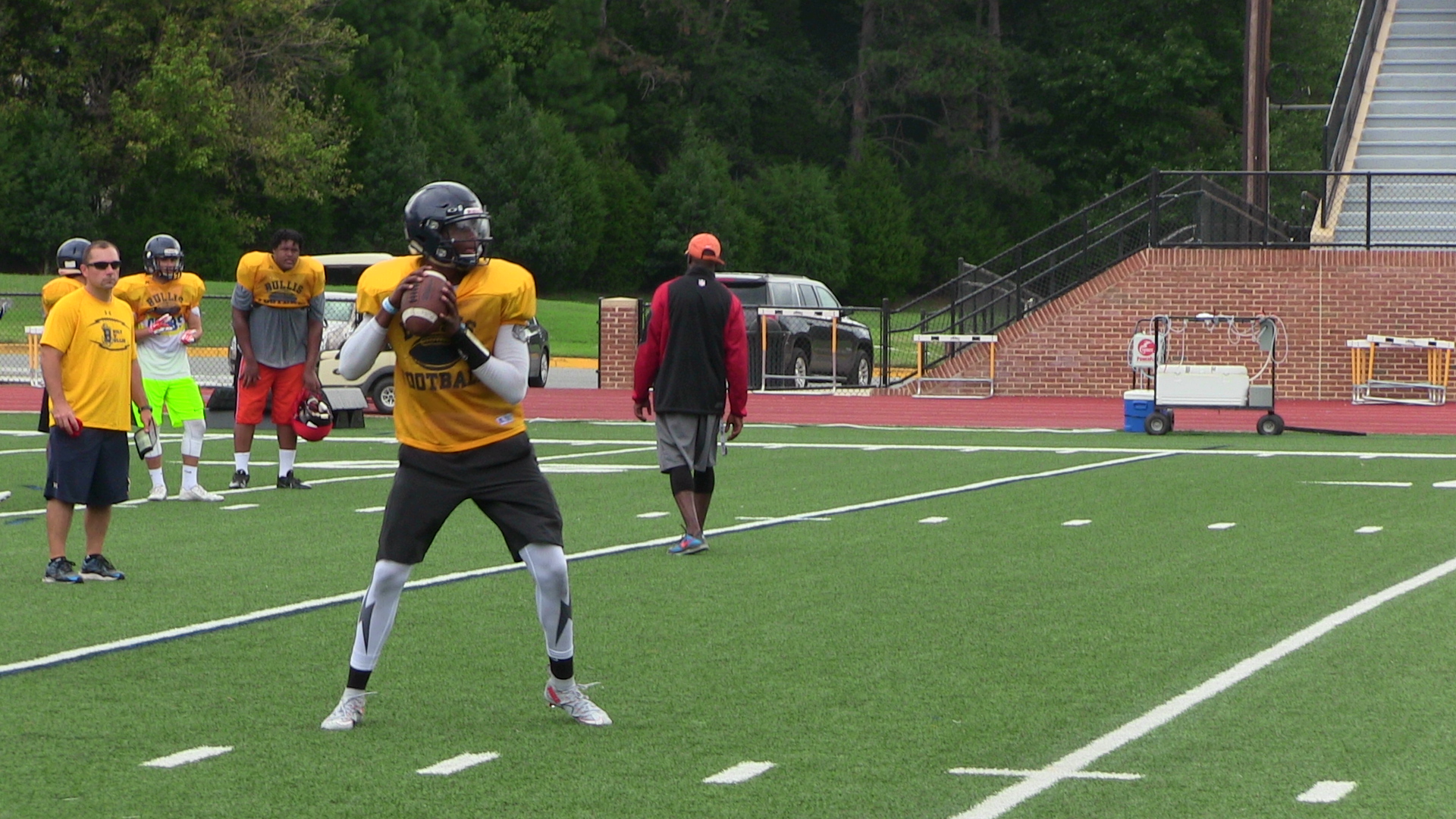 Calling all University of Maryland football fans: the face of Maryland football is on the way, one of the nations top quarterback prospects, Dwayne Haskins.
Since Haskins came to Bullis in 2013 as a sophomore he has compiled an 18-2 record, 36 passing touchdowns, two IAC championships and a Maryland Gatorade Player of the Year honors.
If you were trying to find a blemish on his high school resume it would be that he didn't go undefeated in his two seasons. Other than that the prized QB has accomplished basically every task that has been thrown at him.
He ranks as the second best quarterback prospect in the nation for 2016 graduates by ESPN and displays an array of strengths. His 6'3″ 205 pound framework allows him to oversee linemen in the trenches and his arm strength is exceptional.
Haskins' pinpoint accuracy and crisp delivery is what really separates himself from the rest. As a sophomore, he had a 4.6 interception percentage (6 interceptions in 128 pass attempts), which is pretty darn good for a 10th grade QB in the IAC.
In his junior year he cut his interception percentage down to a mere 1.9 percent (5 interceptions in 259 pass attempts) and completed nearly 62 percent of his passes.
But what makes Haskins an elite prospect is his understanding of the game of football. Which is extremely vital in order to be a successful quarterback.
He can extend the play with his legs if needed, but doesn't make that a top priority. Instead he'll sit in the pocket and make the most logical decision. Whether it's delivering a strike to a Bulldog teammate, tucking in the football to pick up a few yards on the ground if the pocket collapses or simply throwing the ball away and not forcing the issue.
Also, his teammates have claimed that he's mastered the Bullis offensive playbook from top to bottom and has the green light to make his own play calls.
Last year, Bullis attempted a pass roughly 45 percent of the time, leaving the other 55 percent designed run plays. This year, Haskins should have full control of the offense. And he should. I mean he's the second ranked quarterback in the entire nation.
Expect eye-popping numbers from Haskins in 2015. And if you're a University of Maryland football fan, this guy is right in your backyard. Go watch him flourish.
Projected stats: 2,500 passing yards, 29 passing touchdowns, 200 rushing yards, 3 rushing touchdowns
RB, #8 Andres Lopez (JR.)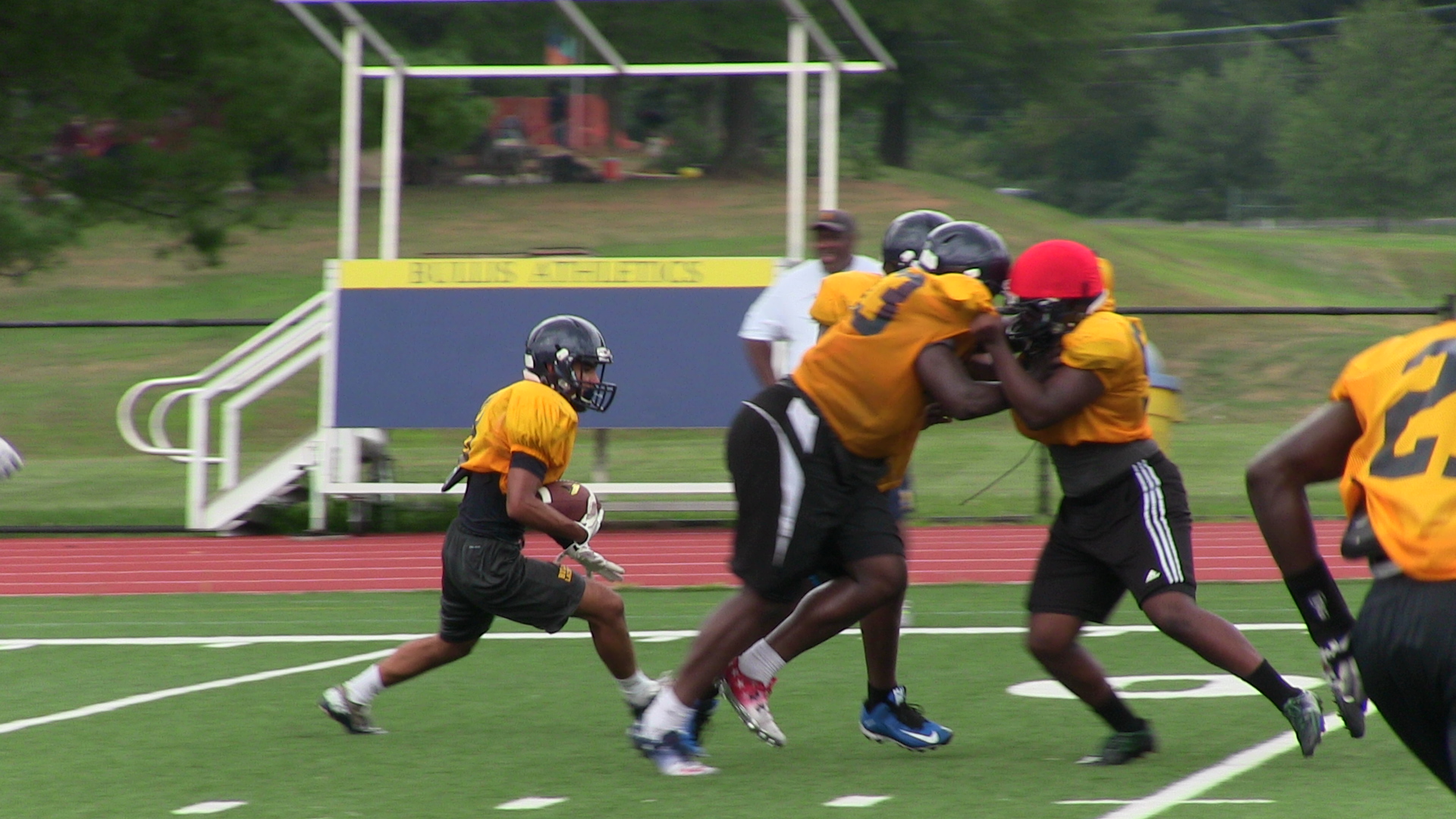 Devonte Williams, who rushed for over 3,500 yards and scoring 48 total touchdowns in his three year tenure at Bullis has come and gone. And somebody needs to step up to fill the big shoes that were left behind.
In the wings is 5'8″ 160 pound junior running back Andres Lopez. Last year, Lopez saw most of his reps on the special teams unit. Occasionally he saw touches as a running back, but not many. He had 21 carries the entire year, so if you do the math it would be about two carries a game.
He will go from barely seeing repetitions to taking the bulk of the workload at the running back position. It may be a tough transition at first, but Lopez has had a good camp. His coaches are high on him and his work ethic. He spent the whole off-season lifting weights, in which he gained 15 pounds of muscle and has worked on the fundamentals of being an every-down back.
Though this is a small sample size, Lopez has actually accomplished more his first two years at Bullis than Williams did. Williams ran for 134 yards and one touchdown before entering his junior year and Lopez has rushed for 191 yards and two touchdowns.
Lopez isn't on Devonte Williams' level, at least not yet. His best trait is his elusiveness and quick feet running the football. He can change directions sharply with a blink of an eye. While Lopez shouldn't feel too much of an offensive burden, because of Haskins at quarterback, he should still good amount of work in 2015.
Projected stats: 1,000 rushing yards, 12 rushing touchdowns, 200 yards receiving, 3 receiving touchdowns
WR, #4 Damani Neal (JR.)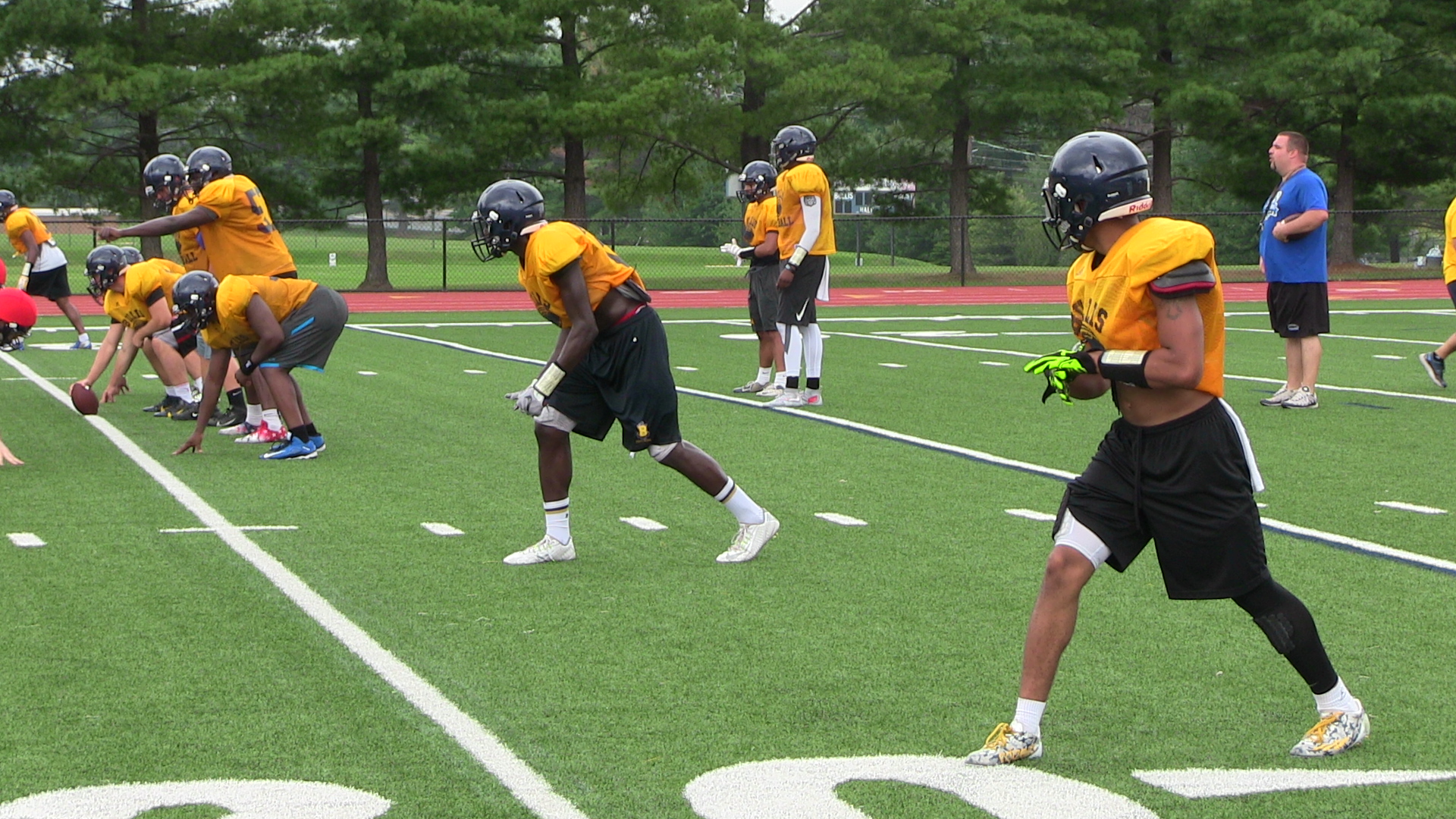 Not only is Damani Neal a standout strong safety on the defensive side of the ball, but he is the top receiver on Bullis as well.
Last year, Neal ranked first on the team in receptions and touchdowns with 44 and six, respectively. With his hard-nosed style of play, he offers quarterback Dwayne Haskins a reliable possession receiving threat while his counterpart, Patrick Johnson plays the speed role.
After his sophomore season, Neal received offers as an athlete from Maryland, Penn State, Rutgers and Stanford. He also has offers from Syracuse and Wisconsin, but for defensive back.
We all know Haskins will have the keys to the Bullis offense in 2015. And if Neal was his favorite target in 2014, you can bet he'll top his performance from last year.
Projected stats: 60 receptions, 550 receiving yards, 9 receiving touchdowns
WR, #2 Patrick Johnson (SR.)
Just like counterpart Damani Neal, Patrick Johnson isn't just a key component in the Bullis secondary on defense, but also an athletic receiving threat.
Last year, Johnson was second on the team in receptions and touchdowns with 34 and five. But first on the team in receiving yards, with 448. As Neal offers a possession style of play, Johnson is an athletic play-maker and will serve as a top weapon for Haskins and the Bullis offense in 2015.
Haskins distributed the ball pretty evenly in 2014, but expect another big year out of Johnson in the receiving corps.
Projected stats: 50 receptions, 650 receiving yards, 8 receiving touchdowns
Offensive spin: This offense is loaded. The number two quarterback prospect in the nation, Dwayne Haskins, will be leading the way without a doubt. Just having him alone is enough to make Bullis serious contenders for the IAC championship. Around Haskins is a solid run game with the likes of junior back Andres Lopez. Though they lost three year starting center, Craig Williams, to an ACL tear, the offensive line looks more than solid. Haskins has two prominent forces at receiver with the physical Neal and athletic Johnson. Overall, this could very well be one of the best prep offense's in the nation as Bullis is poised to put up some big numbers in 2015.
BROWN, JOHNSON, NEAL HEAD TENACIOUS DEFENSE
LB, #5 Cameron Brown (SR.)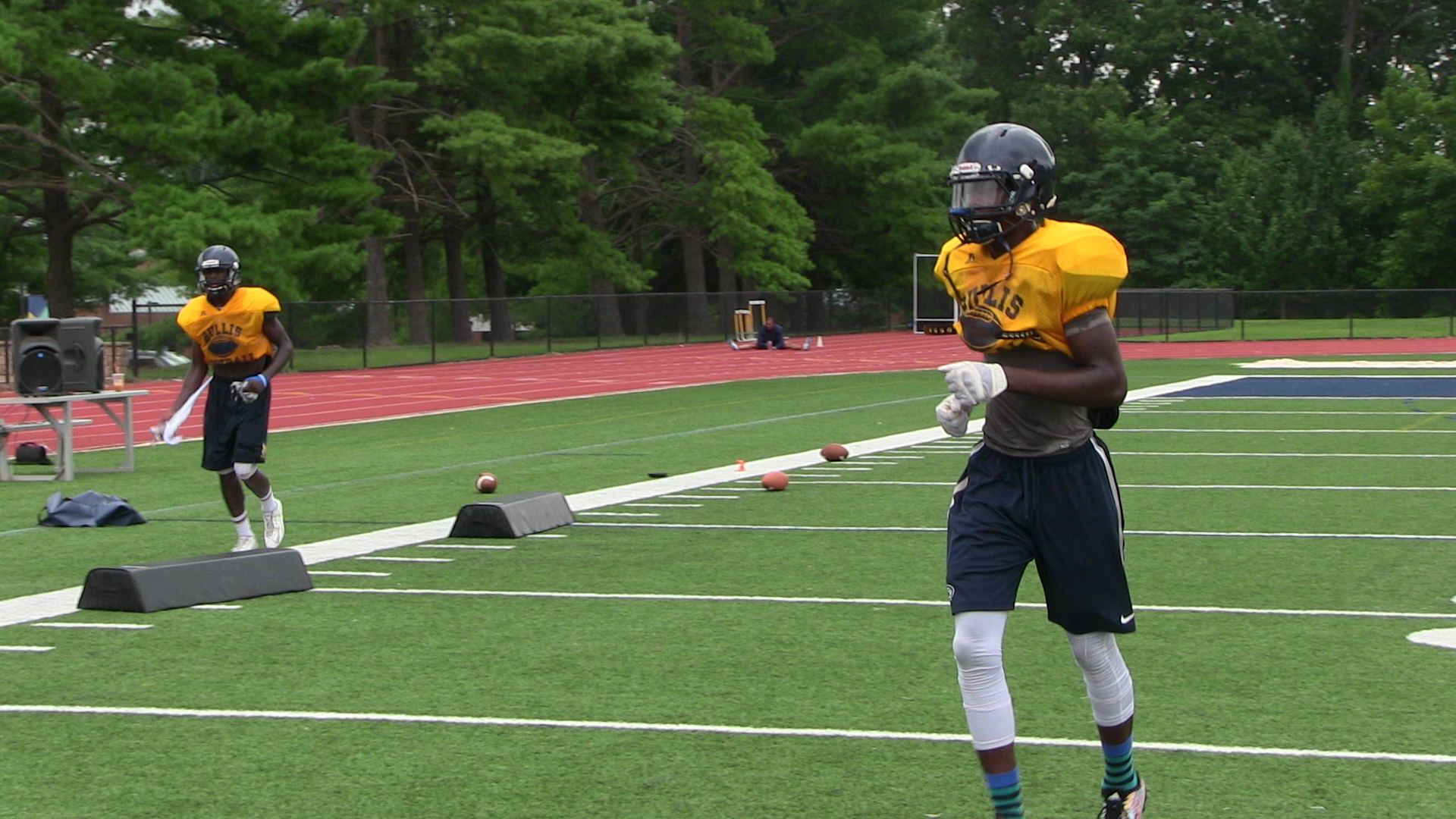 When you look at Cameron Brown, you'd think that he'd be a standout basketball player given his length and enormous wing span. In actuality, he's one of the nation's top linebackers.
His raw skills are off the charts: standing at 6'5″ 200 pounds and running a 4.68 40-yard dash. He'll catch your attention by physical appearance alone.
Last year, Brown racked up 94 tackles, 12 of those for loss, 2.5 sacks and forced four fumbles. Simply put, he is a machine at the linebacker position. He covers a vast range of field and has excellent pursuit to the ball.
Though his sack numbers are lower than one might speculate, he still creates havoc for opposing quarterbacks in the middle of the field.
Brown stated that playing in front of college scouts every game didn't allow him to stay 100 percent focused on his football duties. Now that he's committed to Penn State and all of that is behind him, Brown is primed for an even bigger year.
Projected stats: 110 tackles, 5 sacks
FS, #2 Patrick Johnson (SR.)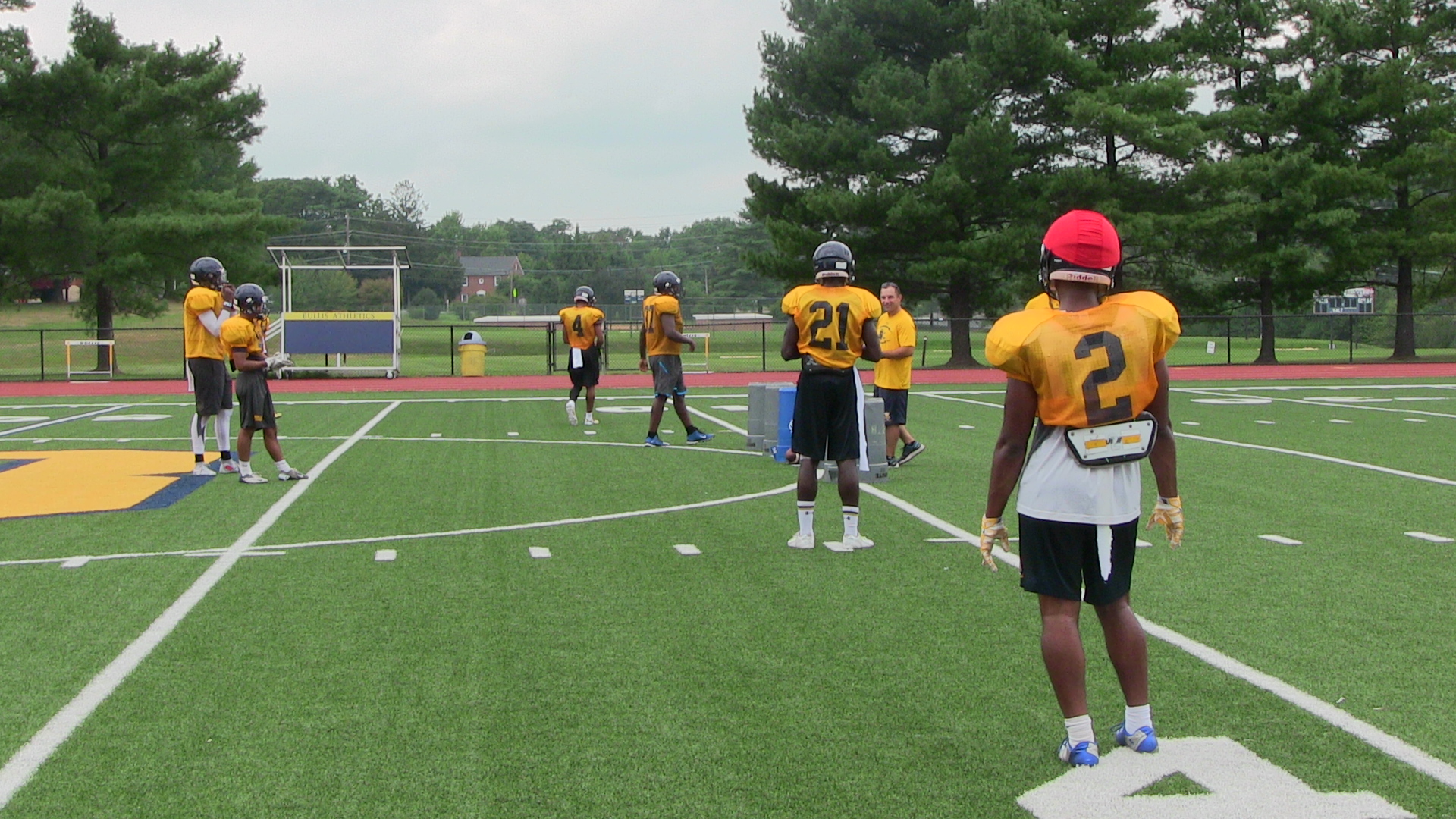 Last year, Patrick Johnson had the breakout season he's been waiting for. The McKinley Tech transfer tallied nearly 50 tackles while snagging five interceptions
Johnson is a straight ball-hawk and is always looking to make a play on the ball. He will bring athleticism, speed and play-making ability to the Bulldogs defense in 2015.
He is also committed to the University of Wisconsin as a defensive back. Johnson will be a vital piece to the Bullis secondary this season.
Projected stats: 60 tackles, 7 interceptions
SS, #4 Damani Neal (JR.)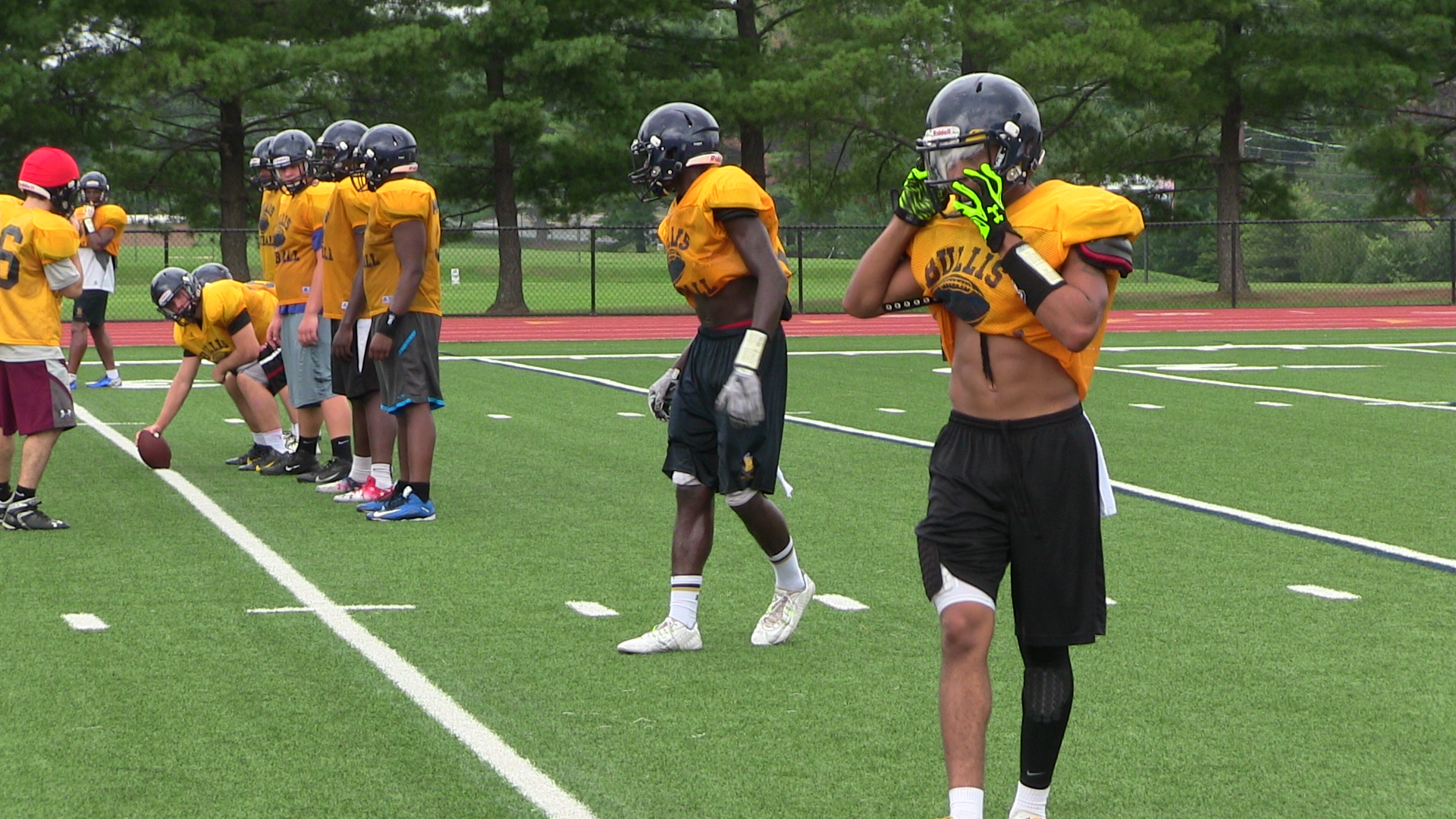 Personally, I believe Damani Neal is the most versatile player on this Bullis team. He's the top receiving threat offensively while being a cornerstone chip in the defensive secondary.
As a strong safety, Neal will hit you and hit you hard. He makes bone crushing hits in the open field and swarms to whomever is carrying the football. Last year, Neal tallied 112 total tackles and for accomplishing that feat in 10 games is pretty impressive.
This year, Neal is focused on being a better all-around safety. He'll be back there again causing more problems for opposing offenses in 2015.
Projected stats: 120 tackles, 2 interceptions
Defensive spin: I thought the offense was loaded. This defense is truly the bedrock of this Bullis team. They have it all: a stingy front seven led by Cameron Brown and a potent secondary that is manned by Damani Neal and Patrick Johnson. Last year, they allowed a division low 15 points per game to IAC opponents. That number should be less this year setting Bullis up to be a favorite to win yet another IAC title.
Toughest matchups
Week 1, at Mount St. Joseph's
Week 2, Woodberry Forest (VA)
Week 10, at Landon
The Bottom Line
Bullis has won the past two IAC championships with a lot of the same guys still on the roster going into 2015. It's a no-brainer to have them as the early favorite. They have a lethal passing offense headed by quarterback Dwayne Haskins and accompanied by receivers Johnson and Neal. From what I've seen in camp, formidable run game is in the making as well behind Andres Lopez. Defensively, I don't know how you can get any better. Cameron Brown leads a strong front seven and the secondary features the lethal duo of Johnson and Neal. All-in-all, Bullis should be a heavy favorite to win the IAC crown for the third year in a row.
You can follow my personal Twitter at @k_fadd and Maryland Sports Access at @MDSportsAccess.