The Urbana Hawks are faced with reality. Ray Gray, the programs all-time leading rusher, will never carry the pigskin again in a Hawk uniform. Standout quarterback Donovan Pannell will no longer be in the huddle making play calls, nor receiving snaps under center.
Neither will be walking through the double door entrance of Urbana High School, ever again. It's something that Urbana is going to have to cope with – growing pains of the end an era.
For the first time since 2011, Gray or Pannell will not be on the Hawks roster. It was an era that saw a 27-10 record and three playoff appearances over a three year time span.
Now a new beginning is on the horizon. Last year, Dave Mencarini took over the head coaching duties, succeeding Ryan Hines that held a 28-11 record in his three years at the position.
It was a change that took many by surprise. Mencarini developed a legendary resume in his 10 year tenure as Quince Orchard's head coach – posting a 107-18 record, winning more than 10 games eight times and winning a playoff game every year other than his first. He won the 4A title in 2007 and had two runner-up's in 2011 and 2012.
Mencarini's decision to depart from where he coached for a decade was bittersweet. He had already lived in Frederick County and wanted to be closer with his two younger daughters, The Washington Post reported. So the opportunity to coach at Urbana almost seemed picture perfect, taking over a program that's won five state championships since opening in 1995.
In his first season as the newly appointed head coach, he went 8-3 and got bounced in the first round of the playoffs to the eventual state runner-up, Damascus.
With no Ray Gray to hand the ball off to, new faces will have to emerge in the Hawks offense this season. When asked if 2015 will be a year to rebuild, Mencarini simply shook his with assurance and said, "There's no time for that. We believe in our guys."
Mencarini also stated that this Hawks team are the toughest competitors he's ever come across. As cliché as it sounds, Mencarini made that vividly clear. Which says a lot coming from one of the best prep football coaches in Maryland history.
The departures of Gray and Pannell means Urbana will sport a new-look offense in 2015. Mencarini has a strategic plan to keep the rich tradition of Urbana football alive and well.
To build a solid foundation on any level of football a team must have physical, fundamentally sound offensive linemen. Which this Urbana team has. They have play-makers in the wings like Elijah Atkins, Parker Mellott and Xavier Campbell to run a potent rushing attack.
And defensively, they will be more experienced than the offense. Returning key starters, nose guard Andres Silva, linebacker Marcus Montgomery, corner back Elijah Atkins and safety Parker Mellott.
So while this Urbana team isn't as flashy like in years past, they have pieces to be a contender in the 3A West. Here is what you can expect from the Hawks in 2015: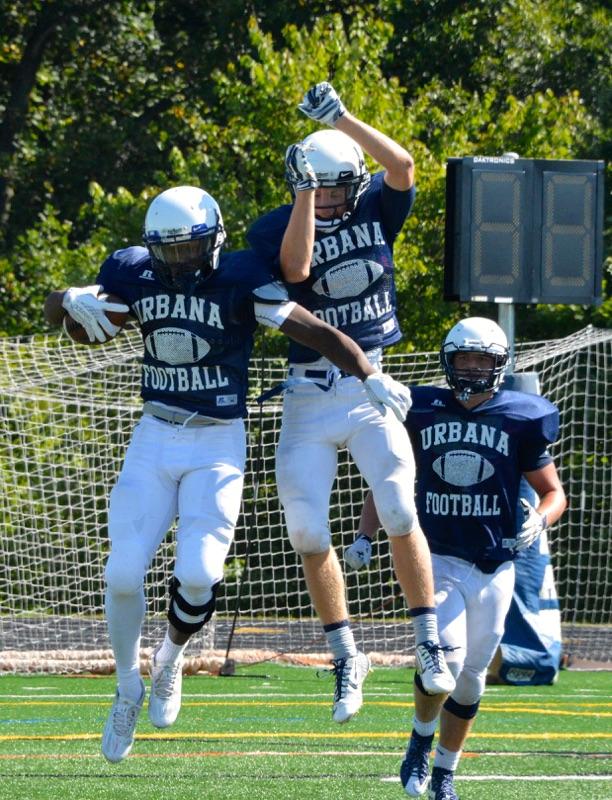 Head Coach: Dave Mencarini, 2nd year, 8-3 record
2014 record: 8-3 (Lost in 3A West regional semifinals to Damascus)
2015 projected record: 5-5 (Miss 3A West playoffs)
Style of play: Pistol Wing-T offense / 3-4 defense
NEW WEAPONS, RESTRUCTURED PHILOSOPHY
QB, #19 Chase Carbaugh (JR.) or #13 Tyler Woodward (SO.)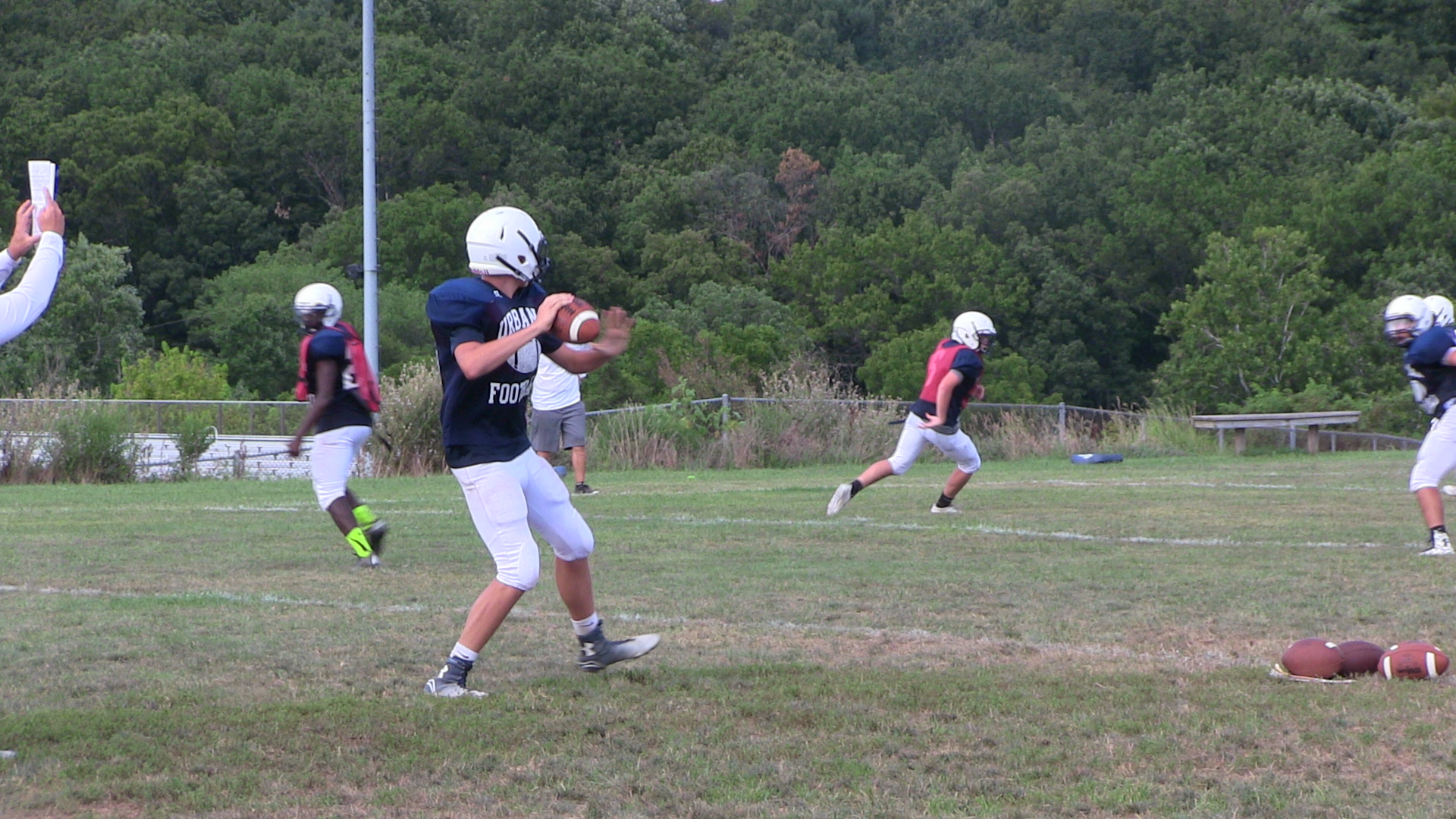 Three year varsity starter, Donovan Pannell, has graduated. Now a new face will emerge under center in the Hawks offense.
Mencarini has stated the quarterback battle between junior Chase Carbaugh and sophomore Tyler Woodward gas been going on since the beginning of January.
Both quarterbacks have never seen snaps at the varsity level. With Carbaugh playing on junior varsity the year before and Woodward being on the freshman team.
Carbaugh provides length, standing at roughly 6'3″ and good accuracy in the pocket while Woodward likes to escape the pocket and see the field better.
With Mencarini's new pistol offense, we should see substantially more run plays than pass, but we should still monitor the quarterback situation leading up to Week 1.
Slot back, #5 Elijah Atkins (JR.)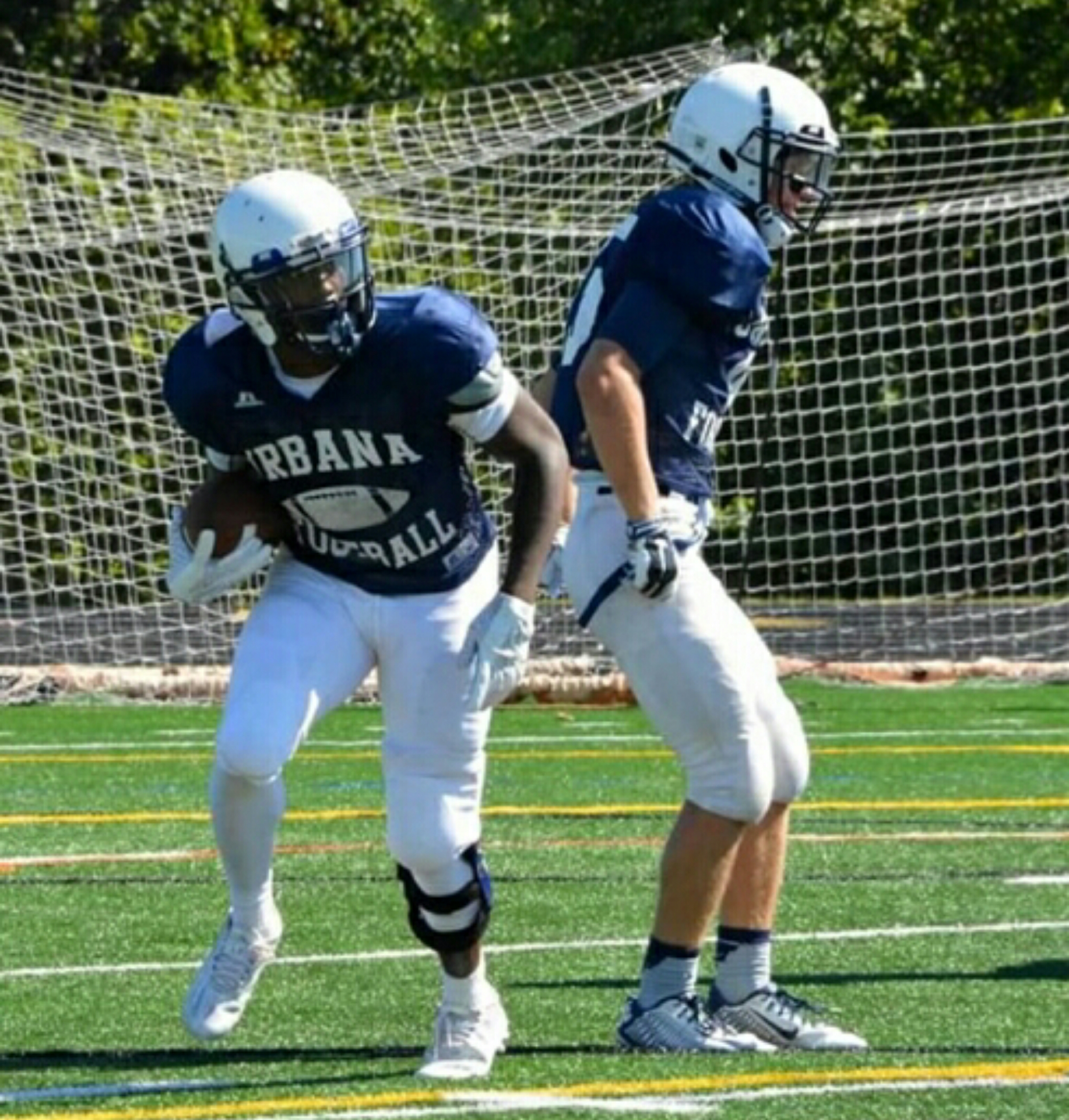 The face of Urbana football for three and a half years, Ray Gray, will not be walking through the doors of UHS ever again.
Not only was he the face of this organization, but Gray went down as one of the best running backs in Maryland high school football history – sitting seventh all-time in the state with 5,474 rushing yards, according to Maryland High School Football Reference.
Gray was a workhorse. And now with his departure many are stumped to come across his replacement. Look no further than to Elijah Atkins. He's not Gray level, not yet at least, but he supplies a lot of the same traits number 21 displayed that left defense's distorted on a Friday night basis.
Atkins is extremely explosive and is the biggest home run threat on this Urbana team. His great vision allows him find space in the defense and put on the after burners with his breakaway speed. He runs about a 4.45 40-yard dash and won the 100-meter region championship in track this past year.
Expect Atkins to line up in the slot this year and take a boatload of end-arounds, jet sweeps and inside hand offs.
When I watch Atkins' film, he reminds me a lot like Gray running the football. The elusiveness, speed and just the all around running ability is all there for Atkins to have a breakout junior campaign.
Projected stats: 1,200 rushing yards, 15 rushing touchdowns
FB, #10 Xavier Campbell (JR.)
Last year, Xavier Campbell played a minimal role at the varsity level. Seeing occasional reps on defense and the special teams unit. Now this year he is one of the four captains and has made tremendous strides over the off-season with his leadership ability and overall football terminology.
Campbell will play a major role in the newly formulated Hawks offense. He has a built stature and great explosiveness for being a fullback, running a 4.53 40-yard dash.
He should provide a nice pop in the Urbana offense this season and should be a name to watch out for throughout the year.
Projected stats: 800 rushing yards, 8 rushing touchdowns
Slot WR, #15 Parker Mellott (SR.)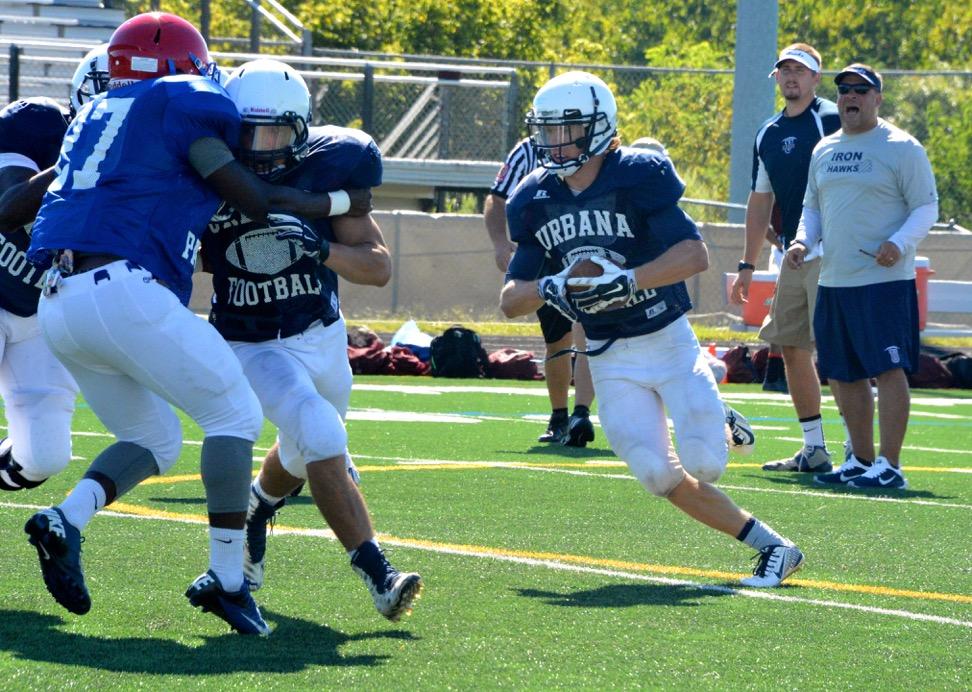 Many of you are are probably familiar with Parker Mellott, being on varsity since his sophomore year as a safety on the defense. This year he will take a bigger workload – being a first team starter on offense.
Mellott is extremely versatile and has a good understanding for the game of football. Defensively, he's one of the best safety's in the area and should translate his presence to the offense smoothly.
He will be another key play-maker in the Hawks offense this season – lining up in the slot as a receiver and taking end-arounds, jet sweeps and some bubble screens as well.
Mellott will add to the potent rushing attack that Urbana will display this season, but most importantly his leadership will be relied heavily on due to the lack of experience offensively. Overall, he'll be a household contributor without a doubt.
Projected stats: 300 receiving yards, 750 rushing yards, 7 total touchdowns
LT, Mark Shekletski (JR.)
Shekletski plays an extremely physical game, winning majority of the battles in the trenches and opening up accessible running lanes for ball carriers.
He was dubbed second team All-Conference as a sophomore last year and helped paved the way for Ray Gray's 2,000 plus yard campaign.
With the Hawks' new look run philosophy, Shetletski will play a big factor in determining the offense's success.
Offensive spin: We all know Ray Gray has come and gone. Mencarini has done a superb job of filling that void. With not asking one guy to carry the enormous Gray workload, but deploying a handful of weapons to pick up the slack. He's also implemented an offense that gives opposing coaches nightmares due to its high degree of difficulty to figure out under the gun. The quarterback situation will remain unknown up until Week 1. Both QB's have zero experience at the varsity level, but Mencarini has formulated an offense that has a light workload for whoever wins the job and is more so molded around play-makers. Elijah Atkins, Mason Mathur, Parker Mellot and Xavier Campbell are four very solid foundation players for Mencarini's Pistol Wing-T offense. Then you have the offensive line, who in my opinion will be one of the best groups in the 3A West behind Mark Shekletski and sophomores Anthoney Shifano and Austin Geisler. While most have abandoned Urbana from the 3A West playoff discussion, you might want to rethink that prediction because the Hawks have the offensive personnel and philosophy to carry on the performance seen in recent years.
NG, #45 Andres Silva (SR.)
Andres Silva is your typical workhorse nose guard – big, mean, physical and loves to hit when possible.
He returns this year after causing havoc upfront on opposing offensive lines. Silva is big enough to clog running lanes and nimble for a defensive lineman, as he can get to the quarterback in a hurry as well.
Silva is one of Maryland's best heavyweight wrestlers, qualifying for the 4A-3A state championship last year. He brings a physical prowess upfront and will be a key piece in the Hawks defense in 2015.
Projected stats: 50 tackles, 6 sacks
MLB, #8 Marcus Montgomery (SR.)
Montgomery played a minimal role on varsity last season on the special teams unit. This year he will play a vital role, manning the middle linebacker position.
He brings a hustle, won't-quit motor with a physical presence. Montgomery is a vocal leader on and off the field and should be a main contributor for Urbana's defense this season.
Projected stats: 65 tackles, 3 sacks
OLB, #10 Xavier Campbell (JR.)
Campbell will play both ways this season, as a fullback on offense and outside linebacker on defense.
Like his offensive skills, he brings play-making ability to the defense with physicality and sees the field very well. Campbell has an explosive jump off the line and has the potential of being a sack machine. He also defends the pass the well if in a zone formation.
He'll be another chip in Mencarini's defense for 2015.
Projected stats: 45 tackles, 5 sacks, 2 interceptions
CB, #5 Elijah Atkins (JR.)
Atkins served as a shutdown corner for the Hawks last year and should be back for even more this season.
He has quick feet with the ability to turn sharply and stick on the oppositions top receiving threat like white on rice.
He'll be one of the top corner back's in the area for 2015.
Projected stats: 40 tackles, 3 interceptions
S, #15 Parker Mellott (SR.)
Mellott has been an anchor in the Hawks secondary for the past three years and will be around for one final time in 2015.
If you combine his leadership and overall football ability, he's the best player on this Hawks team. Mencarini has stated Mellott is a defensive player first and offensive player second, so the fear of getting burned out is out of the question.
He plays a center field, quarterback role on defense – appointing his Urbana teammates to their right positions on the field to ensure a breakdown doesn't occur. As a safety he can do it all: pursuit to ball carriers and make open field tackles and make a play on the ball.
Mellott will provide seasoned experience to the Hawks defense this season, solidifying a solid secondary.
Projected stats: 75 tackles, 4 interceptions
Defensive spin: Defense is what you gets you places. The offense lacks experience, but this defensive bunch does not. They didn't lose a whole lot while finding guys within the organization to take on larger roles. Upfront, they will be big with Andres Silva solidifying the middle. Campbell and Montgomery will sure-up the linebacking crew. Manning the secondary will be Atkins and Mellott, two of the best football players on this Hawks team. The defense is clearly the strong suit and expect them to carry this Hawks team if they were to go anywhere.
Toughest matchups
Week 1, Millford Mill
Week 3, Westminster
Week 4, at Oakdale
Week 6, at Clarksburg
Week 10, at Linganore
The Bottom Line
Though Donovan Pannell and Ray Gray are long gone, Mencarini has quietly pieced together a formidable unit yet again.
On the other hand, their schedule is quite brutal.
Right out of the gates they face 4A horse out of Baltimore, Millford Mill. They also have meetings with Westminster, 3A West and county foe Oakdale, Montgomery County's Clarksburg and the locked and loaded Linganore.
And while the 3A West is stacked to a point that an 8-2 record might not even make the playoffs, Urbana is going to have to be on top of their game every second if they want to still be playing in Week 11.
Instead of lying down, Mencarini has taken the bull by the horns. Scheduling scrimmage dates with one of the top programs in the nation, Bullis, 2A state champs Douglass, 4A state champs Northwest and 4A runner-up Old Mill.
He also installed an offense that is highly difficult for defense's to contain with weapons Elijah Atkins, Parker Mellott and Xavier Campbell. Defensively, they will be more than solid.
It's just the big question is, will it be enough?
Right now it's too early to tell. We're just going to have to watch things play out.
Urbana understands that growing pains will be eminent and that there will be bumps in the road. Mencarini's 115-21 career coaching record didn't come by accident. He knows how to get the job done. And while the Hawks are faced with the reality of losing their best player in program history, they have the right guy leading the way.
This is the Mencarini era.
You can follow me on Twitter at @k_fadd and Maryland Sports Access at @MDSportsAccess.