Editor's note: This story was published on August 7, 2015, and edits have been made since then. Butler III totaled 448 yards and seven touchdowns on 75 carries in 12 games this past season as a sophomore, helping Fullerton (12-1) win the junior college national championship. Butler III verbally committed to Division II Shepherd (W.Va.), which made a national title game appearance in 2015, on February 23. He also holds an offer from Division I Temple (Philadelphia).
---
It was a gloomy Friday night under the lights in the thicket of the 2013 high school football season as Linganore High School traveled to Tuscarora High in a Week 8 match-up that presented itself to be just another football game.
Everything seemed to go as routine from the blind eye: Fans filed in from the gates to take their seats and players went through their normal pregame rituals. But inside the Linganore locker room lied an untold story.
Moments before departing the Tuscarora locker room, Phillip Butler III — dressed in his football attire and with his flat-black, Lancer-speared helmet in his left hand — knelt next to his younger brother, Dante Butler, sharing a moment they both have dreamt thousands of times before: Sharing the same football field.
The two Butler's and 51 other Linganore football players focused their eyes on head coach Rick Conner, soaking in the motivational pregame words the Maryland High School Football Hall of Fame coach had to say.
Exiting the locker room, Butler III strapped on his black Lancer-speared helmet and jogged onto the gridiron with the rest of his teammates. He glanced up in the stands, saluting friends and family.
Suited in his white number 44, and with his hands nestled in his waist pouch on the sideline, Butler III stood in an upright modest manner taking in the moment. The moment he thought he'd never experience again: Football.
***
Finding the path
Phillip Butler III understands the meaning of life. To always put God and family above all, school third, and then football files beneath that.
He's learned from his mistakes and has put his past in the rear-view mirror. He is driven to pursue his lifelong dream: A professional football career.
"I thank the Good Lord everyday," Butler III said, 20, who is entering his freshman year at Fullerton Community College in California where he is set to play football. "It's been difficult. But where I come from, we never give up."
Since day one, Butler III has not had it easy. Born May 12th, 1995, and growing up in the suburbs of Germantown, Md., with just his mother raising him, life became immensely challenging.
Gang violence filled the community he called home and drugs altered neighborhood relationships.
"All that stuff I was surrounded by at such a young age was so hard," Butler III said.
He quickly needed to find something, just anything to keep the outside distractions away.
"That's when I found football," he said.
Picking up a pigskin-laced football for the first time at 6 years old, Butler III knew he found his calling. Soon after, he got his start as a running back for Montgomery Village that was located in just walking distance from where they resided.
He excelle from the onset, scoring on long touchdown runs the majority of the time he touched the ball.
"Nobody could catch him," Kendra Adams, Butler III's mother, said.
Butler III has always been known for his blistering speed, and had his 40-yard dash time lasered as low as 4.31 this past year.
"I call him 'Ferrari,'" Javan Winder, Butler III's stepdad, said. "He's so gosh darn fast, he has gears."
Butler III continued to play for Montgomery Village, where he became a walking highlight-reel.
Then, he ran into one slight issue. Entering sixth grade, Butler III was overweight. Weighing at 115 pounds and playing in the 105-pound weight class, Butler III had no choice but to shed 10 pounds as soon as possible in order to get back on the field.
He woke at the crack of dawn each morning, and with his stepdad Winder, performed grueling workouts: Going on runs with weights strapped to his ankles, running sprints with trash bags hunched over his back.
"I pushed Phil to his absolute limit," Winder said.
Often times, he sat in saunas for a good period, doing anything to drop the necessary weight.
After two weeks, Butler III dropped 10 pounds, ultimately making him eligible one again. He continued to play football for Montgomery Village, through eighth grade.
"Those workouts were hell," Butler III said. "But I had to get back on that field."
Coping with a detour
Butler III buzz-sawed through the youth level, drawing attention from local high school coaches toward the end of middle school. Programs like Bullis and Good Counsel came knocking, two prestigious private powerhouses in Maryland that have produced New Orleans Saints linebacker Moise Fokou, Minnesota Vikings wide receiver Stefon Diggs and Washington Redskins safety Tanard Jackson.
The opportunity glamored, but didn't resonate to the full. Attending Bullis or Good Counsel means he likely won't see the field until his junior year, an unideal scenario for Butler III.
"That was exciting getting to talk with them, but I felt like that wasn't my cup of tea: Sitting behind guys for two-plus years," Butler III said. "I wanted to play football right off the bat."
Phillip bypassed the intriguing offer, and instead chose nearby Clarksburg High, where he carved out a role on the varsity unit as a freshman.
A couple weeks passed, and Butler III translated his youth dominance to the high school level, consistently making plays in practice and opening the eyes of his new coaching staff.
Everything was going smoothly, on the football field at least, but Butler III wasn't comfortable with his surrounding environment and caught himself venturing down a path he may regret. He wasn't going to let toxic influences spoil the big picture.
"That was a hard decision to make, but I had to get out of there," Butler III said. "There were too many clowns stirring up trouble."
Butler III left Clarksburg, the community he's called home for nine years, and moved to northern Hagerstown with his grandmother, where he was set to attend North Hagerstown High.
The rest of his family, meanwhile, moved to the confined town of Mt. Airy on the outskirts of Frederick.
Since Butler III's transferring came unexpectedly, he was ineligible to play football for his new home. Making friends, and forging an identity, was difficult.
He went to school football games often, sitting in the stands as just another bystander and ponder what could have been.
"I would sit there wishing I was on that field," Butler III said.
The eagerness ate at him more. Butler III had to sit next to North Hagerstown's star running back in a few classes.
"That made me a little bitter, but it was out of my control," Butler III said.
Butler III did run track in the spring, but even still, not being able to touch a football all year long drove the then freshman nuts.
"That year was hard on me," he said. "I just wanted football."
Proving himself all over again, and then squashing expectations
Butler III just wanted to make himself known. After tirelessly working over the summer between his freshman and sophomore year's, the first day of football tryouts at North Hagerstown finally arrived. Butler III rolled in as a mystery player, eager to make an emphatic first impression.
"Nobody knew who I was or what I was capable of," he said.
His first assignment was taking reps with the special teams unit. He whizzed up and down the field, shedding blockers to make jarring tackles and showcasing a motor that fought through the whistle.
Without realizing his niche as a ball-carrier, the North Hagerstown coaches were sold with his defensive repertoire, so they decided to audition him at strong safety
Butler III had mixed feelings. He never played the position before, and is a running back at heart. After sharing his vision, Butler III's coaches went back to the drawing board, and offered him two options: To accept the opportunity to play strong safety on varsity, or play running back on junior varsity.
He trusted the process, and went with the latter.
"I'm a running back at heart," he said. "I was grateful to be on varsity, but I felt like I needed to be a running back on JV to start out."
After a two-year layoff from football, Butler III didn't miss a beat. He led the JV Hubs to a 7-1 record and piled up 1,406 all-purpose yards and 23 all-purpose touchdowns. His 15.2 yards per carry and 19 yards per reception clip were program highs.
Butler III also played defensively at strong safety, racking up 31 tackles and snatching five interceptions.
"Coach juiced me out that year," Butler III said. "I was playing almost every down for an entire game."
With Anthony Winters graduating that summer, North Hagerstown's go-to ball-carrier, Butler III was ready for varsity football.
He shaved his 40-yard dash time from 4.46 to 4.39 over the offseason, and worked on his blocking technique to be an every-down back.
Butler III kept motoring through the ranks, guiding the Hubs to a 7-3 record — their best record in four years — and crusaded his way for 2,006 all-purpose yards (1,743 yards on the ground, 266 yards receiving), while scoring 27 all-purpose touchdowns.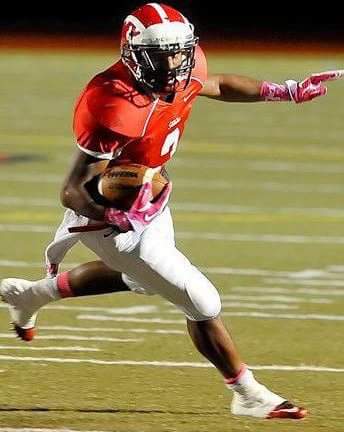 In the Week 8 matchup against Catoctin, Phillip exploded for 340 yards and five touchdowns, at halftime alone. He went on to win The Herald-Mail's Offensive Player of the Year, where he set school records in rushing touchdowns (24), total touchdowns (27), points scored (158) and all-purpose yards (2,006).
"When Phillip was playing up (in North Hagerstown), you'd read The Herald-Mail, and see the numbers, and think 'man, this cat can ball,'" said Linganore High School running back coach Herman King.
Butler III still holds three of those four records mentioned above until this day. After the putting himself on the map, he stated to draw Division I interest, including Old Dominion and West Virginia.
"That year was unbelievable," Butler III said.
'That was just hell'
After establishing himself as one of Maryland's top-tier backs, Butler III was ready for a lofty senior campaign.
That's when everything turned for the worst. In July 2012, Butler III found himself in an unfortunate situation, where he set-up two friends for a shoe exchange, and serving has the middle-man, exchanging their numbers with the initial buyer and seller.
"One of my friends came to me because he knew I was into the shoe business," Butler III said. "So he asked me if I knew somebody that had a certain pair of shoes that he was looking for and I happened to know a guy that did. They set up a date to meet and it just went downhill from there."
Instead of a professional trade, Butler III's friend snatched a bag containing sneakers and other belongings of the supposed seller without consent. When the victim attempted to dial 911, the burglar demanded he hand the phone over, and then pulled up his shirt to reveal what appeared to be a handgun tucked in his waistband, according to reports in The Herald-Mail.
It went down as an armed robbery.
Though Butler III was not on sight when the robbery occurred, police underwent the investigation procedure, questioning the burglar and Butler III.
For the time being, Butler III carried onward with everyday life, not thinking much of the incident and prepared for his highly anticipated senior year.
About a week after the incident came the first day of practice. Awaiting equipment and jersey handouts, Butler III and teammates huddled around each other, busting a joke or two and talking about lofty expectations for the 2012 season.
Butler III then received an unexpected phone call.
"Hello?" he answered, wondering who the voice was on the other side.
It was the Hagerstown Police Department, ordering Butler III for a face-to-face conversation.
Butler III notified his coach, telling him he'd be back in an hour or so to meet with the police department less than two miles down the road of the school.
His mother, Adams; stepfather, Winder; and two youngest brothers, Dante Butler and Davon Butler, picked Butler III up from practice, and ventured to the police station. When they arrived, an officer directed the Butler family to wait in the lobby, and then ushered Butler III down a dark hallway and into a room tucked in the back of the building.
Anxiety grew with every step. Something didn't seem right. When Butler III entered the tiny room, two policemen shut the door, ordering Butler III to take a seat.
With confidence dwindling, Butler III directed his eyes to the two policemen.
"Mr. Butler you are being charged as an adult for armed robbery," one of the officers said, sending Butler III into a state of distraught.
The officer continued: "Robbery, criminal conspiracy to commit armed robbery, criminal conspiracy to commit robbery and theft of less than $1,000 and are hereby placed under arrest."
Butler III tried to explain the intent of the incident, that it was just a shoe trade and never intended to be an armed robbery. Nothing changed.
The scene became emotional. His mother took it hard, tears streaming down her face. His brothers grew teary-eyed and his stepfather was speechless.
"That was just hell," Butler III stammered, recalling the moment. "Seeing your family like that hurt me the most."
He was released on bail a few days later, a contribution from friends and family, and expelled from Washington County public schools. People judged and speculated. Others gave him the cold shoulder and told him to he'll never have a life again.
"You would open up the paper, see your son's face on the front page saying he was convicted of an armed robbery,"said Adams, voice cracking in emotion. "I took that so hard."
Doubt churned through Butler III's mind. He thought his life was over. Dreams were shattered and faith ran dry.
"I thought everything was over," Butler III said. "I thought football was over. I thought I could never get a job or go to school again."
Trying times and finding the light
In September 2012, Butler III enrolled in Foundations of Technology, a night school located in Hagerstown with the goal to rebuild himself from ground zero. He went from gridiron wonderboy, mingling with Division I football programs, to just wanting his high school diploma.
The days grew longer. One hundred days since he lost football, then 150, 200.
Butler III remained there until the beginning of March 2013, still one English class short of attaining his barbered goal. By the time he was done, he was 243 days without football. The demons that toyed with his thought process never affected aspirations. He prayed everyday, wishing for one more opportunity to play football again.
Another court date arrived in the beginning of April 2013. His case was transferred from adult court to juvenile.
Three of the four charges were dropped. He was left with conspiracy to commit theft under 500 dollars and pleaded six-to-nine months in a juvenile detention center, where he was then stationed in Cumberland, Md.
"I told myself to suck it up and take the charges," Butler III said.
Agony intensified, the days added on: Now 300 without football. To do all he can to stay in shape, he performed a series of core workouts in his dorm.
Fast forward three months, it was now July, and Butler III was excelling at the detention center, doing everything that was asked of him.
Enforcement gave him one option, no ifs, ands or buts: To be released from custody into his mother's supervision where she resided in Mt. Airy once he completed three more months. Butler III glistened at the opportunity, just to be set free and piece his life back together. But then he pondered on more.
Living with his mother put Butler III in the Linganore High School district, where his younger brother Dante attends. It also had the possibility, if the transferring is accepted, of playing football again, as he remained eligible: He hadn't turned 19 years old yet and had one year of football eligibility remaining because he never played in a game as a freshman (MPSSAA Handbook, .02 Eligibility, Page 21).
This potential outcome sparked a glimmer of light at the end of the tunnel, that there was hope.
Two more months and a week passed by, it was now September 25, 2013, and Butler III finally reached the end at the detention center. He was released from custody, into his mother's presence and moved in with his two younger brother's, Dante and Davon, living with them for the first time in over four years.
By the time Butler III got out, he was 412 days without football. The week carried on, it was now October, and the meeting with the Linganore High School principals and staff to discuss Butler III's enrollment arrived. If accepted, he had a new life on the horizon. He was joined by his then-girlfriend, now-fiancee Ericka Walker and his mother.
"That was very nerve-wracking," Butler III said. "I wasn't feeling too good about it, but my girlfriend kept encouraging me. And I could finally see the light at the end of the tunnel. A fresh start. A new beginning. All I needed was someone to say 'yes'"
The light at the end of the tunnel appeared more vibrant.
"Yes," the LHS staff concluded.
"Yes" was the answer.
A heavy burden was lifted off Butler III's shoulders. Tears of joy trickled down his face. He spirited new life. Butler III, his mother and his girlfriend exited out of the Linganore High School front office, down the hallway of his new home, through the double-door exit and out to the parking lot where their car rested.
When they got in the car, his mother cried out in relief. His girlfriend embraced him with a bear hug.
"They both gave me a big kiss and we had a moment," Butler III said. "I was free."
The revenant of 'Polo'
His first day at Linganore High School arrived: October 4, 2013. He walked the halls with dignity and infinite reasons to feel cleansed.
"It was very refreshing," Phillip said. "I never felt so welcomed."
Schoolmates segwayed rumors about Butler III, the new guy on the block. Lots of them asked if he came from jail. Others asked if he played football. Through it all, a purified Butler III shutout the yearning distractions.
"I wasn't worried about what people had to say about me because I had two things on my mind: Number one, graduate high school, and number two, resurrect my football career," Butler III said.
Second by second, piece by piece, his second chance inched toward fruition.
It was time to meet the football staff: Head coach Rick Conner and running back's coach Herman King. He sat down in Conner's office one morning, both coaches shutting the door behind him. Butler III took a seat.
"Do you understand why you're here?" Conner asked Butler III.
"Yes, sir," Butler III responded.
Conner continued firmly: "You are the 53rd player of 53 players on this team, and that's how we're going to treat you. Are you okay with that?"
"Yes, sir," Butler answered.
"I can't guarantee that you're going to play," Conner continued. "Are you okay with that?"
"Yes, sir," Butler III answered.
"Just to let you know, everyone in this building is probably not cheering for you," Conner told Butler III, eyes still fixed still him. "Are you okay with that?"
"Yes I am," Butler III answered.
"You have to do what everybody does" Practice with helmets, half pads, full pads. You also have to miss two weeks," Conner continued. "Do you understand?"
"I understand," Butler III answered.
A humbled Butler III accepted his position. Being 53 of 53, the last man on the totem pole, equivalent to ground zero, that wasn't new to him.
His position coach, King, took Butler III out to dinner that evening. They talked about what to expect, and life.
"I know your story son," King told Butler III. "I don't care about your story. I just care about you. You have one goal. I know you want to play football in college, but your top priority is graduating from Linganore High School first. The football thing here with us is going to be okay, don't worry about that. You just need to pass your classes so you can graduate."
A couple days pass, it was now Monday, October 7, 2013, his first eligible football practice for Linganore. He arrived on a team that was ranked inside the top 10 in the state, standing at a perfect 5-0. Cleated and padded, Butler III jogged onto the practice field, inhaling the scents of football for the first time in 433 days. He adjoined his brother, Dante, and fellow running backs in drills.
"I was running around feeling free," Butler III said. "Something I haven't had for a very long time."
His biggest fear was how his body was going to react after being away from football for 400-plus days. It wasn't as bad as he initially thought. His legs felt like rubber, and they ached, but his soul was revived, a feeling he longed for.
"I thought my body would cramp up because I was out of shape," Phillip said. "I haven't been able to train. … That feeling, even though I was sore, it was a great feeling."
Two more weeks passed: Butler III was finally eligible to play in a game. Linganore pushed their record to 7-0 and hit the meat of their schedule, traveling to Tuscarora in Week 8, the top-ranked team in the state of Maryland, Middletown, in Week 9, and arch-rival Urbana in Week 10.
The night before their tilt with Tuscarora, Phillip Butler III and Dante Butler lounged in their living room, talking for hours about how the moment they've simulated thousands of times before in their backyard was about to become a reality.
"I've always dreamed of playing with my older brother, Phil," Dante Butler said.
It was Friday, October 25, and Week 8 in the 2013 high school football season.
The Linganore football team took the field, breaking out into their normal stretch routines. Phillip Butler III and Dante Butler were lined up adjacent to each other, sharing the novel, longed moment of brotherhood.
Pregame festivities subsided and kickoff was near. Phillip Butler III meandered his way to the sideline, and stood there humbly, watching the Linganore starters trot to the line of scrimmage.
Deep into the first quarter, it was still scoreless at 0-0. Butler III hasn't seen any playing time yet, but it didn't matter in that moment. He enjoyed soaking in the environment, and watch his younger brother Dante Butler take carries.
More time ticked away, and Linganore struggled to move the ball offensively. Something needed to happen.
"You want to put your guy in yet?" Conner radioed over to King.
King radioed back: "Yes. It's time."
Conner scavenged Butler III on the sideline, and told him it was his chance to check in. His family rose from their seats, hoop and hollering on No. 44.
The first play call was a pitch for Butler III on the left side. Quarterback Clark Stieren took the snap, shuffled back, and flipped the ball to Butler III, who flanked out wide.
"When Clark took the snap, I had butterflies in my stomach," Butler III said.
Butler III found a gap, and bolted 75 yards to the end zone, untouched.
But the play was negated for holding. He didn't have to wait much longer, as he and the Linganore offense marched right down the field. Butler III capitalized on a five-yard touchdown to put the Lancers up 7-0, and it's like he never lost an edge.
"I thought it was going to be a process," Butler III said. "I didn't expect to pick-up where I left off."
When the Linganore coaches tried to send Dante Butler back out, he declined, yielding the opportunity for his older brother.
"This was his last ride," Dante Butler said. "He needed that moment more than I did."
Phillip went back out for another possession. He continued to produce crowd-jolting runs. The Linganore student section chanted "Polo" in unison, a nickname started by Butler III's stepfather, Javon Winder.
"I always did things on my own," Butler III said. "So he called me 'Solo Dolo Polo," and I liked the last part. So Polo just stuck."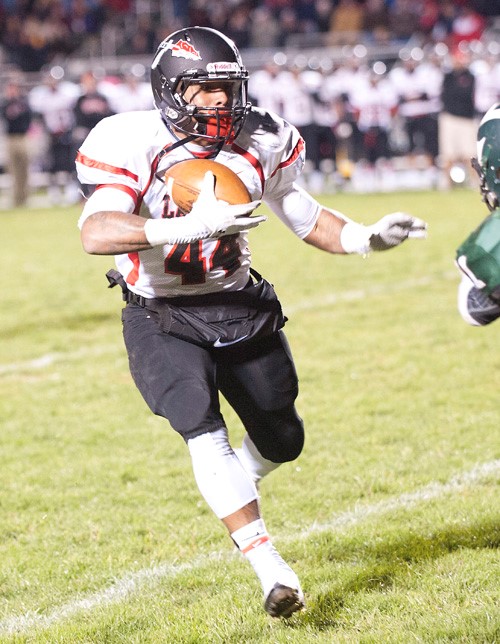 Linganore, behind Polo's 100-plus yards and two touchdowns, rolled to a 42-7 triumph, moving to 8-0. Fans, for the most part, were confused.
"Who is this No. 44?" they wondered.
Hundreds of people, Butler III said, approached him, offer congratulatory words and pondering on his 40-yard dash time, what colleges were looking at him, and, simply, where he came from.
Through the commotion, his family basked in the revenant of Polo: Laughing, embracing, enjoying a moment they thought would never come again.
"That feeling was very unexplainable," Butler III said. "People were literally jumping on me."
Plowing through speculation and 'an opportunity of a lifetime'
Bits and pieces of Butler III's story slowly emerged. The day after his debut, The Frederick News-Post released an article headlined "Another Butler joins Lancers' fun," and stated Butler III was charged as an adult for armed robbery in the summer of 2012, stirring controversy.
Outsiders took to the comment section:
"Read between the lines of the article. Nowhere does it say that he was exonerated or found not guilty. All it says is that his case was transferred from adult court to juvenile court. What is Coach Conner telling this kid and everyone else at Linganore…it's okay to break the law because as long as you play football well, you can still be on the team because all he cares about is winning. Pitiful. My kids go to Linganore and this is an embarrassment!"
"I am absolutely appalled at the article in the FNP regarding Butler! Linganore should be ashamed of themselves! What happened to the 1 strike and you are out rule? I guess that doesn't apply to a criminal offense….ARMED ROBBERY! You are letting a kid who had a gun, and was ARRESTED in the FCPS Football Program???? No, he doesn't deserve to play football even if he is a gifted athlete …. we basically are telling the high school kids that its ok to be convicted of an ARMED robbery, you can still play football in another county, but, if you are near anyone with alcohol, you are off the team, really????? Maybe it is because Linganore is playing Middletown next week and needed to pack some heat"
"Yes, how fortunate that a Frederick County Public School adds players from another county… The man in the story above wasn't even in school three weeks ago. This is a story worth digging into for the readers."
Outside of Linganore, the despise for Butler III grew. Conner warned him of this, and it turned out to be, but Butler III lugged onward, holding his beliefs close and dear.
"People can be ignorant," Butler III said. "Nobody knew the whole story. Everyone just wanted to speculate and throw labels at me."
The following week, Middletown, the top-ranked team in the state, handed Linganore a humbling 42-7 loss. Butler II struggled, fumbling the ball twice. But in Week 10, the Lancers cruised past Urbana, 20-7. Butler III ran for 135 yards on 25 carries. His brother, Dante Butler, exploded for 186 yards on 30 attempts.
The controversy heightened, but Butler III pressed forward.
Linganore finished the regular season 9-1, and it was now time for the playoffs. They creamed South Hagerstown in the first round, 47-16, and awaited a rematch with rival Urbana in the Class 3A West region championship. The turmoil intensified, with Butler III's eligibility being the hot topic.
Social Media broke out. Phillip received vulgar messages, hate mail. He was fed up. A fire churned inside.
"All the hype that was leading up into that week, all the Twitter stuff and things people would tweet at me, like 'you guys have a 25-year-old on your team,' and 'you're trash,' 'you're a thug, get out of Frederick County.' All of that was just building up in the inside," Butler III said. "It was burning. I just couldn't wait to play. I was so hyped for that game I wanted to play defense."
He translated vision into reality and mounted video game numbers, running for 328 yards and five touchdowns, leading Linganore to a dominant 51-13 win.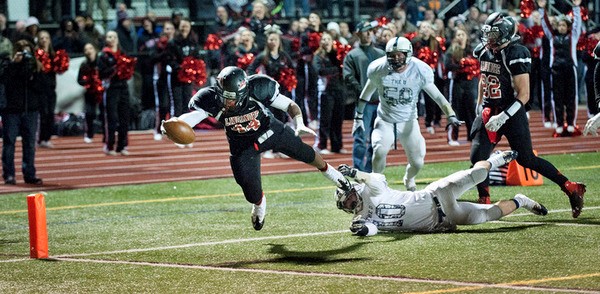 "He worked'em. That's what the kids say," King said. "Just relentless, very relentless. He was not willing to leave that stadium without winning the game. That was his mission. He just played on a different level."
Now it was the Class 3A state semifinals against power River Hill, which won back-to-back state titles in 2011 and 2012, and looking for a third. Linganore overcame a 19-point second half deficit in epic comeback fashion to stun River Hill, 41-38, and advance to the Class 3A title game. Butler III ran for a pair of touchdowns, and in a matter of two and a half months, he went from just wanting to sniff a football field to now playing for a state championship.
[
RELATED: Baltimore Sun — Linganore stuns River Hill to end run for third straight state football title
].
"I was on cloud nine," Butler III said.
Being out of football for a prolonged period caught up with Butler III. He developed chronic knee pain over Linganore's preparation for the state title game against Franklin, but nonetheless, soldiered through the setback. The time came, it was state championship day.
Polo strapped Linganore on his back from the onset, scoring on a 16-yard run to put Linganore up midway through the first quarter, 7-0. Soon after, Franklin knotted it at 7-7.
Butler III took every handoff with driving force, doing all he can to give his team an edge against a loaded Franklin unit. But Linganore never scored again, and Butler III (123 yards on 22 carries) struggled to find running lanes to exploit, as Franklin paced its way to a 20-7 victory and to the Class 3A state crown.
Butler III finished with remarkable numbers in just seven games: 1,052 rushing yards and 13 touchdowns. He'd trade in those flashy numbers for a state title ring all day, any day, but in hindsight, he shattered expectations.
"I was so thankful to watch him have a second chance," Dante Butler said. "To not only play football, but an opportunity to turn his life around."
A bigger picture started to decloud: His life was finally piecing back together.
"We may have lost, but I didn't lose," Butler III said. "I got an opportunity of a lifetime."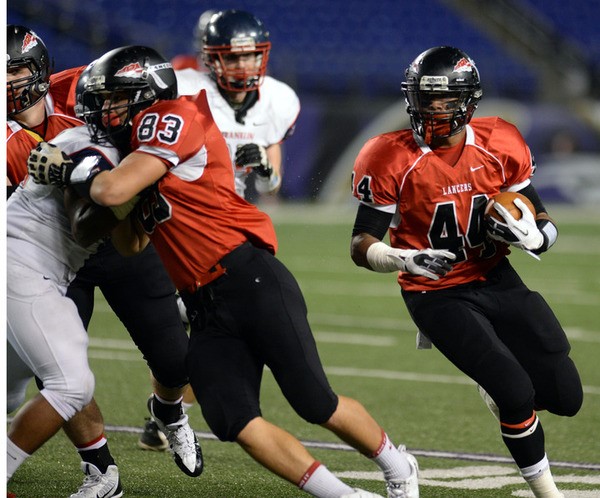 The next chapter
In January 2014, Butler III completed the necessary credits in order to graduate high school, a day he also thought would never come.
"I thought my graduation would be at the night school with just a couple people," Butler III said. "I'm very thankful I got to graduate at Linganore High School."
He continued to work a hearty relationship with his position coach, King, as the after-high-school-life neared.
"I don't care what you've done," King told Butler III one evening. "You have to move on from [your past]. When someone asks you about it, you need to tell the truth. When you apply for a job, you need to put it on there because they're going to ask you. Because when you're a graduate and you've done good stuff, they're going to give you a chance. That little thing that you did with your junior friends doesn't define who you are. Your actions define who you are. Own up to everything you have done and get on with your life."
Although Conner inherited one the most talented running backs in Maryland history, there's always more to the story.
"It's way more than just football," Conner said. "When he came here, he was low maintenance. Got his grades and did what he was supposed to do. Phillip sees the big picture."
Although colleges knocked on the door of opportunity, Butler III made no plans to further his academics and playing career for the fall of 2014 into the spring of 2015, and instead, bought an apartment in Hagerstown with his now fiancee, Ericka Walker, expecting his second child. He didn't want to leave his family in a potentially treacherous position.
"That would've been selfish," he said. "I'm a family man first and I want the best for my family."
For the time being, he worked as a forklift operator and manager for Exel, a construction company in Hagerstown. To stay in shape, he trained relentlessly and participated in a tiny flag football league held every Sunday morning at Halfway County Park in Hagerstown. He played two or three games a day against teenagers to 40-year-old men.
"That kept me in shape," Butler III said.
After sifting through a difficult decision, Butler III chose Fullerton Community College in California, where he'll study engineering and play football. He's expected to start at running back for his freshman season that begins September 5, and wear No. 33, a number that runs in the Butler family.
Once he receives his associates degree, he plans on transferring to continue his education and football career at the Division I level.
Oregon, UCLA, USC and West Virginia are the top four schools expressing interest in him, but the timetable is still lengthy with a distant vision luring him through each step.
"Wherever I go, I will make the best decision for my family," Butler III said. "I have big plans. I want to get my degree, enter the (NFL) Draft and go pro."
Though football may seem like the only thing in the universe to Butler III at times, there's more to life. He'll tell you that through his rugged journey: Pure persistence and an answered prayer.
"I continue to thank the [God] each and everyday," Butler III said. "When you feel like nothing's going your way and feel like giving up, the man upstairs always has a plan for you. Even if it's not the plan that you want, at the end of the day it's all going to come together. I'm very grateful."