The latest Tweets from Kyle McFadden (@k_fadd). Freelancer covering college sports, preps & #nascar. ?: @WashPostHS @BaltSunSports @frednewspost. @FrederickCC student. 2 Corinthians 12:1-10. Views=mine. New Market, MD
ANNAPOLIS — In a small, spirited town like Damascus, local football players are viewed as heroes, from pee wee league to wherever their respective careers take them after high school.
So, after the most decorative senior class in school history sealed their legacy Saturday night at Navy-Marine Corps Stadium, how will Matthew Betterelli, John Allan Furgeson, Jordan Funk, Michael Jurgens and Ben Lokos be remembered?
"They'll be remembered as for what they've done," Damascus coach Eric Wallich said after the Swarmin' Hornets topped Gwynn Park, 31-7, to claim their third straight title, this time in the Maryland Public Secondary Schools Athletic Association's Class 2A.
The seniors – 28 to be exact – will be remembered for their accomplishments, rooted from an unrivaled work ethic. Youth league Super Bowls culminated to 42 straight wins, a Montgomery County record, and three rings, something no Damascus team has accomplished before. "I think we're going to be remembered the right way: The team that won 42 games in a row, three state championships."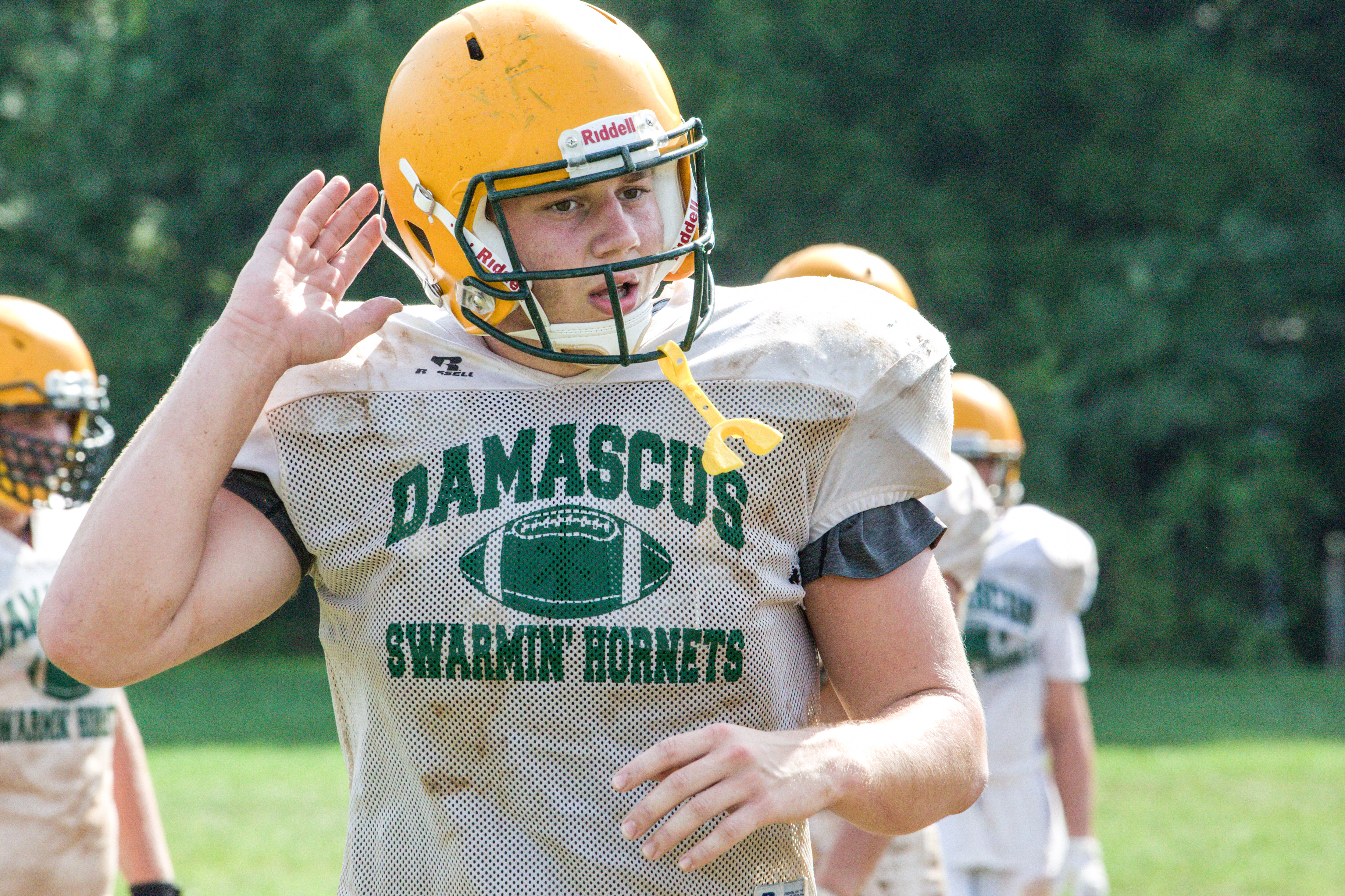 Jurgens, who constantly mauled the opposition and can probably count the career sacks he's allowed on one hand, has only one loss in his high school career. "Seneca Valley freshman year on JV. Six to nothing. That loss still haunts me," he said earlier this this season.
Winning championships is expected in Damascus, but the blueprint that drives it often goes unnoticed, when the lights and cameras aren't present. That's why their work in the community will be held above all: Making it a priority to greet the youth smooshed along the fence line after every Friday night, appearing at select practices and keeping tabs with them over the phone and on social media.
"Couldn't be prouder of these young men," Wallich said. "It says so much about them. We've talked a lot about the legacy they'll leave as seniors and what they've done at Damascus High School, and I think they've put a good stamp on that."
All season long, the sign "How do you want to be remembered?" confronted every member of the Damascus football team when they stepped into the locker room. "That sign motivated us every day. We didn't want to blow it: How do you want to be remembered? We did everything in our power to get here and leave a legacy for when we leave. … I'm never going to forget these guys."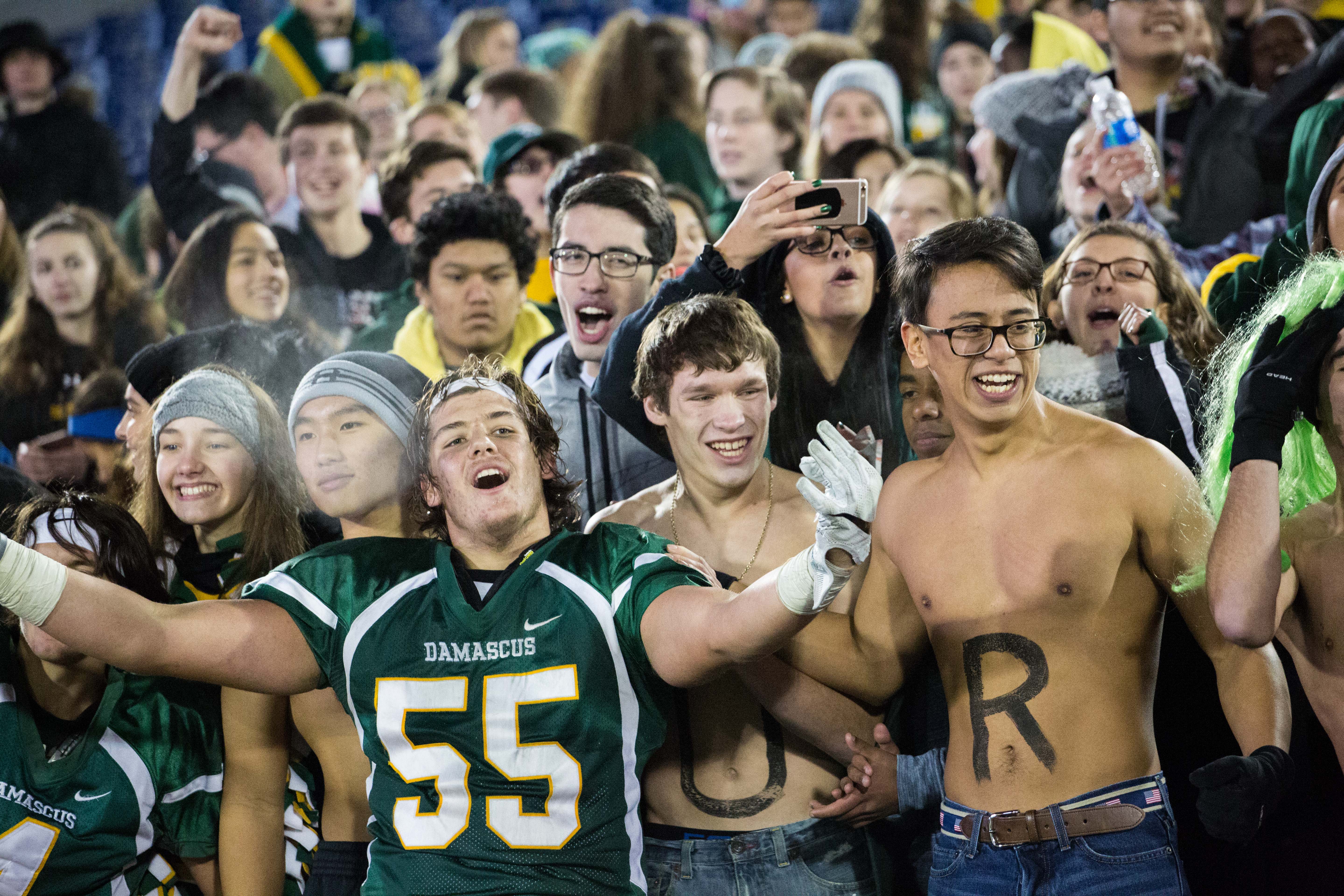 Linemen don't score points or appear in the stat sheet, but the heady contributions of Betterelli, Funk, Jurgens and Sean Rogers over this unparalleled three-year run has radiated resoundingly; something Wallich said he's never seen before, and he's been around the block a few times. Over the summer, after they paved the way for tailbacks Jake Funk — now at the University of Maryland — and Markus Vinson, now at the University of Richmond – in back-to-back state title wins, they created enough hype to be anointed as the best line in the state. Just miles down the road in Urbana, meanwhile, the nation's top recruit in the Class of 2020, Bryan Bresee, mulled options to play for private powers DeMatha Catholic and St. John's College in D.C.
Bresee politely turned down the offer and chance to play games on ESPN, and instead chose Damascus. "We have the best line out there," Bresee said in August. "Nobody will stop us."
Offers from Alabama, Georgia, Oklahoma, Ohio State and Penn State ensued. Then he backed his pre-season words with a ring. "This is why I'm here," said Bresee, who recorded eight sacks in 11 games this year. "To come here and win games and play with all these people who are so passionate about football."
The top recruit came to them and so did gumption from the ball-carriers, who had truck-sized seems to work with. "We just want to match their intensity," running back T.D. Ayo-Durojaiye said, who averaged 9.7 yards a rush this year. "They turn five yard plays into 10 or 15."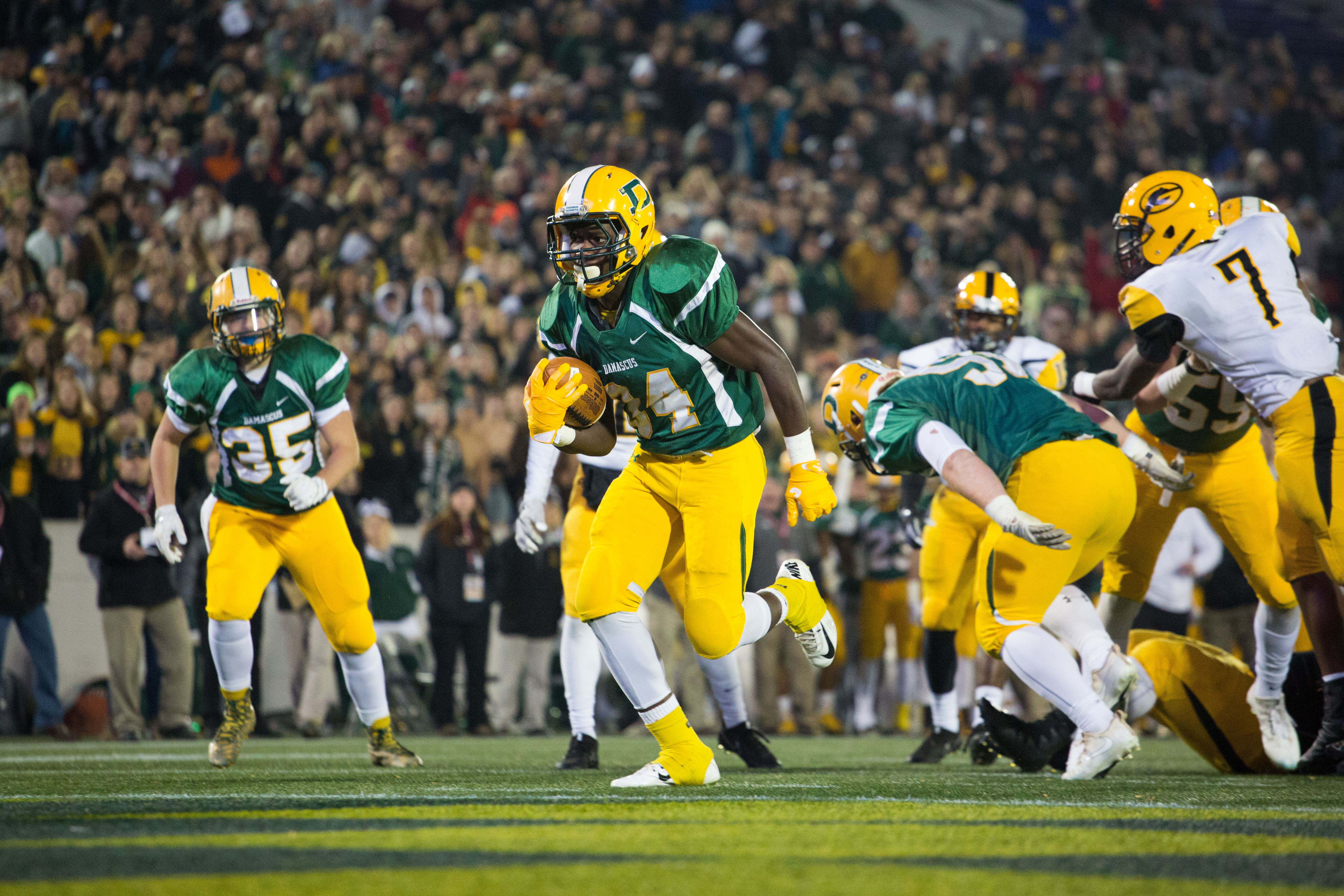 And most importantly, the leadership held everything intact like glue. In the 7-3 win against Walkersville for the 2A West region title, Funk took matters into his own hands and helped produce the game-sealing interception by batting a pass at the line of scrimmage that fell into the hands of Betterelli.
"Just really great leadership from the start of the season, offseason [and] all the way through tonight," Wallich said. "You take that for granted, but it really is special when you have it."
Ten years ago, when Wallich took over the program in 2008, he had major doubts if he could carry the torch. At the podium Saturday night, he recalled agonizing on whether he should assume the job or not, given the expectations and limelight that came with it. Leading up to Wallich's position as head coach, Dan Makosy steered the program to three titles in five years. Before him, Al Thomas collected two more and Chuck Packan broke ground with the first in 1981. "It was pretty intimidating to even take it," Wallich said.
Wallich sought for sound advice, mainly from coaching friends and Makosy himself. "They all said, 'Yeah, when you're 90 years old and you're crapping in your diaper, you're not going to care about if you failed at Damascus High School," he said.
Now Wallich stands as the architect of a dynasty who has lifted the program to a state record 20 straight playoff appearances.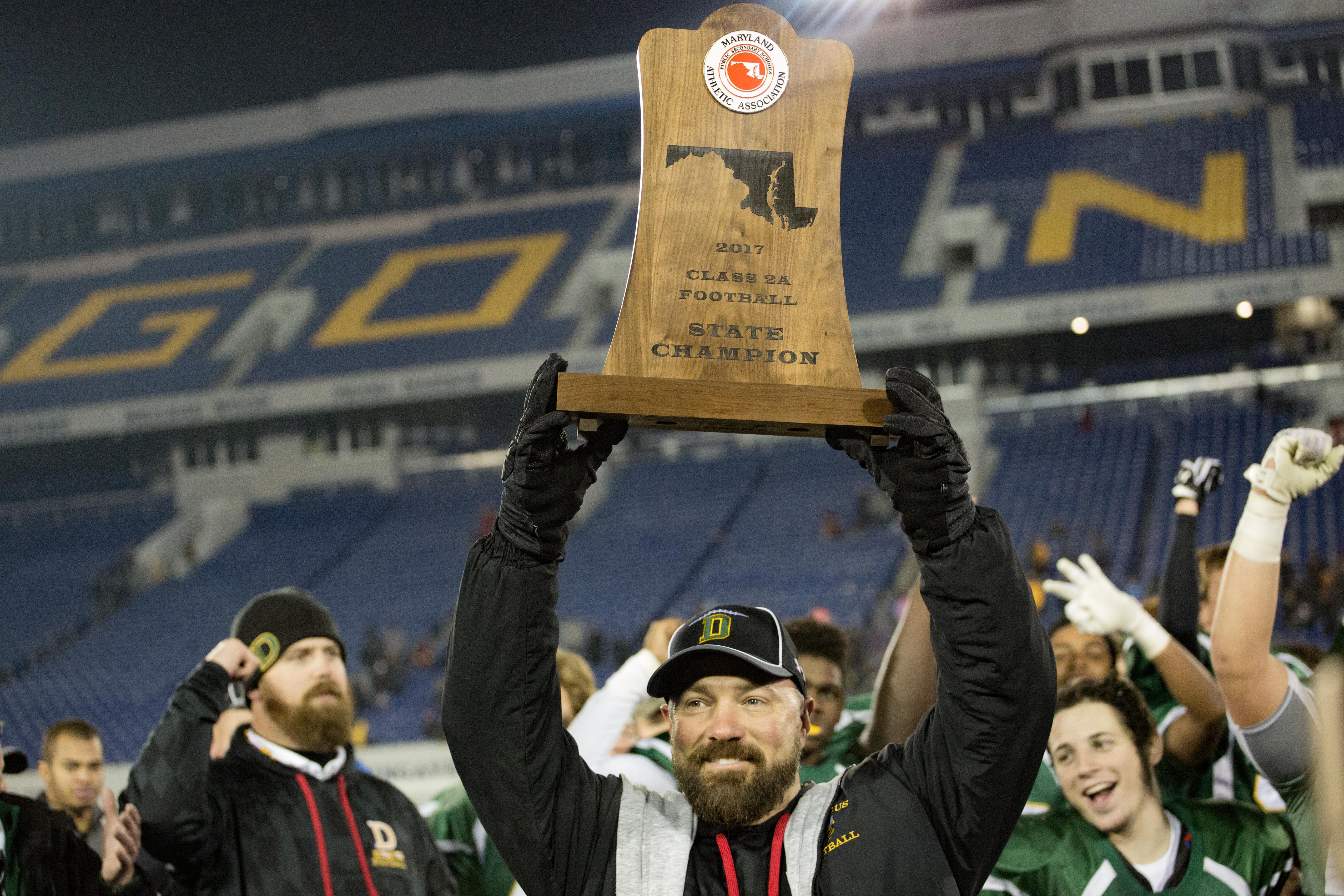 On Saturday, Damascus rumbled for 290 yards on the ground and outgained Gwynn Park in total yardage, 362-275. The Swarmin' Hornets picked off Yellow Jackets quarterback Kamari Brown four times.
Damascus made quick work of its opening drive, marching 80 yards in six plays spanning one minute, 16 seconds, to take a 7-0 lead after Ayo-Durojaiye (140 total yards and a score on 22 touches) ran in a 10-yard score.
Gwynn Park responded resoundingly when Ryan Clemons took its first play from scrimmage 80 yards to the house, which knotted it at 7-7.
In the second quarter, Damascus added a 20-yard Junior Baires field goal to regain the lead, 10-7, and quarterback John Allan Furgeson (63 yards on eight carries, and completed 5 of 10 passes for 72 yards) scored on a sneak at the goal line to cap a three-play, 47-yard drive stemmed from an interception. Damascus led 17-7 at halftime
The turning point came midway in the third quarter when Michal Rice returned an interception inside the red zone to set up a Gage Dickens two-yard score seconds later, which pushed Damascus's lead to 24-7 at the 4:32 mark.
Dickens (51 yards on 20 carries) ended a nine-play, 90-yard drive with 1:59 left in regulation with a score at the goal line, and by then, the championship banner was cued and the euphoric celebration culminated years of dominance one final time.
"Means the world to all of us; to win two, three [state titles] with guys we've been playing with our whole life," Furgeson said. "We're going out on top."