It's a sweltering July afternoon, and Stefon Diggs trudges beyond the fence that borders the track and athletic field of Paint Branch High School to take a seat on the concrete walkway, near the metal bleachers.
Sapped from his distinctive and infectious buoyancy, Diggs sits there and pants for air, while a handful of workout partners stroll down the track to finish the last two sprints of the day.
For nine years, since the 10th grade, Diggs has completed every workout, every drill under personal trainer Myron Flowers. That morning, Diggs arrived back in his native Montgomery County, Md., having journeyed the busiest publicity tour as a professional football player to date, filled with commercial filmings, endorsement meetings and autograph sessions.
Flowers, perched just before the gate, then notices Diggs, who remains seated behind the fence. "You tapping out, bro? You tapping out? Tell me!" Flowers shouts. Silence ensues for a few seconds, then Flowers persists. "You don't come to training and tell me what you want to do," he says, voice growing stern, "step your game up, man! You been on vacation. You back from vacation yet?"
Rekindled by the verbal jabs, Diggs then raises his head toward Flowers and holds a sharp, side-eyed glare. "I got you, boss," Diggs obliges, springing to his feet and back toward the start line on the other end of the track. But before Diggs trots a few feet past Flowers, who mans the finish line as an extra symbol of motivation, the trainer reverberates the meaning of these punishing, hellish moments. "You, Diggs," Flowers intones, "be ready to meet the moment."
Diggs grudgingly made his way back to the start line and finished his final runs of 200 and 100 meters, but not without adhering to the stern principles Flowers demands: Maximizing every gallop. Entrenching the pocket-to-cheek motion by chopping those lanky arms. Digging deep when the task at hand seems unreachable. Never taking a play off.
That was Summer 2017, leading up to the awe-important third season of Diggs' four-year rookie contract, signed when he slipped to the Vikings in the 5th round, 146th overall of the 2015 NFL Draft, because critics lambasted him for being injury-prone and misinterpreted competitive edge for arrogance. "He's always been a misunderstood, good kid," Flowers said.
But moments like that hellish July afternoon helped launch Diggs into football lore, when he produced the miraculous, game-winning, 61-yard touchdown reception on the final play of the Vikings' 29-24 win over the Saints, catapulting Minnesota into the NFC Championship game against the Philadelphia Eagles at Lincoln Financial Field at 5:40 p.m. on Sunday, with the winner advancing to Super Bowl LII at U.S. Bank Stadium.
Stefon Diggs sends the Vikings to the NFC Championship with one of the craziest plays in NFL history! #NOvsMIN https://t.co/FucVlOazmW
In the NFL's 98 years, a "walk-off" touchdown has never decided a playoff game. Diggs emphatically became the first, taking a desperation heave from Case Keenum on a play called "Seven Heaven" to the house, where he basked in the national limelight with a badass helmet toss, a mosh in an end zone tunnel, an arm-crossed pose atop one of the benches and this emotional interview: "I ran my route. My QB gave me a great throw. God took care of the rest. A [defender] ran into another [defender]. I give all the glory to God. I give Him the praise on this great Sunday. … I still don't know what just happened. I really don't. All I can say is, give it to God, because without Him, nothing is possible and I wouldn't be here. Damn! That s*** feel good.
"When I got here," Diggs continued, his body beginning to quiver, "I never stopped working. Today was when all the work paid off. God put me in a position and I just tried to take advantage of my opportunity … "
@stefondiggs got real emotional after this interview. Best play of his career. The 61y game-winner to put the #Vikings in the NFC conference championships. https://t.co/gfnFQ5doYa
Diggs couldn't finish his heartfelt sentence, his emotions pulling him to raucous scene at midfield, where he basked some more. While the cameras stalked, Diggs celebrated with gratitude and pride. And who could fault him? He met the moment after all.
"I saw all of his personalities in that moment," Flowers said. "The flip of the helmet … the standing there with his arms crossed, that's the 'I'm the man posture. I did that.' Then there's a portion to him when it comes down to reality, where he really thinks about it and realized that, 'I'm the man, but all of this wouldn't happen without God.' … That's Stef, though. That's him.
"He needed this play for him to be respected for the type of player we know he is," Flowers said, "and a household name for the nation to know."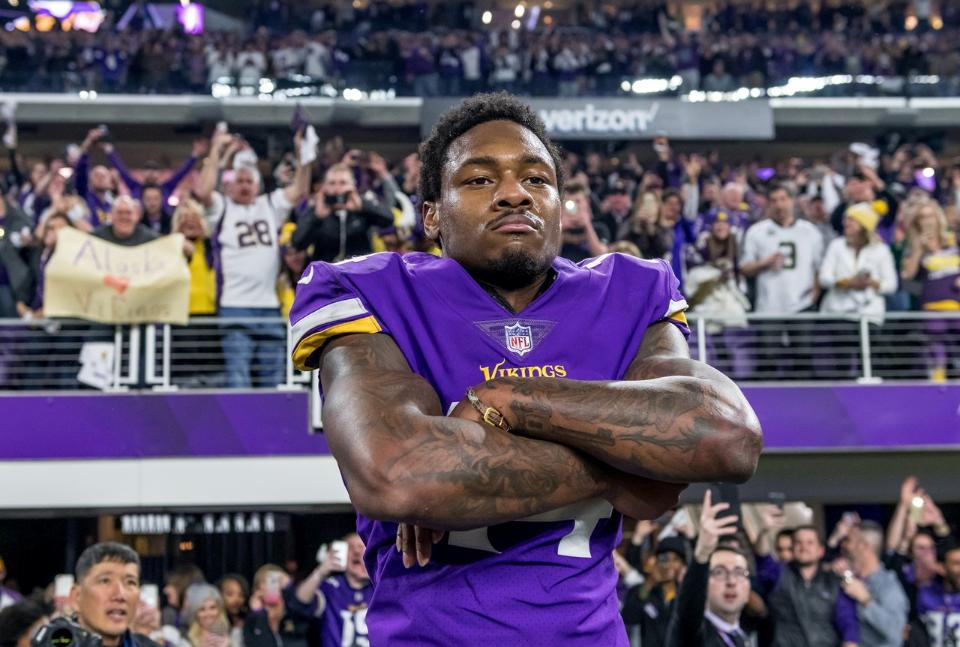 'Minneapolis Miracle' and social media reactions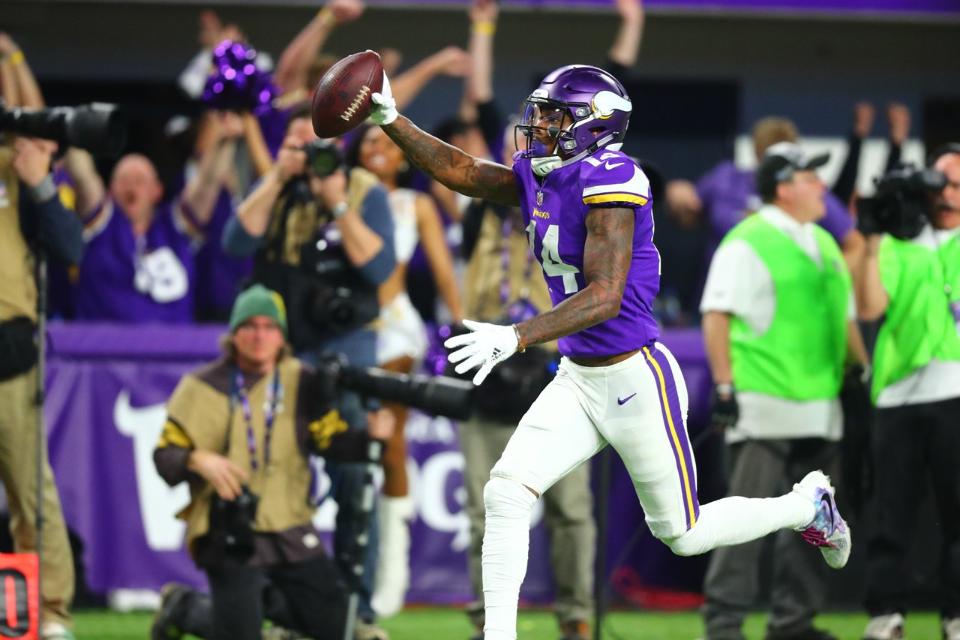 The #MinneapolisMiracle was incredible. Your reactions? Priceless. #BringItHome https://t.co/sydPiQUdLY
? #MinneapolisMiracle Sideline Cam #BringItHome https://t.co/fRe9CZTlwt
In terms what the Vikings were facing — a 3rd-and-10 at their own 39-yard-line, zero timeouts and 10 seconds left in their season — Diggs' magical touchdown can certainly go down as the "Minneapolis Miracle." And say what you want about Marcus Williams, who whiffed on the attempted tackle and would've stopped Diggs from reaching pay dirt if he wasn't out of position. But Diggs' play is no fluke.
First, this is what he's done since Pop Warner football. Secondly, he practices those circumstances where he needs to contort his body and be strong in traffic. And thirdly, the numbers back it. Diggs leads the league in "tight window catches" at 113.1 passer rating, which means he's the best receiver out there when it comes to reeling in 50-50 balls.
"A lot of guys aren't able to keep their balance and control," Flowers said. "How many guys you see jump up and stumble out of bounds on a play like that? Or not even come down with the ball, or with the present mind to keep your feet tight enough to go up field. He practices that all the time."
No Description
And when all hope seemed lost, Diggs stalked the sideline with tenacity. "Let's go. One play at a time. One play at a time!"
https://twitter.com/TheJohnnyMN/status/954224176805634048
"It's like a storybook ending," Diggs said during the week. "Nine times out of 10, it doesn't happen that way; the clock runs out, the defense plays good ball and no mistakes happen, but for us, we never gave up … kind of like Coach Zim' said, the good guys won."
A tale of two headlines.
Everson Griffen's reaction to the Stefon Diggs touchdown is must-see ?? (via @insidetheNFL) https://t.co/mwubc9csxV
The 5th round pick from MARYLAND. https://t.co/FquaBqpIPs
Here are this week's top 10 best-selling jerseys in the U.S., according to DIck's Sporting Goods: 1. Tom Brady 2. Carson Wentz 3. Rob Gronkowski 4. Stefon Diggs 5. Antonio Brown 6. Leonard Fournette 7. Zach Ertz 8. T.J. Watt 9. Julio Jones 10. Le'Veon Bell
Stefon Diggs' miracle made history.
God got a plan… Get my only shirt at https://t.co/WODdsESRW0
Walk-off helmet toss ?? #DMV ?
I present to you, the portuguese call of Stefon Diggs' game-winning TD ***SPOILER ALERT*** It's pretty great #SKOL #Vikings https://t.co/LyBEmoiBlJ
Been searching for the perfect #MinneapolisMiracle shirt this week. Found it. ? #BringItHome @Vikings @stefondiggs
"He's so passionate, that's when you know this guy is different."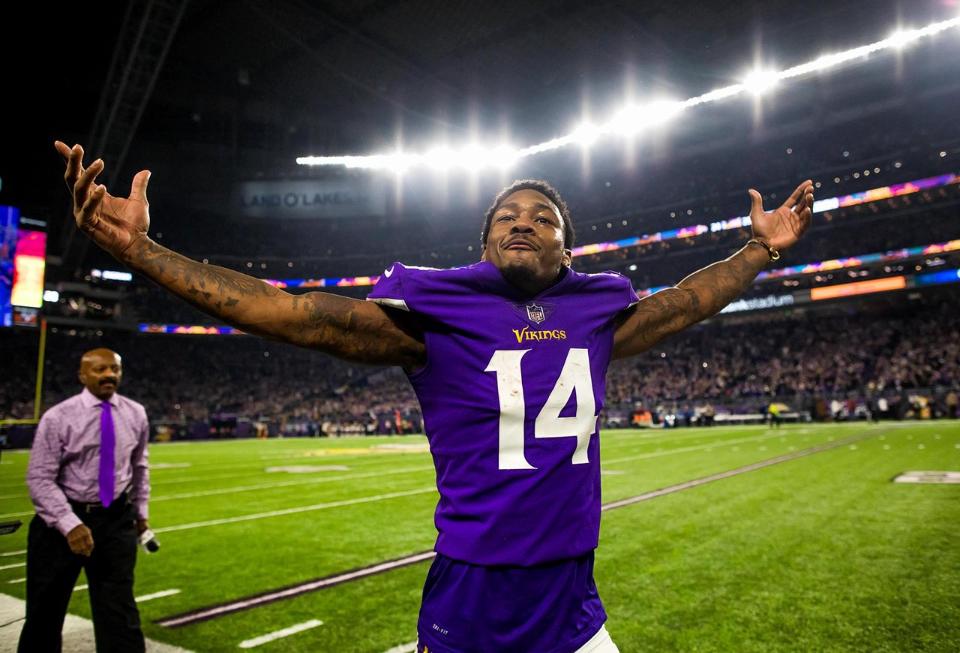 A young Stefon Diggs couldn't bear the pain as tears streamed down his cheeks. The sophomore and Our Lady of Good Counsel High School had just lost a 31-28 gut-wrencher to Washington Catholic Athletic Conference rival DeMatha Catholic in Week 6 of the 2010 season at home.
"Man, this will never happen again!" Diggs screamed as the sting settled in.
The Stags kicked the game-winning field goal with two minutes left, overriding two Diggs' touchdowns that tied it up at 28-28 in the fourth quarter. DeMatha, ranked No. 14 by the Washington Post at the time, jumped out to an early 14-0 lead, before current Redskins defensive back Kendall Fuller brought the Falcons within 14-6 on a 95-yard return to the house on the ensuing kickoff.
Good Counsel, ranked No. 2 by the Washington Post and in the national polls by many media outlets, got another score to make it 14-13 and Diggs' second touchdown came on a fourth-and-goal at the 1-yard line, which knotted things up at 28-28 with six minutes to go. But the Stags milked the clock and kicker Michael Branthover booted a 33-yard field goal that kindled a life-changing moment for Diggs.
"That game," Flowers said, "spearheaded his offseason. Not just being a good player, but leading others. Leading his teammates to be good, too."
"He's so passionate," Flowers added. "That's when you know this guy is different."
Flowers noticed a maturity rise in Diggs, who lost his father, Aron, not too long prior to congestive heart failure. He was 39.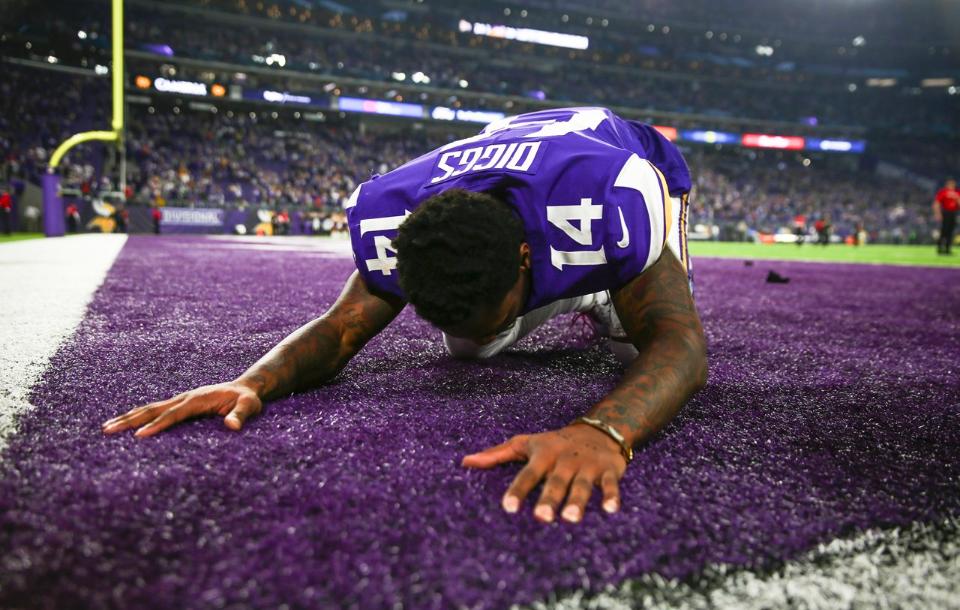 Diggs went about daily practices more seriously. The hatred for losing became greater than the crave for winning. His competitive edge sharpened.
After that painful Week 6, Good Counsel won its last six games by an average of 33.7 points en route to the league title, including a 42-3 stomping of DeMatha in the WCAC title game.
Diggs, coined a 5-star recruit and one of the top prospects in the country, won two more league titles at Good Counsel, and went 12-0 his senior season. He was named The Washington Post's All-Met Defensive Player of the Year as a cornerback in 2011, with 31.5 tackles, 5.5 tackles for loss, four interceptions and three forced fumbles. On offense, he caught 36 passes for 770 yards and eight touchdowns, and rushed 17 times for 277 yards and three scores. He also returned a punt and a kickoff for a touchdown.
"Man, he's been doing this stuff forever, since he was a little kid," Flowers said. "If you back to high school, everything looks the same. He's the same player."
We all saw @stefondiggs make that catch last night & now we can't stop rewatching his highlights. Look at these. ⤵️ https://t.co/ZwLSXJ86er
He then took his talents down the road to College Park at the University of Maryland, where he exploded onto the scene for nearly 1,000 yards from scrimmage as a freshman (962 in 74 touches). He found the end zone eight times in 11 games – six receiving and two in the return game. But as a sophomore in 2013, his season was cut short due to a broken fibula. He finished that year with just 632 scrimmage yards and three touchdowns in seven games.
Diggs failed to play a full season his junior year because of a lacerated kidney, but still managed to play 10 games and post 820 scrimmage yards and five touchdowns.
Diggs then decided to forgo his senior year and enter the NFL Draft, where he slipped to the Vikings in the 5th round. Crazy enough, the Vikings benched Diggs as a healthy scratch in the first three games of the 2015 season. In his first game as a pro, he hauled in six passes for a team-high 86 yards. The week after, seven receptions for 129 yards. Now, Diggs is the architect of one of the most iconic plays in NFL history.
"People around ball, people who know ball, know how good Stefon Diggs is," Flowers said. "And I think it was good for those people to know that."
Staying rooted: "He's amongst the people. He's one of them."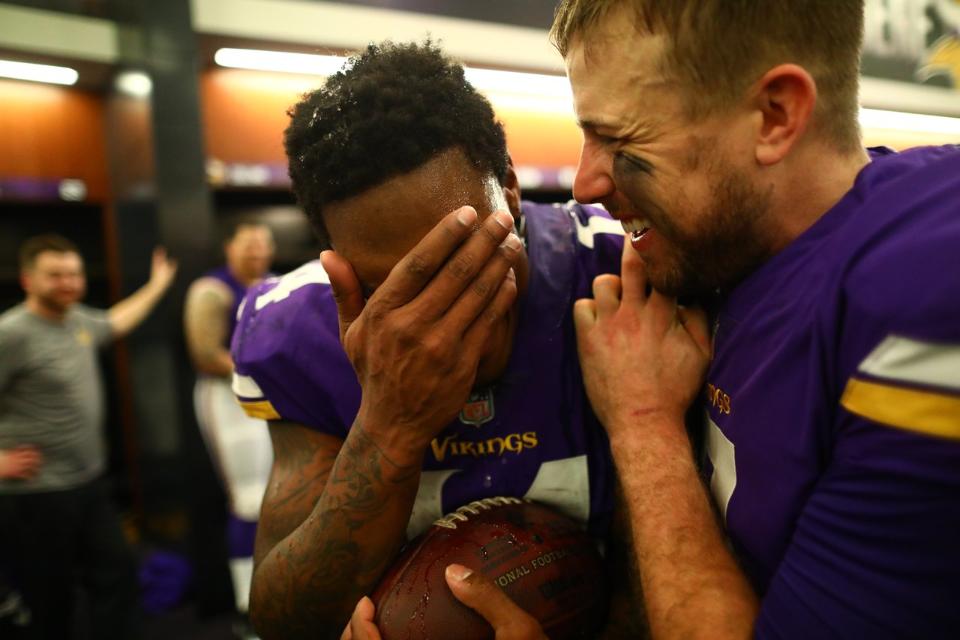 Before Stefon Diggs became a heralded, 5-star recruit, before he won three league titles in high school, before he starred at Maryland and before he etched himself into NFL history, personal trainer Myron Flowers introduced the receiver to Vernon Davis, for the sake of mentorship and a first-hand look at loyalty to the craft.
Davis, now a 33-year-old, 13-year NFL veteran for the Washington Redskins, goes about everything with a high standard of professionalism and is considered as one of the league's trustiest tight ends, playing in 156 of 160 games the past 10 years. He's never late. Never misses a workout. Never skimps a drill, even at 33 years of age. He's kept his name clean and involved in the community, and stayed home to star for the University of Maryland. And Diggs followed.
For nearly a decade, Flowers has trained Diggs, Davis and other NFL stars in the confines of Paint Branch High School, not far off I-95 and located in Montgomery County, the same county as Good Counsel.
Over the summer, Diggs will train five to six days a week from 11 o'clock sharp to about 1 p.m. Instead of a gaudy gym with security, he'll bench next to the kid bustling to make the Panthers' varsity football squad. He'll even take a pic and sign a few autographs in between. "Look, it's Stefon Diggs!" some of them shout when they see him working out in their high school.
A treat for our boys as Minnesota Viking & fmr Terp WR Stefon Diggs @stefondiggs stopped by to get a workout in w/Coach Myron Flowers @ PB‼️
"It's very unique," Paint Branch coach Michael Nesmith said.
Diggs, who has no affiliation with the Paint Branch football team, built enough rapport with the players in the organization and graced every team member with new Under Armour cleats. "Think about that," Flowers said.
That's the grounded, soft side of Diggs. The fiery, flamboyant dimension with a dash of cockiness is what makes him tick when only the tough-minded survive, and enough to rile and shame any competitor.
Last summer, Flowers had Diggs and Eagles cornerback Ronald Darby under the same roof at Prince George's County Sports and Learning Complex in Landover, Md., across the way from the Redskins' FedEx Field. The two were in the middle of long distance runs and Darby, weary and chomping to take a break, abruptly eased pace and plopped down on the outskirts of the track. Flowers, meanwhile, just sat back and watched things unfold. Diggs then rounded the turn and approached Darby.
"Stay your ass down there," the receiver beamed down at Darby. "I'm gonna run yours like I'm'a run by you this year."
Darby, perhaps offended, didn't say a peep, got up on his two feet and finished the workout. The two face-off this Sunday with a trip to the Super Bowl on the line, and Diggs is looking to steer the Vikings to the promise land for the first time since 1977.
"That's Stef, though. That's him," Flowers said. "And now the world gets to see it."