Bullis point guard Vado Morse dribbled the ball just beyond mid-court, watching the time dwindle in the 2017 Interstate Athletic Conference tournament championship game.
The score was tied at 60, as Georgetown Prep's Chimezie "Mezie" Offurum had just hit two free throws on his team's last possession. With five seconds to play, Morse shot a 3-pointer, as the Georgetown Prep student section roared behind him. Morse's 3 hit the rim and bounced off.
Players from both teams tried to get the rebound, but the ball rolled back out to Morse, who then drew a foul on a drive to the basket. Georgetown Prep's Jared Bynum put his hands on his head in disbelief. Bullis players celebrated. The Bulldogs student section went wild, but 1.8 seconds remained in the game. Morse stepped to the free throw line, and calmly drained his two free throws.
Georgetown Prep barely had any time to get a shot off. All the Hoyas could get was a half-court heave, which hit the rim, and bounced wide. No time remained. Bullis won the championship, 62-60.
The Little Hoyas players walked off the floor with broken hearts, as the Bullis students rushed the court, chanting, "IAC!" in celebration.
"Ever since that moment, those last couple seconds of the game, this whole season was dedicated to working back to that point," Offurum said. "It left a bad taste in our mouth. This whole season, practice and games, workouts, film sessions, everything was centered around the feeling we had last year."
Bynum, along with teammates Offurum and Ike Nweke, were headed into their final year at Georgetown Prep following the title game loss to Bullis. The championship game loss to Bullis created a wealth of inspiration in these seniors. They were determined to follow through on their goals in their senior year, and win an IAC title.
Senior trio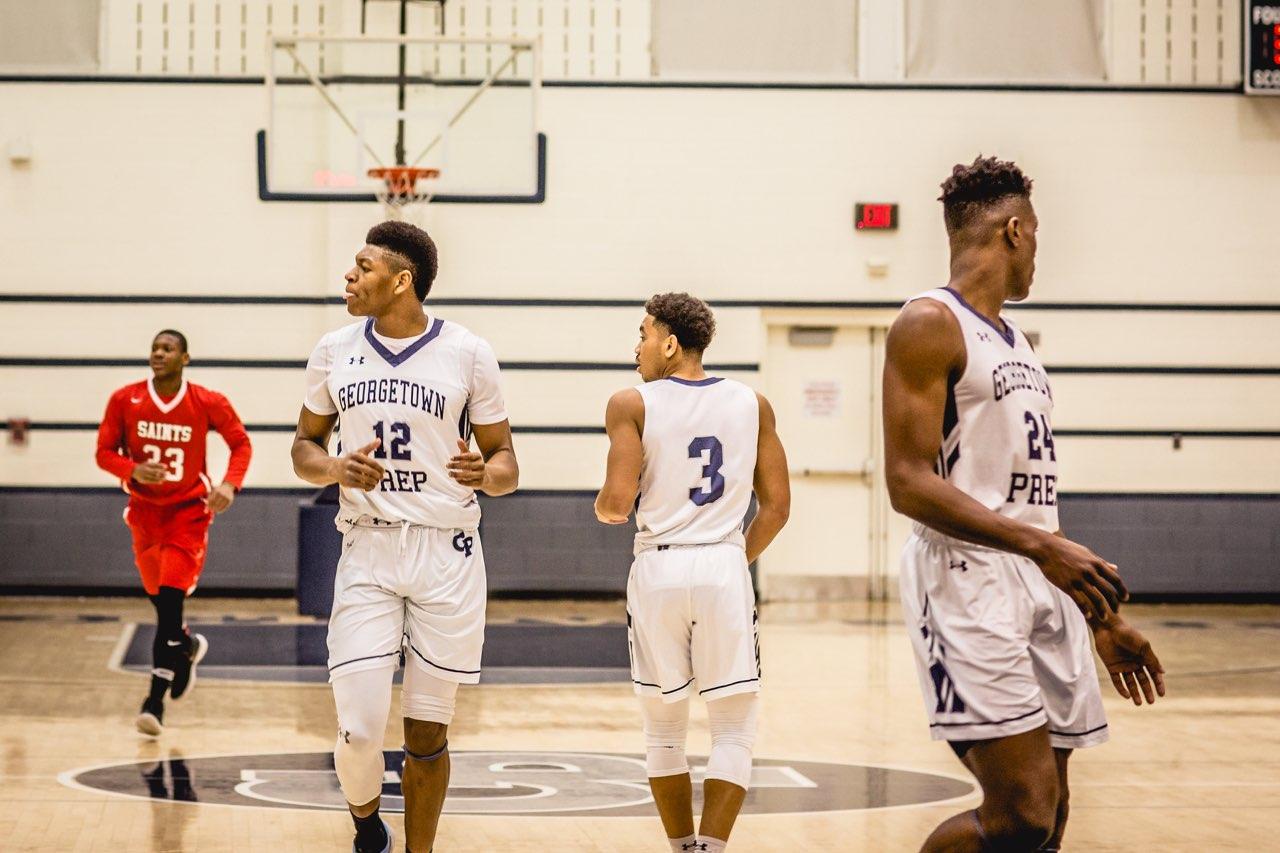 Georgetown Prep head coach Ryan Eskow just finished his third year at Georgetown Prep, and through his career at the helm of the Little Hoyas, he's seen the development of a trio of seniors that form the core of his team: Jared Bynum, Ike Nweke and Mezie Offurum.
While the core itself hadn't played together until their time at Georgetown Prep, they did know each other before their high school careers. Bynum and Nweke met playing against each other in Catholic Youth Organization league basketball, and Bynum first saw Offurum when the two played against each other in a middle school soccer game. The two ended up taking their placement tests for math and English at Georgetown Prep together.
Bynum, Nweke and Offurum have spent three years playing basketball together. Bynum, the team's leading scorer and 2017-18 IAC Player of the Year, was a four-year varsity starter at point guard. Nweke and Offurum joined Bynum on the varsity team in their sophomore year, as both were moved up from JV. "This has been the team that we built around," Eskow said of the trio.
Eskow guided the three stars as they continued to develop into the players they are now. All three are headed to play at Division I schools next year.
Bynum will play at Saint Joseph's in Philadelphia. Offurum is headed to George Washington in D.C. and Nweke is going to Columbia in New York City. However, before they could leave Georgetown Prep and begin their college careers, they had some unfinished business to take care of: An eight-year championship drought.
Off and running
The Little Hoyas started the season 2-1. The lone loss came by three points on the road against Washington Catholic Athletic Conference's Bishop O'Connell. The fourth game of the season for Georgetown Prep put them in a national spotlight.
Georgetown Prep traveled to DeMatha to participate in the National Hoops Fest hosted by the Stags. The Little Hoyas faced Westtown (Pa.), a team boasting the nation's No. 3 overall player and Duke signee, Cam Reddish.
In front of a packed house, Bynum took center stage, dropping 29 points as the Little Hoyas defeated Reddish and Westtown, 79-77, and proved what the team already knew: This group was ready to compete with the top teams the D.C. area had to offer.
"That game showed us we can compete at the national level," Nweke said. "It was all about proving ourselves right. A lot of people doubted us before that game even started. It was a way to show that we can do what we had always believed in ourselves to do."
With the momentum the win over Westtown provided, Georgetown Prep rolled through the non-conference stretch of the season. Georgetown Prep won eight of their next 10 games, including a win over D.C. powerhouse Woodrow Wilson High School. Then January 11th rolled around, and an opponent the Little Hoyas had waited months to play stepped onto Georgetown Prep's home floor.
Bullis: Round 1
The motivation to win this game was clear for Georgetown Prep. While there wasn't a title on the line with this game itself, it was the first shot the Little Hoyas had at revenge.
"We had to realize that this team unfortunately beat us last year," Nweke said. "If we took them too lightly this year, that could happen again. … It was our first time seeing them after the championship loss. We wanted to show that we are a different team, we're better."
With the Little Hoyas faithful proudly supporting their team, Georgetown Prep dominated Bullis, winning in wire-to-wire fashion, 63-53. Bynum was tasked with guarding Morse, a Mount St. Mary's commit who averages over 20 points per game. Bynum held Morse to just nine, all of which came in the third quarter.
"Just not letting him score," Bynum said after the game of defending Morse. "Wanting to win the game. He's a big part of their offense. Taking him away is taking away from their offense. So, I just did everything I could to stop him."
Georgetown Prep had, to some extent, redeemed itself from last year. In defeating Bullis, the Little Hoyas proved to themselves that they could in fact reach their goals. This win was the first of a six-game winning streak for the Little Hoyas. In this stretch, they defeated Episcopal on the road as well as St. Stephen's and St. Agnes. Georgetown Prep would have to go on the road again, to the gym where they had lost the IAC title just under a year ago.
Bullis: Round 2
"They play really well at Bullis, and that's a place where we don't play very well," Bynum said.
On this day, that sentiment remained true. Georgetown Prep did not play their best game, while Bullis was significantly better than when the two teams met just a few weeks prior. The Little Hoyas were unable to contend Morse, who scored 21 points in the game, including 11 in the fourth quarter.
Bullis found momentum similar to what Georgetown Prep had after they defeated Bullis earlier in January. The Bulldogs started 0-2 in the IAC, but now fully healthy, they were rolling, simultaneously proving to Georgetown Prep the type of threat they posed.
"It would have been great to beat them 2-0 in the regular season," Bynum said, "but I think them beating us the second time made us go back to the drawing board and fix what we had to fix."
Resilience, and a turning point
Resilience is the one word that may best characterize the 2017-18 season for Georgetown Prep. This season was all about redeeming themselves from last year's painful championship loss. The players were heartbroken at first, but resiliently came back for the new year knowing they had to get better to get where they wanted to go.
Losing to Bullis the second time in the 2017-18 season in which the two teams played was certainly a confidence blow to the Little Hoyas. However, Georgetown Prep had no time to hang their heads after losing to Bullis, as St. John's loomed just 48 hours later. They had to be resilient.
Head coach Ryan Eskow keeps his outfit simple when on the sidelines coaching. He'll always be found wearing a sweater over a dress shirt. It's a practice based in superstition for Eskow. He remembers what sweater he wore for each game, and if his team plays a bad game, the sweater Eskow is wearing is retired for the year. Despite winning, Georgetown Prep played so badly against Gilman that Eskow immediately took his sweater off in the locker room, and threw it, adding, "You can have that."
Forty-eight hours after losing to Bullis, Georgetown Prep was visited by WCAC powerhouse St. John's. Eskow put on the same sweater he wore against Westtown.
The Little Hoyas came out on fire against the Cadets, beginning the game on a 16-0 run. St. John's slowly worked their way back, and took its first lead with 4:41 left to play.
Georgetown Prep took a one-point lead into the game's final seconds, before shooting terribly from the free throw line. Three Georgetown Prep players missed the front end of a one-and-one in the last 10 seconds of regulation. The Little Hoyas were able to slowly, but surely, run off the clock as they came up with offensive rebounds, and forced St. John's to foul. It wasn't pretty, but Georgetown Prep was resilient, and won 59-58.
Georgetown Prep played its third game in five days on Tuesday on the road against St. Albans, a game that would mark a turning point for the Little Hoyas whole season.
"I think that St. Albans game was a very pivotal moment in the year," Eskow said. "I think that was easily our worst game of the year. … Six guys had potentially the worst game of their career here all at once. After that game, the locker room was just silent, very dejected."
Georgetown Prep mustered just 40 points against St. Albans in a 45-40 loss. Losing to a St. Albans team that went just 10-17 marked arguably the biggest upset in the D.C. area this year. "It was a reality check," Bynum said.
Though while the players were stunned and upset, Eskow made sure to use this low-point to help the team regroup, and to use it as a turning point.
"That loss helped us come back together as a unit," Eskow said. "Without that, who knows, maybe we wouldn't have come back as strong as we did. That was our worst game, and our response game was very signature us."
Georgetown Prep needed to be resilient, yet again. This time with an important IAC game against Episcopal. The Little Hoyas added another signature win as a response to its St. Albans loss, bulldozing through Episcopal. Bynum scored 21 and Nweke dropped 20 as Georgetown Prep won 82-61.
"After [the St. Albans game] we changed the mentality, that every game from here on out was going to be a championship game, every practice was going to be the championship practice," Eskow said. "That attitude helped propel us to where we needed to be."
Senior night
February 9, Senior Night. On an already emotional night for the Little Hoyas' seven total seniors, Georgetown Prep had a lot to play for.
Senior Night also marked the de facto IAC regular season championship game. Georgetown Prep held a one-game lead over Bullis in the regular season standings, and a Georgetown Prep win clinched the first out-right IAC regular season title since 2010. St. Stephen's and St. Agnes made it tough on the Little Hoyas, but in the end, Georgetown Prep prevailed, winning 65-63, and breaking the first of two title droughts.
One goal down, one more to go.
The 2018 IAC championship game
After a first-round bye, Georgetown Prep beat St. Stephen's and St. Agnes in the semifinals, setting up the anticipated championship rematch and the game the entire Little Hoyas roster has been waiting for: Prep versus Bullis. By virtue of winning the IAC regular season title, Georgetown Prep would host the title game this time.
The game was scheduled for Saturday, February 17, but even the best plans go awry. Weather caused the game to be postponed until Tuesday, the announcement coming just two hours before the scheduled tip-off on Saturday, after the players were mentally prepared.
"When we found out that day that we were going to be postponed until Tuesday, two hours before the game, I had to walk out of the room with the team for like 30 minutes to let them get their emotions in check and their frustration out," Eskow said. "I couldn't even stand in their with them. There was just a lot of emotion."
The next day, the Special Olympics had a big Maryland tournament in Georgetown Prep's gym. Every year, the whole Georgetown Prep team helps out, cheering on the players and helping however they can. Participating in that event gave the team a chance to refocus, to see the impact of they could have when they weren't playing. This helped the team put everything in perspective, according to Eskow. It helped show there is still things more important than basketball.
The extra rest was also beneficial for Bynum, who, little known to anyone outside of the team, was dealing with injuries to his hand and toe.
When Tuesday finally came, Eskow put on the same sweater he wore against Westtown and St. John's.
After playing in a tight game through the first three quarters, Georgetown Prep found a spark in the fourth quarter. The size advantage clearly goes to Georgetown Prep when these two meet, and the Little Hoyas took advantage in the title game.
Nweke was dominant, especially in the fourth quarter. He scored 13 points in the game in addition to 15 rebounds. Behind Nweke and junior Dejean Desire, Georgetown Prep pulled away in the fourth quarter, building a lead up to 13 points with just over two minutes to play. From there the Little Hoyas cruised to a 60-49 win, and an IAC title.
Redemption achieved and a curse broken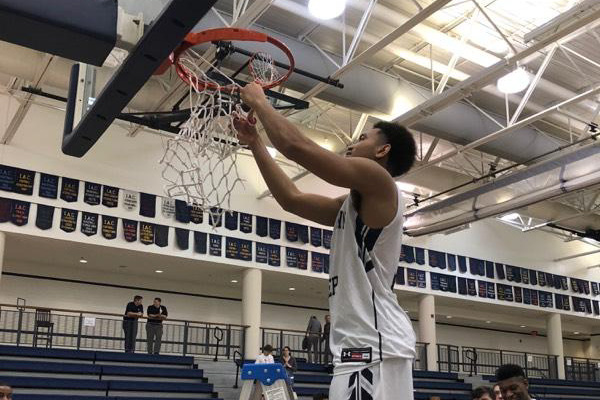 As the final seconds ticked off the clock, Nweke, Offurum, Bynum, Desire and Kamdyn Curfman hugged each other at center court. They lifted the IAC championship trophy and cut down nets. The whole 2017-18 season was spent working to this point: to get back to the championship game, and this time, win it. Georgetown Prep was able to redeem itself after coming so close one year ago.
"Finally, finally won," Bynum said as the game ended.
"I thought of everything we went through, finally we did it," Offurum said.
Eskow added, "I would almost do anything for this team to have this kind of success at the end of the year. I joked I'd give up my salary. … This team deserved everything that it got. It deserved every success."
Bynum, Nweke and Offurum, in their final game in a Georgetown Prep uniform, had finally broken the curse. They'll forever be remembered at Georgetown Prep for their accomplishments this season, and for their whole careers.
"I'm glad it was us," Offurum said. "I wouldn't have wanted to do it with anyone else."