Our photo op after we (the Frederick Force) won the Mid-East regional tournament this past February.
I'm extremely excited to announce I am now the head boys' varsity basketball coach of the Frederick Force, a competitive sports program for homeschooled athletes based in my hometown of Frederick, Maryland.
Some of you may wonder, "What the heck happened to journalism?" I'll fill you in. A lot has changed the past two years, and since I seldom post personal updates on my social media platforms, here's how I got here:
My heart began to change last winter, torn between my purpose as a journalist and my purpose as an influencer.
Most of you reading this know me through my work as a sports journalist, while others might know me through community involvement, specifically Damascus Road Community Church. Both are close to my heart, but in January 2018, things started to shift.
I had planned on covering the Georgetown-Villanova men's basketball game one Wednesday night for my website, the same night we have youth group at DRCC. For context, I lead a small group of high school guys during that time frame, and at the core, I was OK with missing one night to check out the nation's top team in Villanova.
At the time, I still ran Maryland Sports Access, driving across the state to report epic high school basketball games and college hoops programs like Maryland, UMBC, Mount St. Mary's, Towson, and Georgetown. I did this four or five times a week. For free, essentially. Without pay. I tried to monetize, but a few tradeoffs kept me going …
1) Knowing how tough it is to break into the upper echelon of sports reporting, I aimed to be the hardest working up-and-comer in the business. An elite work ethic and willingness to learn is something I strive for.
2) I crave high-level basketball. I also crave being the people's source for information and analysis. Once it's ingrained in your lifestyle, you feel the desire to keep that fire ablaze.
3) While I value education, I'd much rather learn by real-world experience. Learn from others in the profession. Study the craft up close and personal. I also refused to say "no" to opportunities because I viewed every opportunity as a pivotal building block toward my dream of working full-time for the Washington Post or writing about college basketball on a national level.
But that was the problem: I refused to say "no." And now I had to look myself in the mirror: uphold my commitment to the guys who look up to me? Or go to the Georgetown-Villanova game so I can meet my own wants.
I stayed back that night and went to church two hours before our 7 p.m. start time because I had nothing else to do. It turned out to be one of the most powerful nights amongst myself and the guys. Deep conversation. A lingering conflict resolved. Next-level fellowship.
I stayed two hours after the program ended to talk with my youth pastor — about how if I went to the game, I would have missed that transcendent night. Maybe worse: perhaps none of that would have happened if I flaked.
Nobody ever figures it out in one moment, but for the first time ever, the reward of fellowship overpowered the reward of reporting. While it was refreshing, it frightened me a little bit.
Once I stepped back, I realized signs of burnout. And when you work so hard for something — inch closer to the lofty goals you tenaciously pursue — and then sense the dream fleeting, even after coming to terms you're not as passionate as before, uncertainty breeds anxiety. Because if it's not journalism, then what is it? …
Three months later, after I had covered UMBC's historic upset over No. 1 Virginia in Charlotte, I disbanded Maryland Sports Access — the venture I invested so many hours in. I didn't and will never put the journalism path to bed, but as I distanced myself from everyday writing and the constant usage of social media, I genuinely felt happier and freer. Then, in July, I felt a strong calling to get back into coaching basketball.
From 2015 to 2018, I coached DRCC's high school church league basketball team and in 2014-15 I even helped my alma mater, Linganore. We won the school's second-ever region title that year.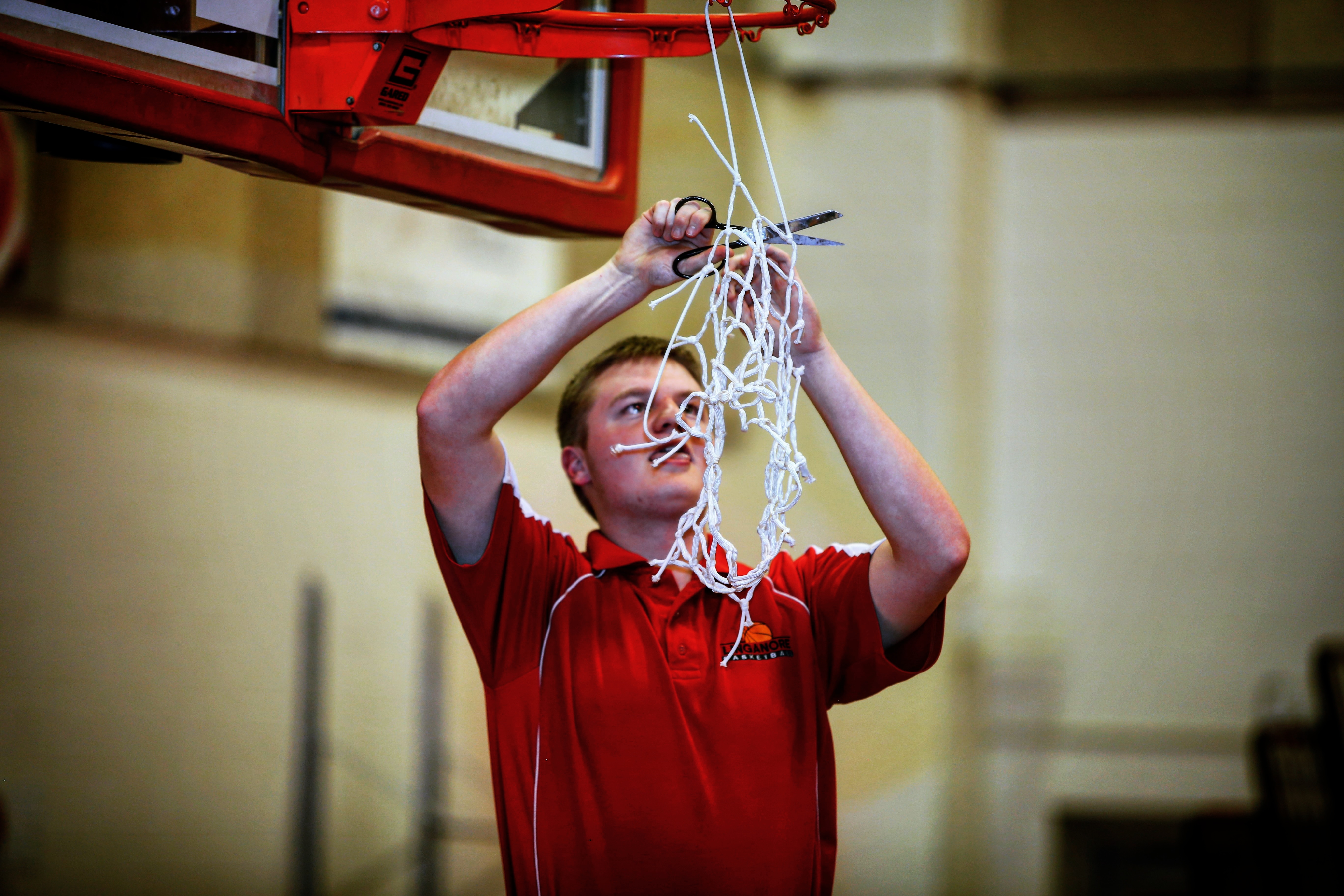 But over the summer of 2018, I was informed our church would drop out of the recreational league for 2019. it bummed me out, but it was a sign to expand my horizons and help a local team in need.
I had no luck finding an assistant position for the next three months. So, I then started this website to blog and loosely cover high school football for the time being. I took a semester off at Frederick Community College because of an unclear path. By November, anxiety had reached an unbearable high.
In 2017, I was clinically diagnosed with "major depressive disorder," the doc's term for depression. While it's something that's under control now, it crippled me for much of last year.
One morning, I woke up an emotional trainwreck. My youth pastor so happened to text me, asking if I wanted to get breakfast at McDonald's. He wanted to meet that morning because he noticed my struggles. For the first time in a long time, I had no direction. We instantly went into prayer. …
At that moment, I had a new vision: there are kids in Frederick who need me … and not just any group of kids. Kids who fall through the cracks. Overlooked. Often forgotten. And it's on me to discern that. I then realized, one of the guys I lead every Wednesday night at the church plays for the homeschool basketball team in Frederick. I thought, how cool would it be to spend more time with him and serve as his coach?
And it happened: the most rewarding experience of my life, serving as the character coach and assistant for the Force this past season. While we reached the Homeschool East Coast Nationals Elite 8, we defied fears (including me) and became stronger men.
I never thought it'd turn into a head coaching position, though … but then Coach Jon Cheney (the JV coach) moved out of the state and Coach Barry Blickenstaff (the varsity coach) took the athletic director job at New Life Christian. This left me as the only varsity coach in the program. The Force board offered me the position and I gladly took it.
So, now what? We're gonna have a lot of fun. We're gonna play a fun style of basketball. If you get a chance, please come to a game! I will post our schedule in the coming months. I'm still trying to lock down a home gym for us this winter (we played all 30 games on the road last year).
I sure have a lot of learning to do as a 23-year-old, who, nine months ago, wasn't involved with coaching. But I've always been a sponge, analyzing the greatest players and coaches to do it. Coach Barry has taught me a lot. I'm also picking the brains of Jamion Christian (George Washington men's basketball coach) and Terry Connolly (former Oakdale and Urbana boys' basketball coach).
If you're wondering how our schedule works, we are an "independent" with a freelance schedule. We play other private schools and home schools. We're participating in the Governor's Challenge this December, the nation's largest holiday basketball tournament.
I'm excited about our roster, too. We have one of the quickest guards in the area in AJ Switzer. Sophomore guard Nathan Bowes plays with pace and poise beyond his years and is one of the best shooters I've coached (he made nine 3-pointers in a game last year). Junior guard Luke McMillan is a sharpshooter. Junior forward Matt Csiszar is one of the most versatile defenders I've coached and 6-foot-6 sophomore center Caleb Page is a walking double-double. Senior guard Sammy Bowes is an excellent leader, too.
As I said, we're going to have a lot of fun. I'm also going back to college to instead pursue a degree in education. On top of that, I'm still keeping my interview skills sharp with my new auto racing podcast The Motorsports Dig.
If there's one thing I've learned, it's to enjoy the journey. I think where I went wrong with journalism is I focused too much on solely climbing the ladder, working to make it to the top. Making it to the big leagues is great, but if that's all you're aiming for, then you'll always live in discontent.
I'll still freelance every now and then for the Washington Post, the Baltimore Sun, the Frederick News-Post, and on here. I still enjoy writing. Always will. I'm just convinced reporting and writing full-time isn't for me. At least not at this point in my life.
Who knows where this coaching thing leads. I do know, however, I'm where I need to be — and that's influencing the next generation of community leaders.