Here's your one-stop shop for Knoxville Nationals eye candy. The 60th running of the event is slated to kick off Wednesday night and is streamed on DIRTVision.
Entry lists can be found here.
No. 1A Jacob Allen and No. 1S Logan Schuchart
????? ????????? ? ⏮@LSchuchart1s and @JacobAllen1a are rewinding to 1990 to honor @BobbyAllen1a's #NOSvilleNationals title! pic.twitter.com/NgzJIecP4i

— World of Outlaws (@WorldofOutlaws) August 10, 2021
No. 1M Don Droud Jr.
The @MBMotorspt ride awaits @DonDroudJrRacin.

He's making his 31st appearance (8th most) at the #NOSvilleNationals this week! pic.twitter.com/6UvKe7a6Ab

— World of Outlaws (@WorldofOutlaws) August 11, 2021
No. 2C Wayne Johnson
Some new flavor for @TwoCRacing ?

Oklahoma's @WJR77x owns eight A-Main starts and a preliminarily win at the #NOSvilleNationals.

The former Knoxville resident is a multi-time 360 Nationals champion and sure knows how to get around this 1/2-mile. pic.twitter.com/jwGPi7qZe6

— World of Outlaws (@WorldofOutlaws) August 11, 2021
No. 7BC Tyler Courtney
New @knoxvilleraces Nationals design for @NosEnergyDrink @TyCourtney7BC and @ClausonMarshall #liveNOS pic.twitter.com/b96zFXB7ut

— BLACKBEARD LTD (@BLACKBEARDltd) August 5, 2021
No. 11 Spencer Bayston
@KnoxvilleNats ready. Can't thank everyone enough for there support to make this thing badass @RaceMaxims @championoil @FKrodends @indyraceparts @xyzmachining @EricSladeSST @WintersRears @elitewings46 @ALdriveline @brownandmiller @Wilwoodbrakes @KearsSpeedShop pic.twitter.com/uMgpSxMFJ1

— Sam McGhee Motorsports (@Sam_Mcghee11) August 4, 2021
No. 11 Tim Kaeding
Headed to Knoxville 2021 pic.twitter.com/MjRbX8s44F

— Tim Kaeding Racing (@TKaedingRacing) August 1, 2021
No. 15 Donny Schatz
This guy knows how to win #NOSvilleNationals.

10-time champion @DonnySchatz is the all-time leader in Laps Led, Podiums, Top-Fives, and much more at this iconic event.

He's qualified for 22 A-Mains in 26 appearances & looks to extend that streak aboard the @TonyStewart_Rcg #15. pic.twitter.com/9VyxWx8tGw

— World of Outlaws (@WorldofOutlaws) August 11, 2021
No. 15 Bobby Mincer
A year later we decided why fix what wasn't broken. The Bobby Mincer livery for the 2021 @knoxvilleraces @HorsepowerIndy Throwback award.

Merchandise available here: https://t.co/V5ZM2VLqzO pic.twitter.com/9gsqoKt818

— Dennis ⚜️ Gainey (@maytag15) July 28, 2021
No. 17 Sheldon Haudenschild
??????-??? ?@Haudenschild_17's @NosEnergyDrink #17 is a throwback to another iconic ride that his father @JacHaudRacing drove. pic.twitter.com/hIwREotZZO

— World of Outlaws (@WorldofOutlaws) August 10, 2021
No. 19 Brent Marks
Hope you all like it! Our Knoxville Nationals 2021 design! pic.twitter.com/mEt2Kfhqee

— Brent Marks (@bmracing19) August 5, 2021
No. 26 Cory Eliason
– @Cory_Eliason 2021 KNOXVILLE NATIONALS DESIGN –

Photos via @DB3Inc
Design by @FireDownBA pic.twitter.com/XOz2nB8jYq

— Rudeen Racing (@RudeenRacing) August 10, 2021
No. 27W Riley Goodno
Knoxville's own Riley Goodno enters the battle for #NOSvilleNationals Rookie of the Year tonight.

He's rocking a Jimmy Boyd throwback! pic.twitter.com/zZHE6LnDIQ

— World of Outlaws (@WorldofOutlaws) August 11, 2021
No. 39 Daryn Pittman
Remember the Titan!?

Throwing it back to 2008 with @DarynPittman for this year's #NOSvilleNationals pic.twitter.com/ODDKtxVDhM

— Swindell SpeedLab (@SwindellSpdLab) August 11, 2021
No. 41 Carson Macedo
The details on this thing >>> pic.twitter.com/vkgp9xeHQW

— World of Outlaws (@WorldofOutlaws) August 10, 2021
No. 71 Shane Stewart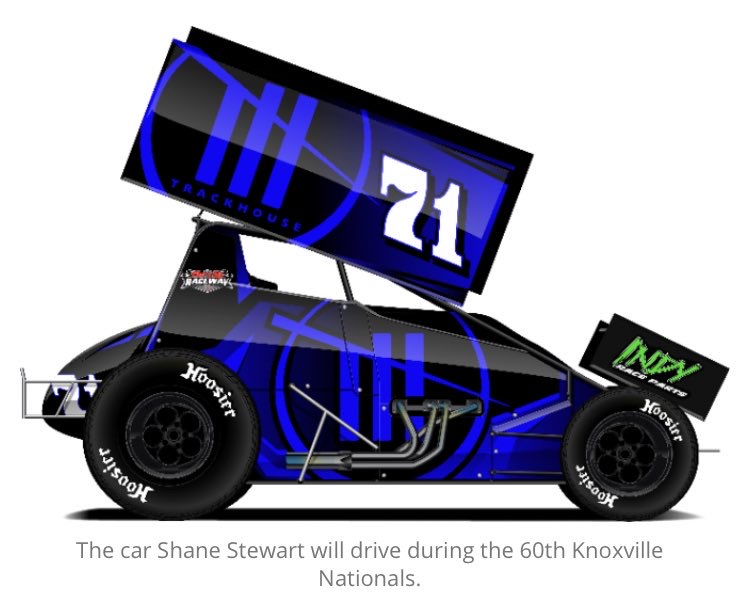 No. 73 Justin Peck
The Pink Panther! @BuchSprint13 knocked this Kramer Williamson throwback #73 out of the park. ?@Justin_Peck5 has the honor to pilot it this week in his 2nd appearance at the #NOSvilleNationals. pic.twitter.com/lVZo6Gi1z5

— World of Outlaws (@WorldofOutlaws) August 11, 2021
No. 83 Kasey Kahne
An ode to our 1998 Knoxville Nationals Championship!

@kaseykahne pilots this throwback tonight! pic.twitter.com/mN4R9Ro1OO

— Roth Motorsports (@RothMotorsports) August 12, 2021