The Orioles only sent one player to the All-Star game every year from 2006-2011 due to the team's consistently poor play.
If it weren't for MLB's rule requiring a player from every team make it, there would've been a few years that Baltimore fans had a disappointing time watching the Midsummer Classic.
Once the team finally discovered success, their best players finally discovered the euphoria of playing in an All-Star game.
From 2012-2014 the team had at least three All-Stars every year, with a total of five being voted into the starting lineup by fans.
The team is 38-34 and right in the thick of the playoff race again. Will they see the same success making the All-Star game as they have the past three seasons?
Best chance to start, but won't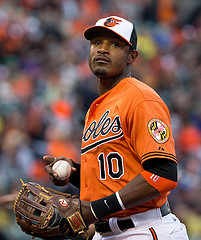 OF Adam Jones – The four-time All-Star is leading all Orioles players with 4,827,069 votes, but he still finds himself about three million votes behind Alex Gordon for the final starting outfield position.
This is just another case of Royals fans flooding the ballots to get their players into the starting lineup, when others are probably more deserving.
Don't get me wrong, Alex Gordon has had a good season. His error-less defense, decent power, and ability to get on base have been very beneficial to the AL Central leading Royals.
But Adam Jones is the more deserving player.
He has a higher average (.298 to .265), slugging percentage (.486 to .433), and more homeruns (ten to eight).
Gordon has a better OBP (.383 to .346) due to his tendency to take more walks and strikeout less, but Jones still has a higher OPS (.832 to .816).
It's clear that he's had the better season.
Barring a barrage of votes for the star center-fielder, it looks as though his best chance of getting into the game will be in a bench role.
Most deserving to start, but won't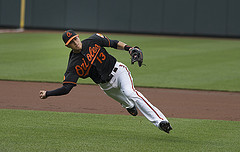 3B Manny Machado – Even though Machado has fewer votes than Adam Jones, he is the Orioles true MVP this season.
Of all the Orioles starting position players, he has the highest average, OBP, OPS, and WAR. His 14 homeruns and 40 RBIs rank a close second.
That probably sounded like alphabet soup for those of you who aren't statistically-inclined, but let me simplify it a little bit.
Manny Machado is phenomenal.
His defensive statistics don't look great due to a rusty start to the season, but he's rebounded well. By the end of the season he'll probably be a contender to earn the second Gold Glove of his already-promising career.
He has the All-Star statistics, but he doesn't have the All-Star support.
Machado's 1,364,207 votes dwarf third base leader Mike Moustakas's 9,037,844 votes, even though he has almost twice as many homeruns (14 to 8), more RBIs (40 to 30), and a better WAR (3.7 to 3.2).
If anybody truly deserves the starting spot more than Machado, it's Toronto's Josh Donaldson.
His statistics are the same or better than Machado's in almost every category. He's about 33,000 votes behind Moustakas for the starting position, and it'd be robbery if Donaldson were to lose out to him.
At 22 years old, Machado is going to start his fair share of All-Star games. Barring an unceremonious snub, he'll just have to watch from the bench for this one.
Potential Pitcher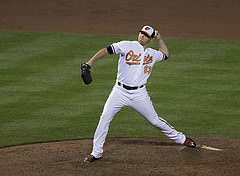 RP Zach Britton – It wasn't long ago that Zach Britton flamed out as a starting pitcher for the Orioles, posting a 4.78 ERA in his first three seasons.
Buck Showalter wasn't discouraged. He saw potential in Britton as a closer, and once given the opportunity he didn't disappoint.
After putting up a 1.65 ERA with 37 saves last season, he has continued to impress. He is second in the AL in saves with 21, putting him on pace to earn a career-high 47 saves.
He also has the best strikeout-to-walk ratio of his career at 5.1, with just one blown save.
It's hard to compare relief pitchers because there are so many of them, and so many different ways to compare them statistically. One thing is for certain though: he's in the upper echelon this season.
Only three relief pitchers will be selected, so there's no guarantee Britton will be among them. Nobody will be surprised if he is either.
Honorable Mention
SP Wei-Yin Chen – This one is definitely a stretch, but there's no denying that Chen has been the Orioles best starting pitcher this season.
His 2.89 ERA puts him at ninth in the league and his 1.12 WHIP is seventh, just a mere 16 percentage points from league leader Chris Archer.
Unfortunately, only five starting pitchers are selected to the roster. Chen is good, and starting to have the look of an ace, but nobody in their right mind would say he's a top five starting pitcher in the American League just yet.