Ever since Ernie Grunfeld became the General Manager in 2003, draft night has been a night to forget for Wizard fans.
He may have drafted current stars John Wall and Bradley Beal, but those were no-brainers. Most of his first round picks have been busts, and his second round picks barely register as a blip on the NBA radar.
Was this year any different?
Nobody will know for sure until the draftees let their game do the talking, but by analyzing their college careers, the other available players, and the team's needs, we can get a good first impression.
First Round, 15th Pick – SF Kelly Oubre Jr. Kansas
The Wizards originally had the 19th pick in the draft, but traded it and two future second round picks in order to select Kelly Oubre Jr. out of Kansas.
This was completely unexpected.
One Instagram picture could potentially provide some clarity into Ernie Grunfeld's thought process.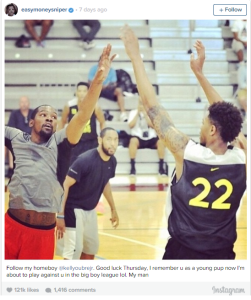 It seems as though his friendship with Durant may have played a big role in the Wizards drafting him.  The team wants to do everything they can to lure him to back to his hometown team (he played basketball at Montrose Christian High School in Rockville, Maryland).
Most mock drafts had the team picking a stretch power forward, but Oubre could still fill that role.
He made 35.8% of his threes last season, and at 19 years old, he still has plenty of time to develop. Putting him at the four would sacrifice length (he's 6'7"), but with 5 rebounds in just over 20 minutes per game, at least the team wouldn't be sacrificing too much rebounding.
Oubre has been criticized for his shaky dribbling ability and his inefficiency creating his own shot. Luckily, with a ball-dominant point guard like John Wall who gets 10 assists per game, both of those weaknesses can be concealed.
The biggest problem with this selection is that the team already has Porter and Webster at small forward (if Pierce leaves in free agency as expected).
There were bigger holes that could've been filled.
Shooting guard Rashad Vaughn (38.3% from three, 17.8 PPG last season) could've provided some much needed scoring off the bench.
Power forward Bobby Portis is a promising big man who could've stretched the floor (46.7% from three last season) without sacrificing height (three inches taller than Oubre).
Still, Ernie Grunfeld deserves credit. He found a way to pick a player that not only gives Kevin Durant extra incentive to come to DC, but also gives the team another shooting option to stretch the floor with.
Grade: B-
Second Round, 49th Pick – PF Aaron White Iowa
Second round picks are typically hit or miss, and it's very likely that this pick could be a complete whiff.
At least for one season.
According to Jorge Castillo from the Washington Post, Aaron White may choose to play overseas to start his professional basketball career.
This sentiment is echoed by White's agent Chris Emans, who wrote in an e-mail, "Aaron will play Summer League with the Wizards and then we will evaluate if it is best to go overseas or not this season. Aaron is open to doing whatever the Wizards think is best for his development."
Let's hope he shows a lot of potential this summer so we don't have to wait for the arrival of a much-needed stretch power forward.
Then again, looking back at his development throughout his college career, maybe some foreign experience could help.
His three point efficiency has been inconsistent on relatively few attempts. His statistics are as follows:
2011-2012: 27.9% on 17/61 shooting (0.5/1.7 per game)
2012-2013: 22.7% on 15/66 shooting (0.4/1.7 per game)
2013-2014: 25.8% on 8/31 shooting (0.2/0.9 per game)
2014-2015: 35.6% on 21/59 shooting (0.6/1.7 per game)
After his efficiency dropped his sophomore year, it seems as though he lost confidence. This caused him to cut his attempts in half, putting a hamper on his development.
That confidence returned his senior year, and it showed through his 35.6% three point shooting and career best 16.4 points per game.
He's just 6-9 and 228 so he might not be able to bang down low with bigger, more physical power forwards (career 0.6 blocks per game).
With a career 6.4 rebounds per game and 1.1 steals per game, he makes up for this lack of physicality which helps him fill the stretch power forward role effectively.
Maybe a year overseas would be good for White. It'll determine whether his senior year was an indicator of future potential or simply a fluke.
Due to his second round status, the uncertainty surrounding his game, and when he'll step foot in the Verizon Center, this is an average second round pick by Ernie Grunfeld.
Grade: C
Like a teenager, Grunfeld likes to defy society's expectations through his draft selections.
Trading up to select Kelly Oubre Jr. caught the basketball world off-guard. Due to his modest potential and friendship with Kevin Durant, his grade could be much higher come next offseason.
Aaron White has the potential to evolve into the shooter the Wizards desire down low, but he comes with a pinch of patience.
Overall, this draft doesn't seem bad. Ernie Grunfeld tried to fill team needs, while also satisfying ulterior motives.
Only time will tell whether he succeeded in doing either of the two.
Final grade: C+